How This Working Mom Lost 20 Pounds and Got in the Best Shape of Her Life
Weight-loss journeys are rarely linear — there are ups, downs, setbacks, and triumphs. And Ashley Fiumara knows this more than most people.
Ashley: Early 20s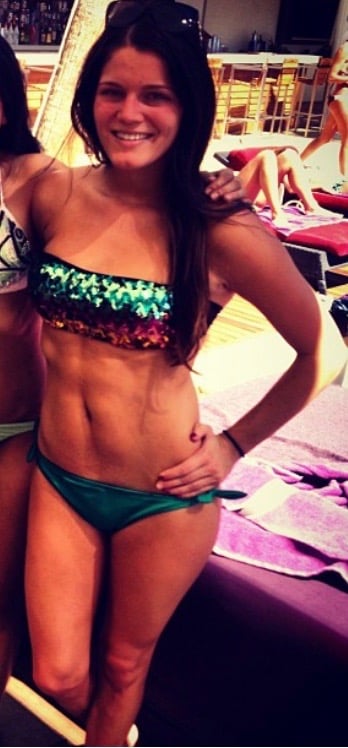 Ashley's health journey has focused less on weight-loss goals and more on lifestyle changes. With a goal of getting healthy before becoming pregnant for the first time, Ashley knew that her lifestyle wasn't cutting it and she had some serious changes to make — and that postpregnancy, it would take a lot of work to feel her healthiest.
Today, as a new mother, she travels constantly for work but still finds time to work out, train for a half marathon, and nourish her body — and she's dramatically changed her body composition and lost over 20 pounds in the process. She recounted parts of her journey to POPSUGAR, including some pre- and postpregnancy setbacks that only made her stronger.
Ashley: Today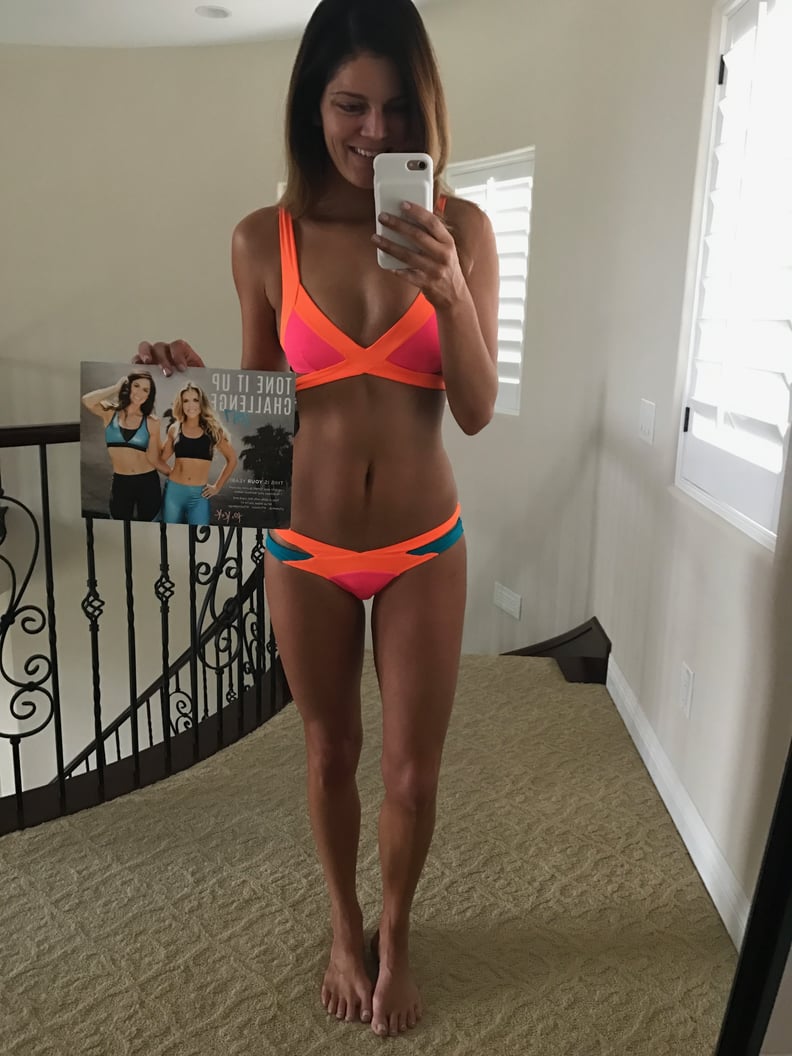 "I was 27 with no energy, so I knew something wasn't right."
POPSUGAR: What made you decide to start your weight-loss journey?
Ashley Fiumara: After spending my early 20s working around the clock, paying zero attention to what I was putting into my body, and spending time in the gym with no results, I decided something had to change. I was 27 with no energy, so I knew something wasn't right.
I wasn't overweight, but I certainly wasn't healthy. I also knew that children were in my near future, and I felt very passionate about getting healthy BEFORE trying to get pregnant.
PS: What approaches did you take to fitness and weight loss before you found something that worked?
AF: I hadn't taken the time to really educate myself on how to fuel my body. I pretty much followed whatever the latest fitness/diet craze was. I started to Google things like "health" and "fitness for women," and came across Tone It Up. I was instantly drawn to their positive, healthy, and balanced approach to health and fitness.
What first drew me to TIU was the infectious personalities of Karena and Katrina and the lifestyle they promote. But what has made it stick even after all these years is the Tone It Up community; I have made so many incredible friends through Instagram and [in person] meet-ups. Finding accountability partners and checking in via Instagram has been so motivating for me.
Ashley: Postpregnancy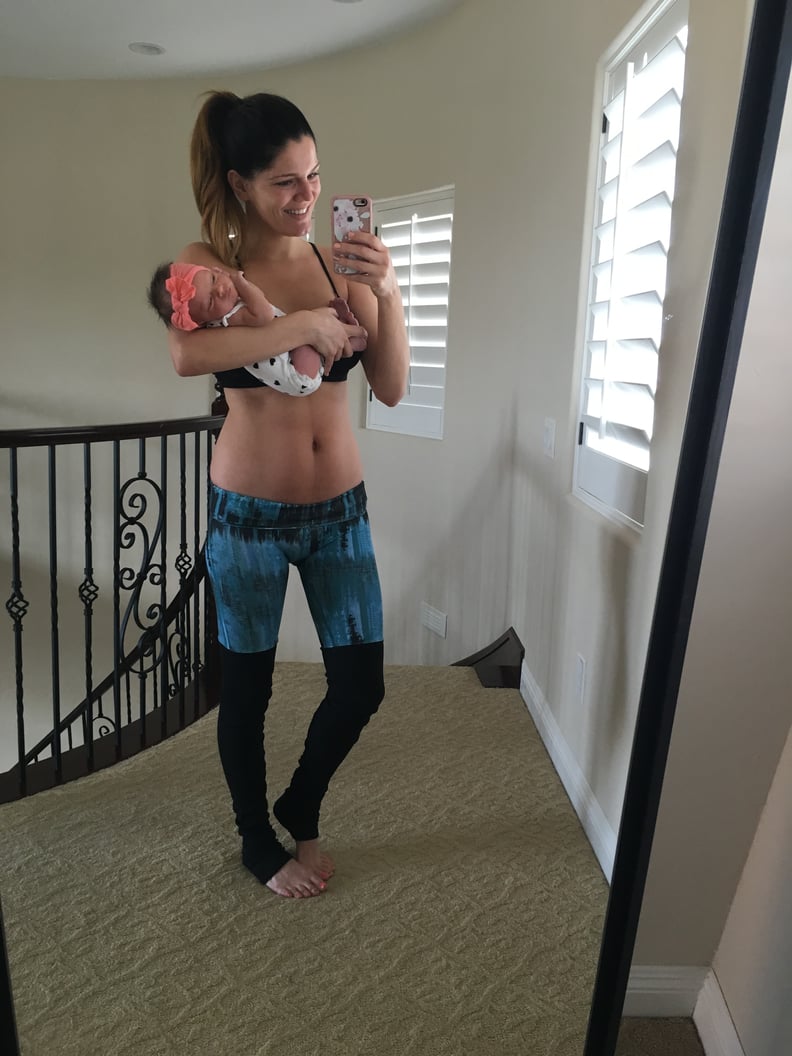 PS: What's your favorite way to work out?
AF: Honestly, what I love doing continues to evolve and change. Right now, I am training for a half marathon, so my favorite way to work out is to run and follow it up with a toning Studio Tone It Up workout. And when I am looking to get out of the house, a hot yoga class is my favorite.
"I feel so free knowing that I don't have to give up ANY of the things that I love — and I still love my body."
PS: What's your weekly exercise schedule?
AF: Because I travel for work often, I do not have a consistent schedule. Each week, I look at my calendar and plan my workouts based on work meetings, travel, and family commitments. My goal right now is to run four days a week, do a toning and/or yoga workout four days a week, and take at least one full rest day.
Ashley: Today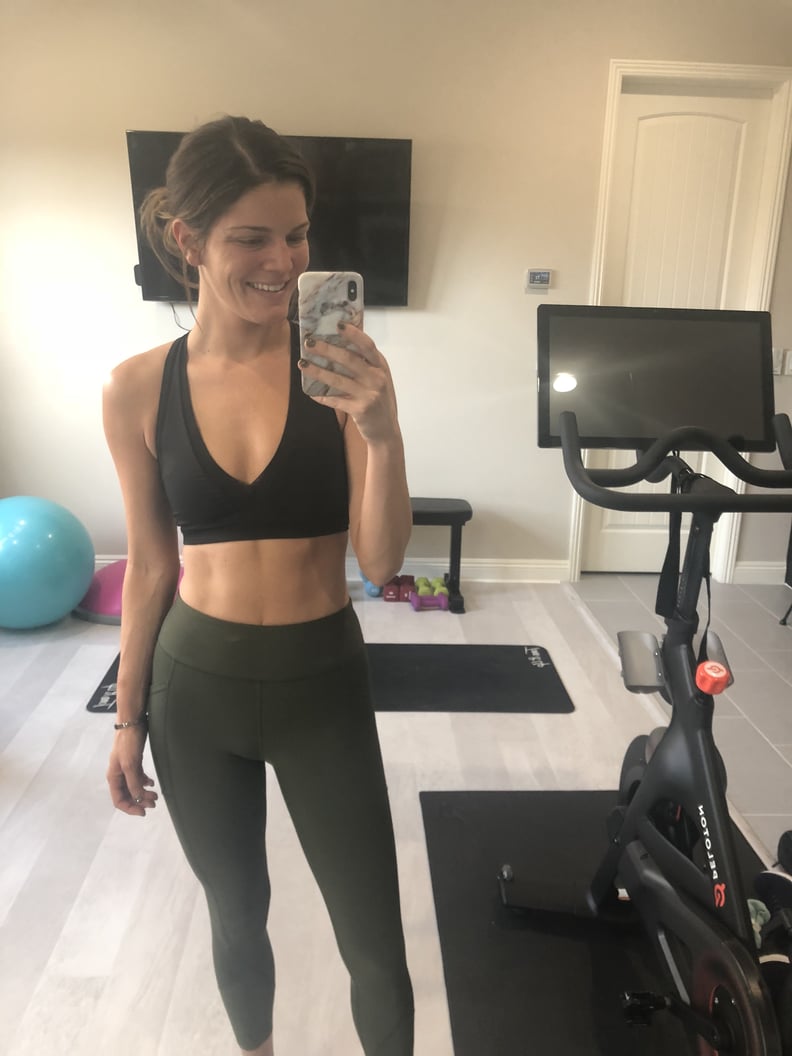 PS: How do you keep workouts exciting?
AF: MUSIC! A good playlist can make or break my workout. Whether I am running, practicing yoga, or training in Studio Tone It Up, I always have my own playlist jamming in the background.
PS: How much weight have you lost?
AF: I've lost 20 pounds since having [my daughter] Gemma, but I have also gone from body fat in the high 20s percentage range to low 20s percentage range. I don't love scales; I prefer to measure progress by how my jeans fit and how my body feels.
PS: What was the first big difference, other than the number on the scale, that really made you feel proud and excited?
AF: I started my fitness journey in April of 2014 and at this time I was not consuming any healthy meals. If it wasn't fast, out of a can, or microwaved I did not eat it. And, I was not working out, period. Just two short months later my husband and I went on our honeymoon in Italy. I woke up every single morning to get my workout in before our day started, not because I had to but because I wanted to; it made me feel good! There is no better feeling than when your healthy diet and workouts become a full on lifestyle and here I am almost four years later with that same lifestyle.
PS: How do you track your weight loss?
AF: I like to take time every few weeks to check in with myself — how am I feeling, how do my clothes fit, am I comfortable and I balanced, what could I be doing better? — and I make adjustments from there. I have a scale, but it is rare that I hop on it.
I also like to measure success by my strength, constantly challenging myself to run longer or lift heavier or add one more push-up. That last rep sometimes makes all the difference in how you feel.
PS: What's a typical day of meals and snacks?
AF: I aim for five meals a day. A typical day for me is:
Meal 1: Tone It Up protein smoothie
Meal 2: Hard-boiled egg and fruit
Meal 3: Lean protein, veggies, and a healthy carb
Meal 4: Protein bar, granola, fruit, or nuts (whatever is close and easy)
Meal 5: Lean veggies and chicken
PS: Do you count calories?
AF: Not typically. Over the years, I have learned to eat intuitively, but every now and then, I like to do a gut check and count calories for a few days. I am a huge believer in eating intuitively. I also aim for 100 ounces of water a day that I track using a Starbucks tumbler. Refilled four to five times a day and I know I have my water intake complete!
"Learning how to love and appreciate my body during every stage of my fitness journey has been my biggest breakthrough."
Ashley: Before and After (Postpregnancy)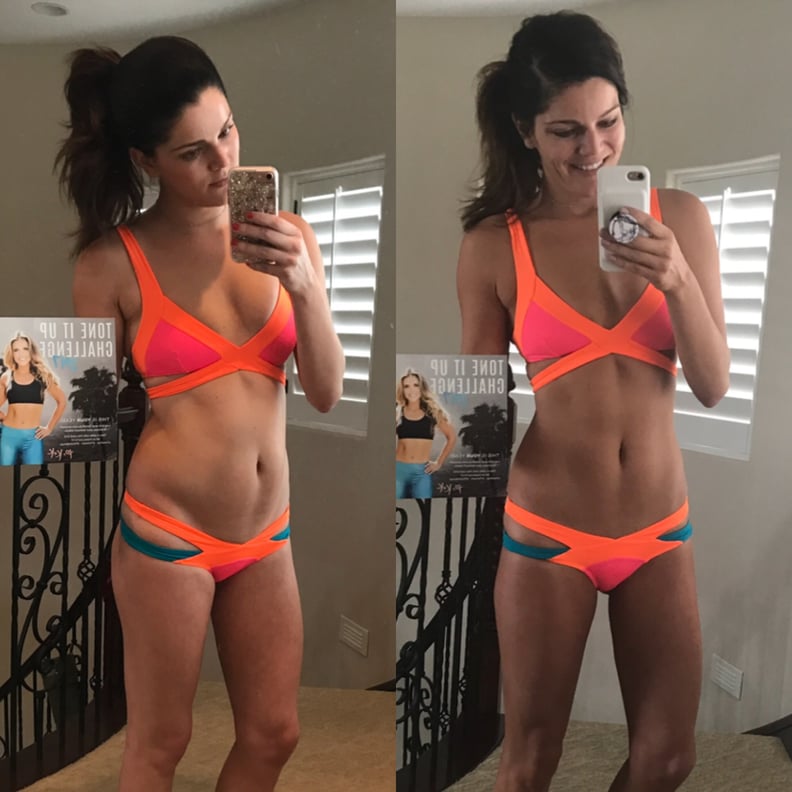 PS: What are the healthy staples that are always in your fridge?
AF: My fridge is always stocked with almond milk, fresh veggies like brussels sprouts and asparagus, and frozen fruit for smoothies. When all else fails, I can always make a smoothie.
PS: How do you strategize for meals out?
AF: I travel multiple times a month for work and I have become really comfortable ordering off the menu. I have never been turned down from a chef when I ask for a grilled chicken breast and steamed veggies! I also think it is really important, especially when you are out and about, to never let yourself get hungry; keep healthy snacks on hand. I also think balance is really important. I've found that if I allow myself the flexibility to enjoy, I don't overeat and I still walk away satisfied.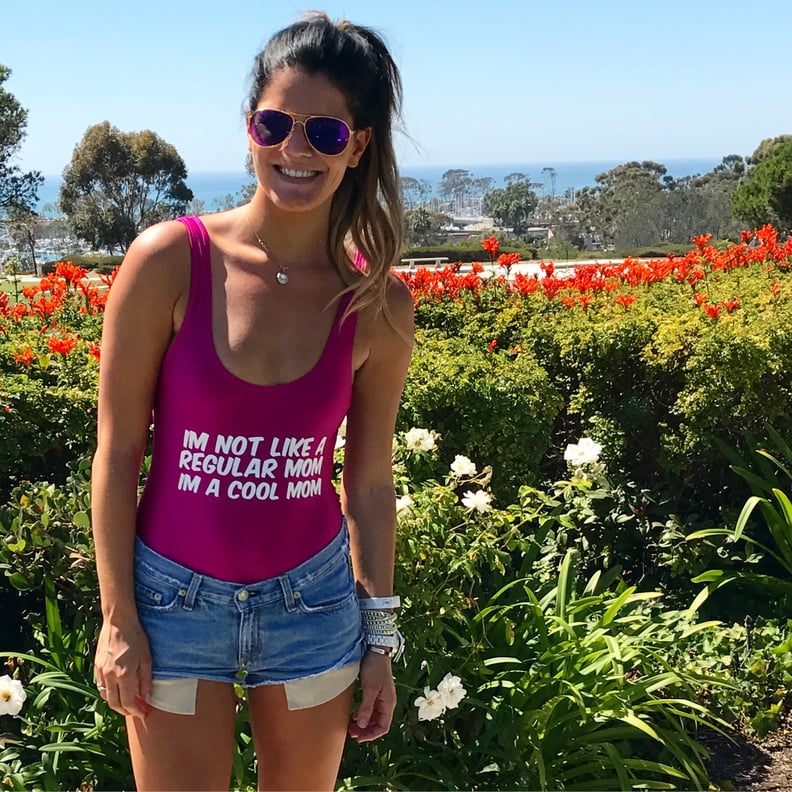 PS: What role did Tone It Up play in your journey? Would you recommend it?
AF: Tone It Up has been such an incredible influence on my healthy lifestyle. The nutrition plan helped educate me on how to fuel my body. The fitness challenges are so motivating and provide no-guesswork meal-by-meal plans for members, but most of all, Tone It Up ignited a passion for living a healthy and balanced lifestyle. I have no fears that I'm going to "mess up" or that I'm "not following the plan" 100 percent because I have learned that it is not about one meal, one day, or even one month.
Life has its ups and downs but I am committed to living my best life not for today or tomorrow but for 60 years from now and that is a really incredible feeling. I give a ton of credit to that healthy mindset to Tone it up and the whole TIU community.
Ashley: Today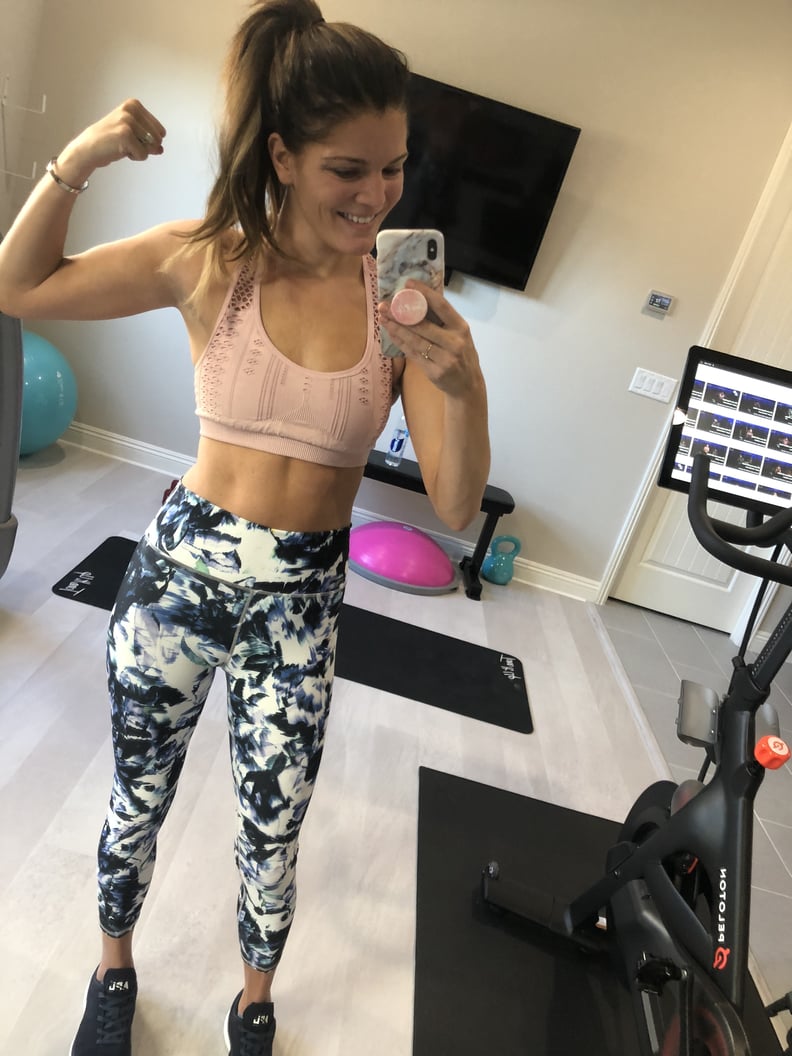 "I have learned that it is not about one meal, one day, or even one month. Life has its ups and downs, but I am committed to living my best life."
PS: What's the biggest thing you've learned through all this?
AF: Learning how to love and appreciate my body during every stage of my fitness journey has been my biggest breakthrough. Society is so fixated on labeling you or judging you that it's easy to forget that you are the only one that has to live with yourself and you are the only person you have to please.
PS: What advice do you have for anyone starting out on a weight-loss journey?
AF: If you are just starting out and feel overwhelmed, pick one small goal and dedicate yourself to it. I also think it is really important to find an accountability partner, someone who believes in you even when you don't believe in yourself. Share your goals with them, share your weaknesses that hold you back from those goals, and let them cheer you on!