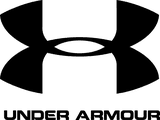 We teamed up with Under Armour to help women everywhere tap into their unbeatable confidence.
I'm tough on all my gear, but the piece that I'm most critical of is my sports bra. It's likely because I've had a larger bust since my teenage years and have fluctuated between bra sizes my entire adult life, but sports bras are my personal pain point. So when I find one that checks off all my boxes, I want to share it with all my fitness friends. Hence my excitement for the updated Armour Mid Crossback Sports Bra.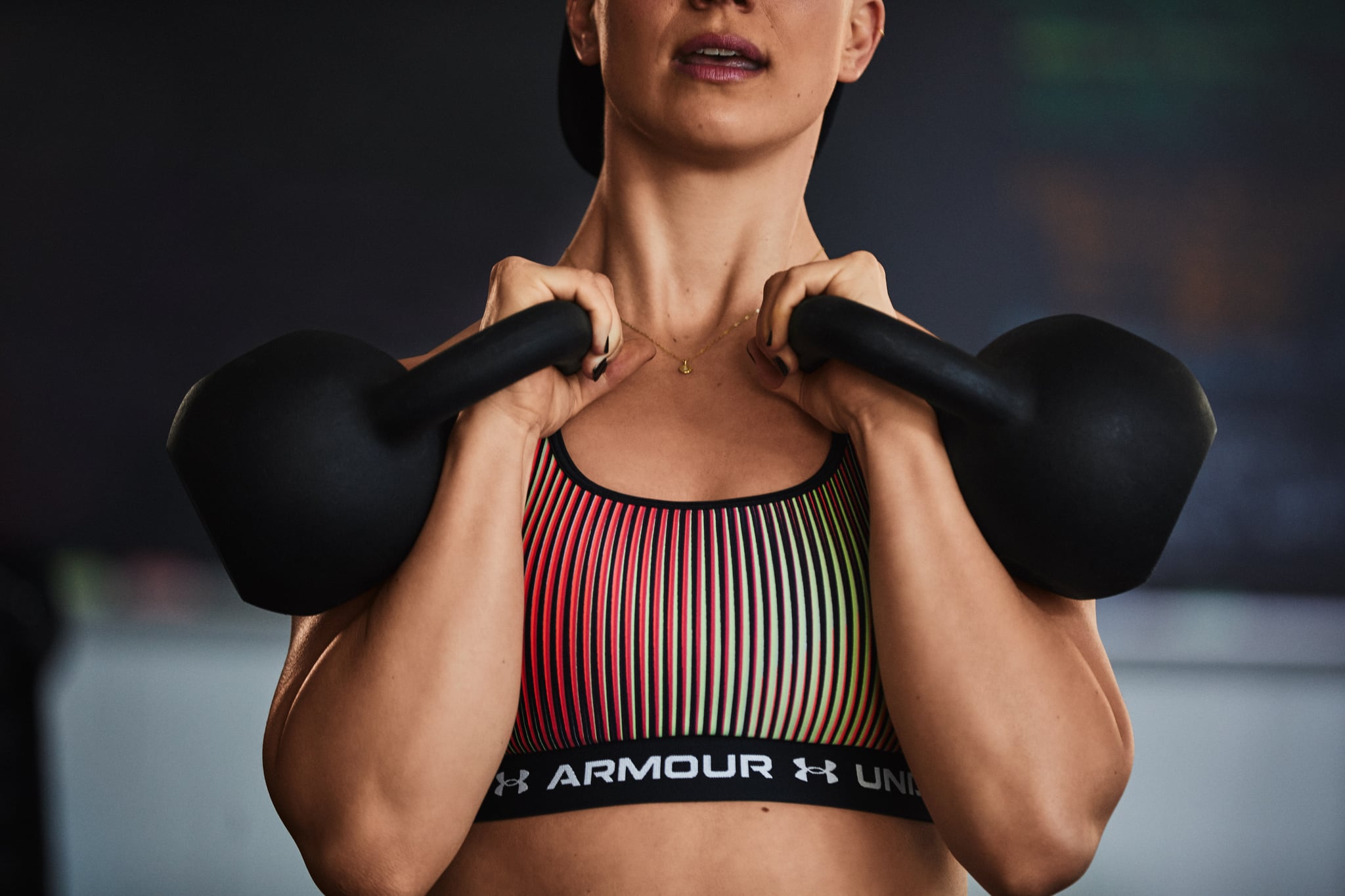 I was able to test out the improved version of the classic UA sports bra for the last month and have learned it's the right match for all of my workouts. Between at-home classes (I'm a fan of strength training and HIIT) and uphill bike rides, I require a bra that can handle jumping, bouncing, and stretching, all while feeling like an extension of my body. And the new tech of the UA bra delivers for me every time.

The medium-impact Mid Crossback Sports Bra is made from a double layer of second-skin-like HeatGear fabric, which means it helps absorb sweat and keeps me cool all workout long. And like many women, chafing, rubbing, and general unwanted moisture is a big concern for me. But I found that during a 30-minute bike ride, the Mid Crossback quickly absorbed any moisture, and I never felt uncomfortable or burdened by my gear. The breathability of the fabric has meant I was comfortable and confident and could push myself just a bit further each workout.
Not to mention, throughout the last few weeks, I never found I was doing the squirmy wiggle dance while pulling off my sweaty bra at the end of each workout (you know the one). This is due partly to the performance-ready HeatGear, but also the new and improved keyhole design of the back, which adds to the ease of wear.
Speaking of wear, the bra really won me over with its comfort level. I knew it was a compression fit, and admittedly, I was worried about feeling constricted and not being able to take deep inhales while circuit training. But this simply was never the case. The thick elastic chest band laid flat against my skin and expanded comfortably and seamlessly with every breath and stretch I took. And the enhanced coverage of the new design meant the wider straps and criss-cross backing always kept me supported and reinforced.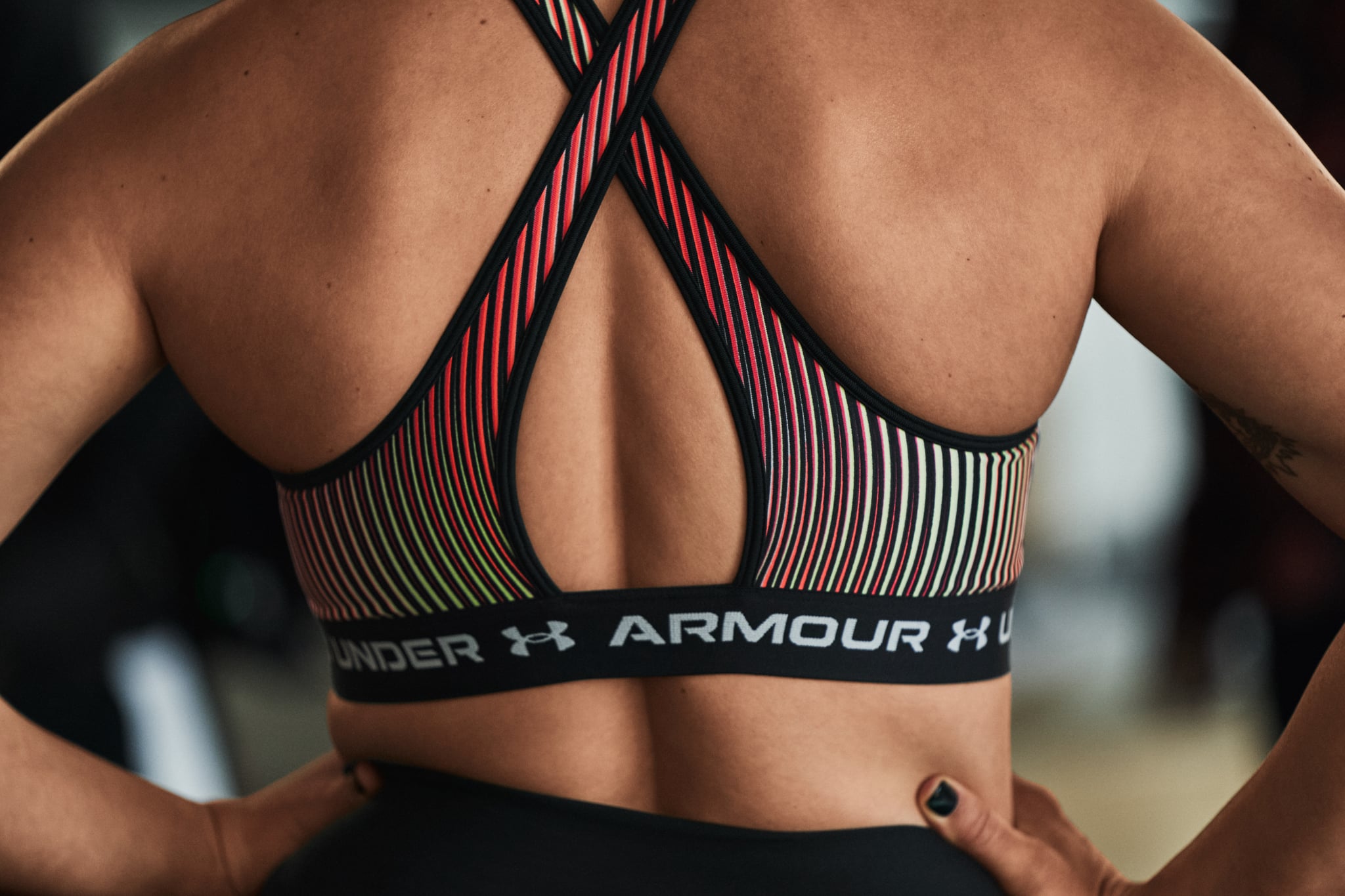 What's more, I loved the higher neckline of the bra. So often I find a sports bra that fits in the arms and chest band, but it has a lower neckline and can't make it through downward dog or a series of burpees without disaster. But the Mid Crossback fit snugly (and high enough) without leaving me feeling too constricted. This meant I could jump during my HIIT class and sprint without fear all month long. Plus, I could easily wear this bra solo for a sleeker look — or under a looser tank for a more airy feel on humid days.
After several weeks of putting this bra through my toughest and sweatiest workouts, I've turned to it time and time again. And while I could go on about the fit and the fabric, that's not even my true favorite part. What really has me reaching to this bra for every workout now is the simple fact that I can wear it and forget it. It's ready to work, and so am I.
Shop the Armour® Mid Crossback Sports Bra