Under Armour Iso-Chill Crop Tank Review
This Under Armour Crop Top Is Designed to Keep You Cool, and It Really Does Work
As POPSUGAR editors, we independently select and write about stuff we love and think you'll like too. If you buy a product we have recommended, we may receive affiliate commission, which in turn supports our work.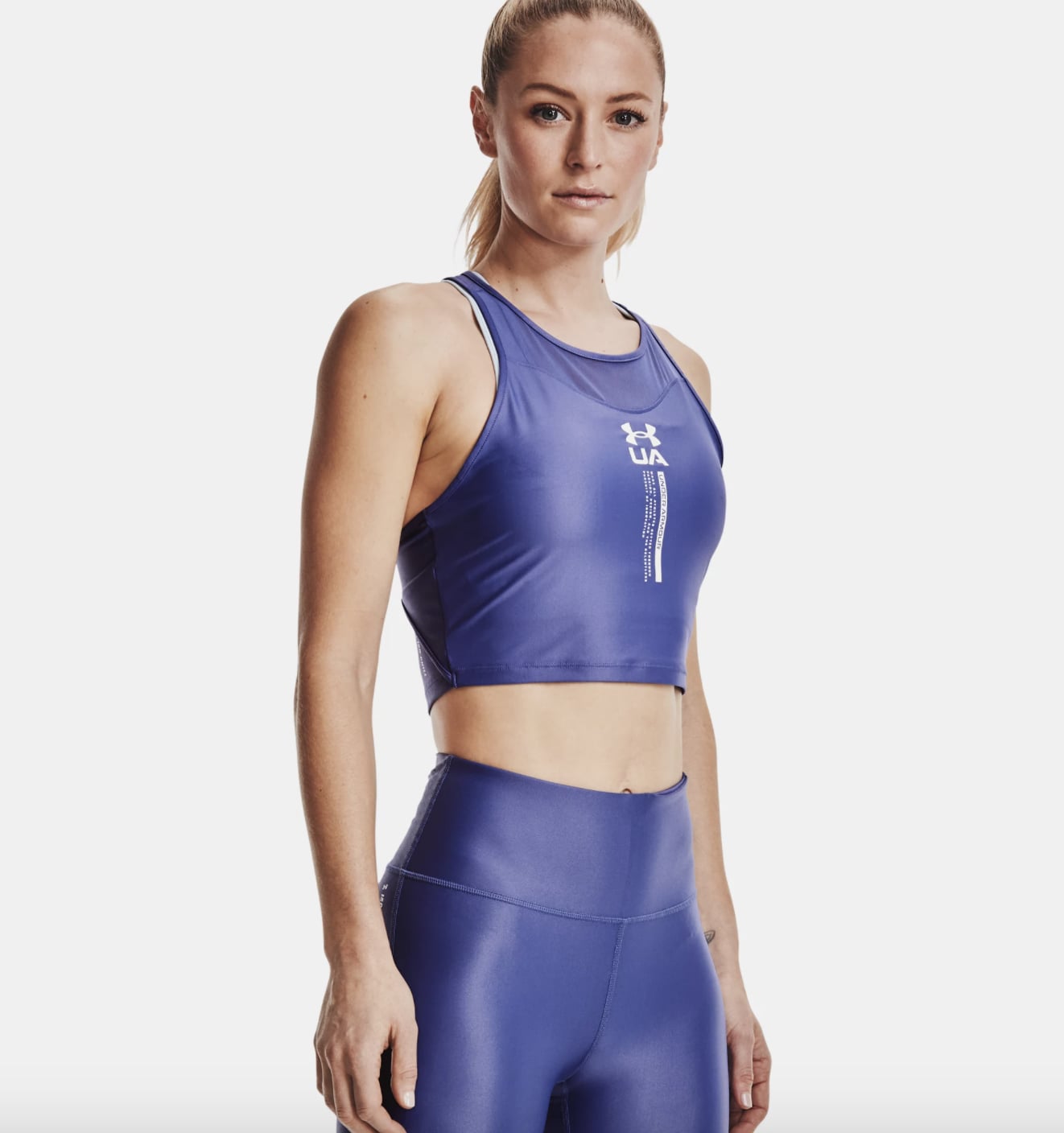 If you want to put your workout clothes to a sweat test, step into my makeshift garage gym any day from May to October. That place is an oven, and I've found myself sweating even during the slowest, chillest 8 a.m. yoga practices. You'll sweat right through your leggings and shirt if they're not up to the task, so when Under Armour sent me its new Iso-Chill Crop Tank ($50), I knew exactly where to try it out.
This crop tank top is made of the same light, nylon-y material as Under Armour's Iso-Chill Leggings, meant to help "disperse body heat" to cool your skin. When I put on the crop top, it felt slinky, smooth, and comfortable, snug without being too tight. I liked the cut, too; it is high-necked and hit a few inches above my belly button, so you get more coverage than a sports bra while still exposing enough skin to keep you cool.
I wore the crop tank during a 30-minute high-intensity interval training (HIIT) workout in my aforementioned toaster oven of a garage. I started sweating immediately, but apart from a light patch on my back, the moisture didn't show up on my blue tank top. The top was soft enough that it didn't chafe my skin, and I loved the mesh panel on the front, too, which added to the sleek look while also helping with the cooldown factor. When I was ready to shower, the top slipped right off with none of the uncomfortable, damp clinginess you get with some shirts. (I wore the "starlight" blue shirt, but it also comes in black and lime green.)
I love that this tank top keeps me as cool as if I was just wearing a sports bra but covers up a little more skin when I don't feel like going bra-only. It's cute, comfortable, and soft, and wearing it with the Iso-Chill leggings makes me feel sleek and strong, even when I'm working out all alone in my garage. Hey, you gotta look good for yourself, right?