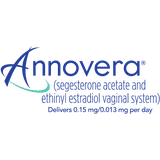 We've partnered with
ANNOVERA®
to help you take control of your reproductive health. See below for more information about ANNOVERA®, including Important Risk Information and Boxed Warning.
Finding the right birth control for you can be tricky — from pills to IUDs to implants, there are so many different options to choose from. Plus, once you've committed to a certain method of birth control, switching often seems like a hassle. Gynecologist Dr. Mary Jane Minkin said she sees that point of view often in her patients. "I think a lot of people have in their mindset, 'I'm going to pick a birth control method and I should stay with this for the rest of my life,'" she explained.
Still, the birth control that worked best for you as a college freshman might not be the best option for you at age 35. Everything from lifestyle changes to new medical conditions could be reasons to reexamine your method of birth control, Dr. Minkin said. Before you make the switch to a new kind of birth control, talk to your healthcare provider about these four key factors if you are considering hormonal birth control.
Dr. Minkin said finding birth control that works for your lifestyle is incredibly important but something that many of her patients often overlook. A pill that you have to take at the same time each day might work well for a high school student with a fixed schedule, for example, but wouldn't suit a new mom who's getting up at all hours with the baby. Dr. Minkin even recalled an airline pilot who needed something easier to remember than a pill, since she was crossing so many time zones every day.
For patients with variable schedules, Dr. Minkin particularly likes ANNOVERA® (segesterone acetate and ethinyl estradiol vaginal system), a vaginal ring that lasts for a full year and you put in and remove yourself each cycle. "You leave it in for three weeks. You take it out for a week. You put it back in," Dr. Minkin said. "It's one less thing to think about [everyday]." Because you use ANNOVERA® for 21 days, then remove it for seven, you don't have to remember it every day, unlike other medications.
Dr. Minkin said another advantage of ANNOVERA® is that it doesn't require monthly trips to the pharmacy. Unfortunately, many people can only get one to three months of contraceptives at one time due to insurance restrictions, Dr. Minkin explained. Unlike a medication you have to refill monthly, ANNOVERA® lasts for 13 cycles — you simply wash the vaginal ring before and after use, then store it to use again the following month.
Ask About Potential Side Effects
Side effects like sore breasts, fluid retention, weight gain, and irritability often lead patients to switch birth control, Dr. Minkin said. "There may be something new that would work better for you, [or] you may have developed some medical issues that your current contraceptive might not work well with," she explained.
Make sure you tell your healthcare provider about any side effects you're experiencing as well as ask about potential side effects from any other birth control methods you're considering. In addition, you should make sure your choice of hormonal birth control is not contraindicated for your medical history. For Important Safety Information, including Boxed Warning, for ANNOVERA®, keep reading.
If you've been on the same kind of hormonal birth control for years, Dr. Minkin said it can be helpful to see if there are new options that you haven't considered. Even if you're comfortable with your current method of birth control, you might not be aware of some of the more recent innovations you might like.
"Combined hormonal contraceptives have . . . improved over the course of time," Dr. Minkin said. Take ANNOVERA® as an example: it contains one of the lowest daily doses of estrogen on the market but still has a very high level of efficacy.
Think About Your Long-Term Goals
Choosing the right birth control for you also means thinking about your long-term goals. Someone who wants to get pregnant in a few months has a very different outlook than someone who is years away from starting a family, Dr. Minkin said. For example, birth control injections can leave hormones lingering in the body for months.
If you want to have children in the near future, you will likely want a birth control method that's easily reversible. Although some kinds of long-acting contraceptives like IUDs need to be inserted and removed in a healthcare provider's office, you can remove ANNOVERA® by yourself at home. Dr. Minkin said the fact that the patient puts ANNOVERA® in herself is one of its main advantages. "She's in charge," Dr. Minkin said.
Your ideal form of birth control should not only protect you from unplanned pregnancies without significant side effects but also fit your lifestyle and long-term goals. Before making any changes to your birth control plan, talk to your healthcare provider about all the options to ensure you're making the right choice for you.
More From ANNOVERA® (Segesterone Acetate and Ethinyl Estradiol Vaginal System)
ANNOVERA® is a long-lasting birth control option you can control. It's a ring. It goes in your vagina. Notice we said "vagina" and not "the v-word." Because when we talk like that about reproductive health, we're apologizing for our bodies. So consider this an unapology, from ANNOVERA®.
ANNOVERA® is a first-of-its-kind birth control that's 97% effective. It's comfortable long-lasting birth control that puts you in control. You pick it up from the pharmacy. You put it in yourself and leave it in for 21 days. You pull it out yourself and leave it out for 7 days. Then repeat. And, it lasts a whole year or 13 cycles, which is 13 periods for those counting.
For Important Safety Information, including Boxed Warning, for ANNOVERA®, please see below. Want more info about ANNOVERA®? Click here to learn more.
IMPORTANT RISK INFORMATION
Do not use ANNOVERA (segesterone acetate and ethinyl estradiol vaginal system) if you smoke cigarettes and are over 35 years old. Smoking increases your risk of serious heart and blood vessel (cardiovascular) side effects from hormonal birth control methods, including death from heart attack, blood clots, or stroke. This risk increases with age and the number of cigarettes you smoke.
ANNOVERA does not protect against HIV infection (AIDS) and other sexually transmitted infections.
The use of a combination hormonal contraceptive (CHC), like ANNOVERA, is associated with increased risks of several serious side effects, including blood clots, stroke, or heart attack. Do not use ANNOVERA if you have a history of these conditions, have reduced blood flow to your brain (cerebrovascular disease) or reduced blood flow or blockage in any of the arteries that supply blood to your heart (cardiovascular disease), or any condition that makes your blood more likely to clot. The risk of blood clots is highest when you first start using CHCs and when you restart the same or different CHC after not using it for 4 weeks or more.
ANNOVERA is also not for women with high blood pressure that medicine can't control or high blood pressure with blood vessel damage; diabetes and over 35 years old, diabetes with high blood pressure or kidney, eye, nerve, or blood vessel damage, diabetes for longer than 20 years; certain kinds of severe migraine headaches; liver disease or liver tumors; breast cancer or any cancer that is sensitive to the female hormones estrogen or progesterone; unexplained vaginal bleeding; are allergic to segesterone acetate, ethinyl estradiol or any other ingredients in ANNOVERA; or take any Hepatitis C drug combination containing ombitasvir/paritaprevir/ritonavir, with or without dasabuvir, as this may increase levels of the liver enzyme "alanine aminotransferase" (ALT) in the blood.
ANNOVERA can cause serious side effects, including: blood clots; toxic shock syndrome (TSS); liver problems, including liver tumors; high blood pressure; gallbladder problems; changes in the sugar and fat (cholesterol and triglycerides) levels in your blood; headache; irregular or unusual vaginal bleeding and spotting between your menstrual periods; depression; possible cancer in your cervix; swelling of your skin especially around your mouth, eyes, and in your throat (angioedema); dark patches of skin on your forehead, cheeks, upper lip, and chin (chloasma). Call your healthcare provider or get emergency medical care right away if any of these serious side effects occur.
The most common side effects reported in at least 5% of women who received ANNOVERA were: headache/migraine, nausea/vomiting, vaginal yeast infection (candidiasis), lower/upper abdominal pain, painful periods, vaginal discharge, urinary tract infection, breast pain/tenderness, irregular vaginal bleeding, diarrhea, and genital itching.
USE
ANNOVERA is a ring-shaped vaginal system with hormones used by females to prevent pregnancy.
ANNOVERA has not been adequately studied in females with a body mass index
>29 kg/m2.
The risk information provided here is not complete. To learn more, review the ANNOVERA Patient Information and talk with your healthcare provider or pharmacist. The FDA-approved product labeling, including Patient Information, can be found here.
You may report side effects to the FDA at www.fda.gov/medwatch or by calling 1-800-FDA-1088. You may also report side effects to TherapeuticsMD at 1-888-228-0150.
ANNOVERA is a registered trademark licensed to TherapeuticsMD, Inc.
ANVA-20752 09/2021