Why Runners Jump Over Water in Steeplechase
Intrigued and Confused by the Water Jumps in Steeplechase? Here's Why They're Part of the Race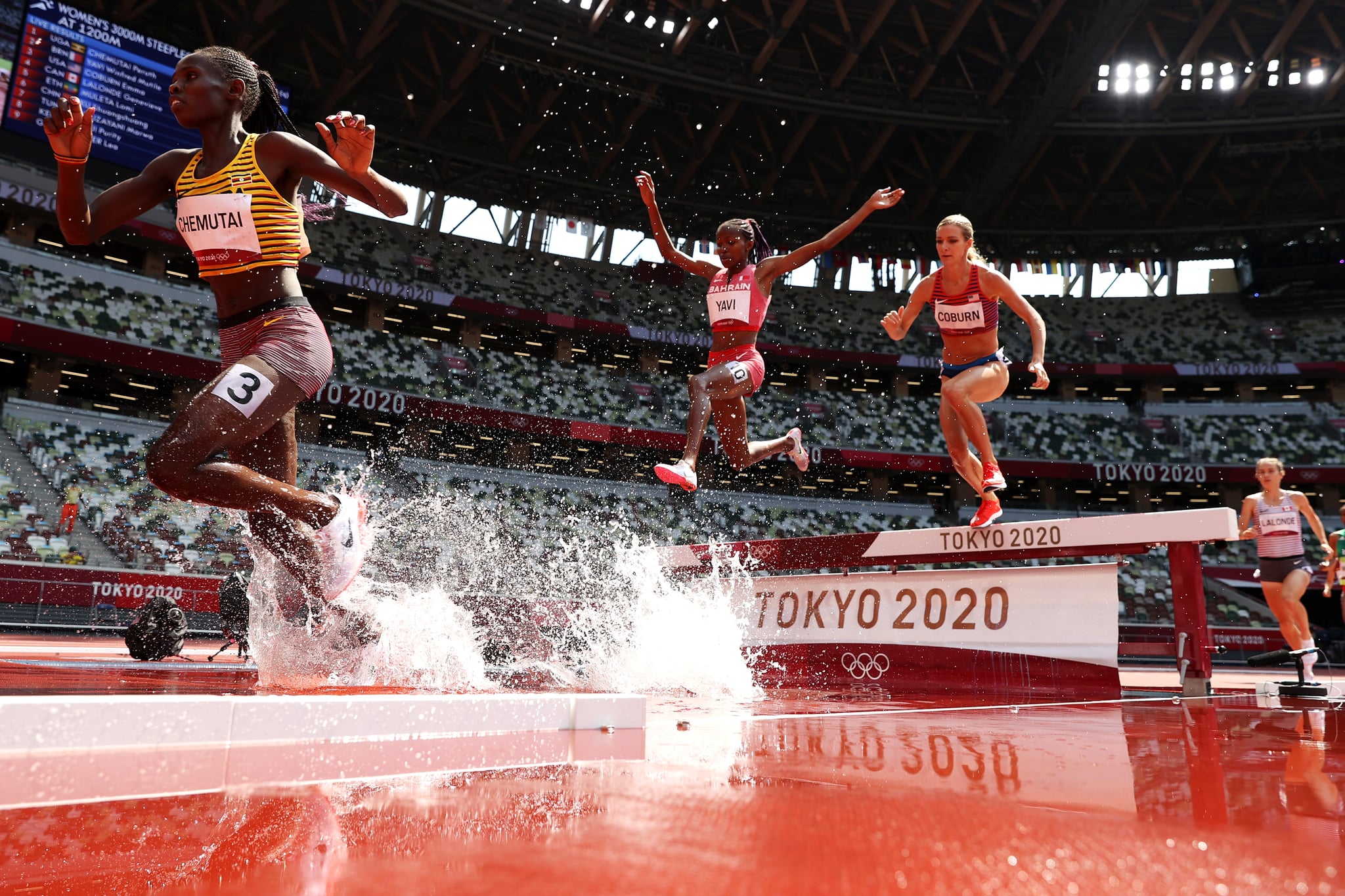 Steeplechase is one of those sports you may have never seen before tuning in to the Olympics, but once you discover it, it's hard to look away. Imagine a challenging, high-stakes obstacle course, and you've got a pretty good idea of what this track and field event is like. Runners compete over a longer distance, where they must not only run, but also jump over solid hurdles and, most distinctively, several pits of water. Why water, though? It turns out that this tradition dates back almost 150 years.
Reportedly, this seemingly odd "hurdle" derives from steeplechase's origins in the United Kingdom. According to World Athletics, the governing body for track and field, the steeplechase began as a race from one town's church (and its visible steeple) to the next. Along the way, runners would encounter natural obstacles, like low stone walls and small creeks or rivers. When the sport became standardized, the walls became hurdles and the rivers became the water pits that have become the distinctive features of steeplechase. The sport as we now know it was first competed at the Olympics in 1900, but the women's event was only just introduced in 2008.
In modern steeplechase, the water pit is a sloped obstacle, placed just after a barrier, which athletes may use to launch themselves across the pit. For both men and women, the water is 12 feet long. The sloped design places the deepest part of the pit — which is 70 centimeters, or a little more than two feet — closest to the barrier, with the water becoming more shallow the further away it gets.
During a race, however, athletes aren't necessarily trying to get all the way over the water without touching it. "When not fatigued, it's possible in practice to clear the water jump, but in a race scenario, it's nearly impossible and not very practical," Emma Coburn, a three-time Olympian and the 2016 Olympic bronze medalist in steeplechase, told ESPN. "The ideal way to land the water jump is to land with one foot first and then another foot to be able to kind of run out of the water."