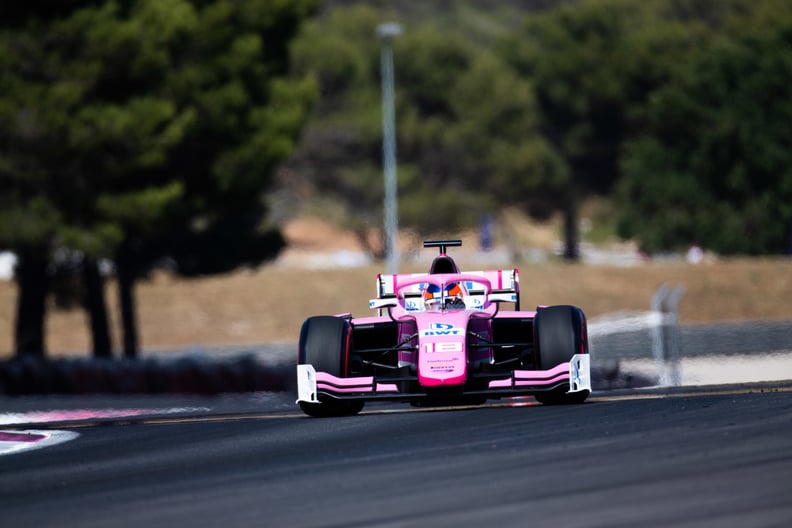 Getty Images | Joe Portlock
Getty Images | Joe Portlock
It's been 46 years since a woman competed in a Formula 1-level motorsport race. Let that sink in. There are a variety of divisions in race-car driving, ranging from Formula 4 all the way up to F1 — the highest level of international race-car driving that participates in European Grand Prix races. Not once since 1976 when Lella Lombardi competed in the Austrian Grand Prix has another woman competed in a F1 Grand Prix. Instead, the billion-dollar industry remains dominated by men competitors, as shown in the popular Netflix series "Drive to Survive." The lack of diversity, however, doesn't translate to a lack of interest.
Abbi Pulling, a 19-year-old British driver in the Formula 3 W Series (the women's single-seater racing championship), has wanted to compete in F1 races since she was 8 years old. When Pulling got the chance to drive a F1-level car for a demonstration in Saudi Arabia (a country which just granted women the right to drive passenger vehicles just a couple years ago), she says the experience was unbeatable. "[The car] was unleashing all the power that it had," Pulling says. "Hopefully it won't be the last time I will experience it. It's what every driver . . . dreams of," she says. Unfortunately, those dreams aren't yet close to becoming a reality. There are only 20 spots available across 10 teams in F1. Securing one of those coveted positions, not only requires an extreme amount of talent, but money, training, and a series of qualifications.
"I spent four years as a test driver — I proved I can be very competitive, but it's still difficult to earn those points."
"It's a "never-ending battle," says Tatiana Calderon, a 29-year-old F1 test driver from Colombia (meaning she tests the Formula 1 cars, but does not have the qualifications to race at that level yet) and the first woman to compete on the Formula 2 level in races. You need at least 40 participation points to earn what's called a "super license" and to compete at the Formula 1 level. "I spent four years as a test driver — I proved I can be very competitive, but it's still difficult to earn those points," she explains. The super license requires a number of top-four or -five race finishes over a couple of years, and Calderon and Pulling are still at the beginning of their racing careers.
Another roadblock? The cars themselves. Women aren't always given access to the best cars (which can help competitors win a race and eventually advance to the Formula 1 and 2 levels) or even cars that fit their bodies. Since there haven't been as many women race-car drivers, the data collected on body composition and race cars has often been studied using men's measurements, explains Calderon. For example, she's a size 37 shoe (6.5 in US women's sizes), and the guys driving are a size 43 (about size 10 in US men's sizes), meaning the brake pedals in the car are designed for men's feet more than twice her size. "You need a brake pedal that fits in order to smash the brake pedal really hard to slow down," she says. Calderon (pictured below) has to use her entire foot to cover the brake and exert even more force to slow down during a race. On top of that, every time she slides into a race car, Calderon says her forearms cramp up from clutching the thick steering wheel grip designed for larger arms and hands.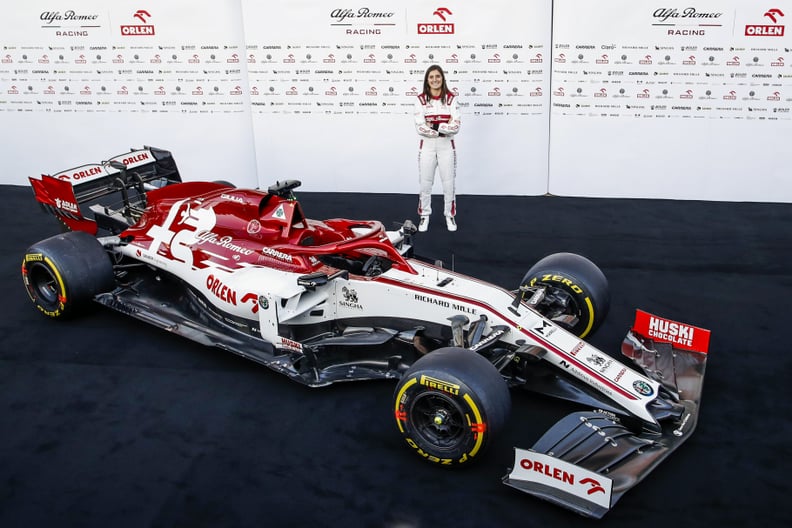 Women drivers often end up going to extremes to train their bodies to adapt to the cars that are better suited for men. For example, Calderon trained with very specific exercises to bulk up her neck and shoulders, ultimately gaining nine centimeters (3.5 inches) of muscle around her neck. It's a strategy that will help Calderon withstand the stresses of driving an F1 car. Making sharp turns and decelerating from around 200 miles per hour to about 40 miles per hour can take a serious toll on the body. "Once you go up the ladder [to higher levels in racing], you're taking the corners quicker and quicker," Pulling explains. You might have as much as five Gs of force on your neck while you're taking a turn, which is the equivalent of 60 to 70 pounds, so your neck has to be strong enough to withstand that without your head hitting the steering wheel and potentially getting injured. Men's neck circumferences tend to be 17 to 18 percent larger on average than women's, according to research published in the journal Plastic and Reconstructive Surgery. So women who want to compete on higher racing levels often need to bulk up more physically to safely compete with their men opponents.
Besides the makeup of the car itself, women are also battling to get sponsorships that allow them the opportunity to race in the first place. While the W series is free to enter, as you climb higher up in the ranks, costs increase. Sponsorships are necessary to pay for the millions spent to compete at the F1 level. "People say that the hardest part is driving, but it's also getting the money to drive," Pulling says. When you have financial backing, it removes "the external stress" of not knowing when your next race will be and "relieves that pressure and lets you focus solely on your abilities." Without guaranteed sponsorships, women drivers miss out.
Pulling (pictured below) was recently invited by Alpine Racing to join its Formula 1 Academy and junior team, which allows her to sit in on the F1 team's control room during races and puts her on the pipeline toward racing at that level herself. Getting to see how things operate on the F1 level has "been really beneficial to me," Pulling says.
Women drivers need more opportunities like that to learn from those at the top and to be in the control room during races. But there aren't many women in management and owner roles in the sport, making it tough to challenge the status quo. "In Formula 1, team owners and managers have been there for 30-plus years, so it's quite hard to change their mind," Calderon says. While there are women who work in less forward-facing roles (i.e. engineers, directors, marketing execs) across F1, according to ESPN, only two women have managed F1 teams, and neither are still working in the sport.
Still, despite the obstacles in their path, women drivers have seen an increase in representation overall. "When I started [go karting], I was one of three girls. Now I go back to cart races and see three girls in each category — it's not comparing to the 30-plus guys driving, but we can't expect this to change overnight," Pulling says. Part of that change — in the last four years, anyway — is thanks to the W Series, which is putting these women drivers on a platform so other young women who dream of driving race cars can see what's possible.
But why set the ceiling at the W series? Drivers like Pulling and Calderon are ready and willing to do whatever it takes to compete at the highest level of racing. When it comes to F1, "Usually I get the question, 'When is a woman going to be ready?'" Calderon says. "It's, 'When is the sport going to be ready for us?'"