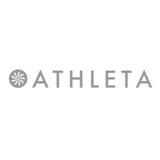 We've partnered with
Athleta
to help you further your self-love journey with a guided yoga practice inspired by the brand's supportive, size-inclusive activewear.
The first time she tried yoga, Jessica Jade wasn't too sure about it. "My first impression of yoga was a fitness magazine telling me it was the way to get ripped abs," she joked. "It was something I tried off and on at gyms in order to change myself, but not from a place of love or truth seeking."
It wasn't until Jessica learned about other principles of yoga — like practicing acts of service to give back to your community — that she really fell in love with it and decided to become a yoga and meditation instructor. "This understanding of yoga as a working system that did not just focus on physical strength but also on mental clarity and conscious connection intrigued me on an entirely new level," Jessica said.
These days, Jessica's yoga practice is all about feeling good in her body, embracing mindfulness, and learning to love herself — something she said she works on every time she comes to the mat. Read on to learn more about Jessica's inclusive approach and join her for a 30-minute moving meditation that's all about self-love.
A huge part of Jessica's yoga journey was realizing it's for everyone — not just people who are flexible enough to slip into some of the tougher poses. "I think our fixation on extremely difficult [postures] keeps a lot of bodies away from the practice," she said.
Instead of getting hung up on specific yoga poses or lofty fitness goals, Jessica encourages her students to stay present and learn to love the process. "Doing anything simply for a desired end result will always leave you feeling empty at the end," she said. "My approach is to show up on the mat to meet and respect the body I'm in today, in the moment."
Paying close attention to the way her body feels has not only helped Jessica feel more confident, but also empowered her to say goodbye to workouts she doesn't love. "I've learned to advocate for my body and my needs, listen to myself, and make decisions and choices from a loving perspective," Jessica said. "If you hate HIIT or running, you honestly do not have to do them anymore! Sometimes we get stuck in movement ruts, and sometimes our preferences just change."
Making the wellness industry more inclusive is another one of Jessica's passions. She's a fierce advocate for fitness for all bodies, as well as bringing more representation and diversity to the yoga community. "How we see people who look like us in the world has a part in our own personal narrative," she said. "Keeping marginalized bodies out of sight in wellness and fitness spaces further disenfranchises these communities."
Of course, Jessica said that showing up for a yoga class (whether virtually or IRL) when you don't see anyone else who looks like you can be intimidating. It's OK to feel afraid, but Jessica encouraged would-be yogis not to let fear stop them from trying something new. "I can speak from personal experience: the fear of trying new physical activities can bring up a lot of anxiety and even some trauma," she said. "I like to remind myself that fear is normal. I can allow myself to be afraid, but I won't allow myself to let that feeling overtake me."
Even something as simple as finding yoga gear made for plus-size bodies is a step in the right direction. That's why Jessica is so impressed by Athleta's buttery soft yoga clothes in sizes from XXS to 3X. "I love the latest trends as much as the next yogi, but I also want to make sure my clothing choice does not compromise my practice and allows me to be my confident self," she said. "I keep reaching for my Elation and Salutation Stash Pocket Tights. They offer the best comfortable support without compressing me or digging in anywhere. I also know that there will be no surprises with see-through fabric or tears, even in studio or outdoor lighting."
Another wellness practice that can often intimidate beginners? Meditation. The idea of sitting quietly with your eyes closed and clearing your mind can seem near impossible for first timers.
Thankfully, Jessica has a fresh approach to meditation as well: finding mindfulness in everyday moments. "Meditation is a state of mind, not a fixed physical practice," Jessica said. "Anything you can do that allows you to find presence and observation in your mind is a form of meditation." That could mean decompressing in your car for a few minutes after a busy day at work, or zoning out in the hot shower. For Jessica, it means making an effort to stop multitasking and instead focus on one task at a time.
Jessica also explained that every yoga practice is a type of meditation — even if you don't realize it. Moving through different poses tires out the body, making the mind more receptive to meditation. That's where mindfulness comes in: "Remember, a past or future version of yourself doesn't exist within this present moment," Jessica said.
Ready to try it for yourself? Press play on the video below to join Jessica in a 30-minute moving meditation. You just might find a bit more self-love on the mat.