No-Bake Birthday Cake Truffles
Make Like It's Your Birthday With These No-Bake Oreo Truffles
Today just might be the best day ever because we're making no-bake funfetti birthday cake truffles with Gemma Stafford from Bigger Bolder Baking! These are supereasy, incredibly tasty, and will curb all your funfetti truffle cravings instantly.
No-Bake Birthday-Cake Oreo Truffles
From Brandi Milloy, POPSUGAR Food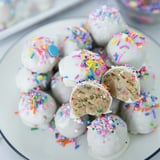 Ingredients
1 package Golden Birthday Cake Oreos
8 ounces cream cheese
2 tablespoons yellow cake mix
2 tablespoons, sprinkles plus more for garnish
2 1/2 cups white chocolate candy melts
Directions
In a food processor, chop up Oreos, including the frosting, until a fine crumb is reached.
In a large bowl, mix together Oreos with cream cheese and yellow cake mix. Fold in 2 tablespoons of sprinkles. Once combined roll the dough into 1" balls and place on a piece of wax paper. Place in the freezer for 15 minutes.
While the Oreo balls are in the freezer, melt chocolate in a double boiler or microwave until smooth. Pull the Oreo truffles out of the freezer and dip into the chocolate, being sure to cover the truffle completely. Place on a new wax paper lined baking sheet and garnish with sprinkles.
Place truffles in the refrigerator to set the chocolate.
Information
Yield

12 to 14 servings

Total Time

59 minutes, 59 seconds