BLT Salad Recipe
Bacon-Lovers: Meet Your New Favorite Salad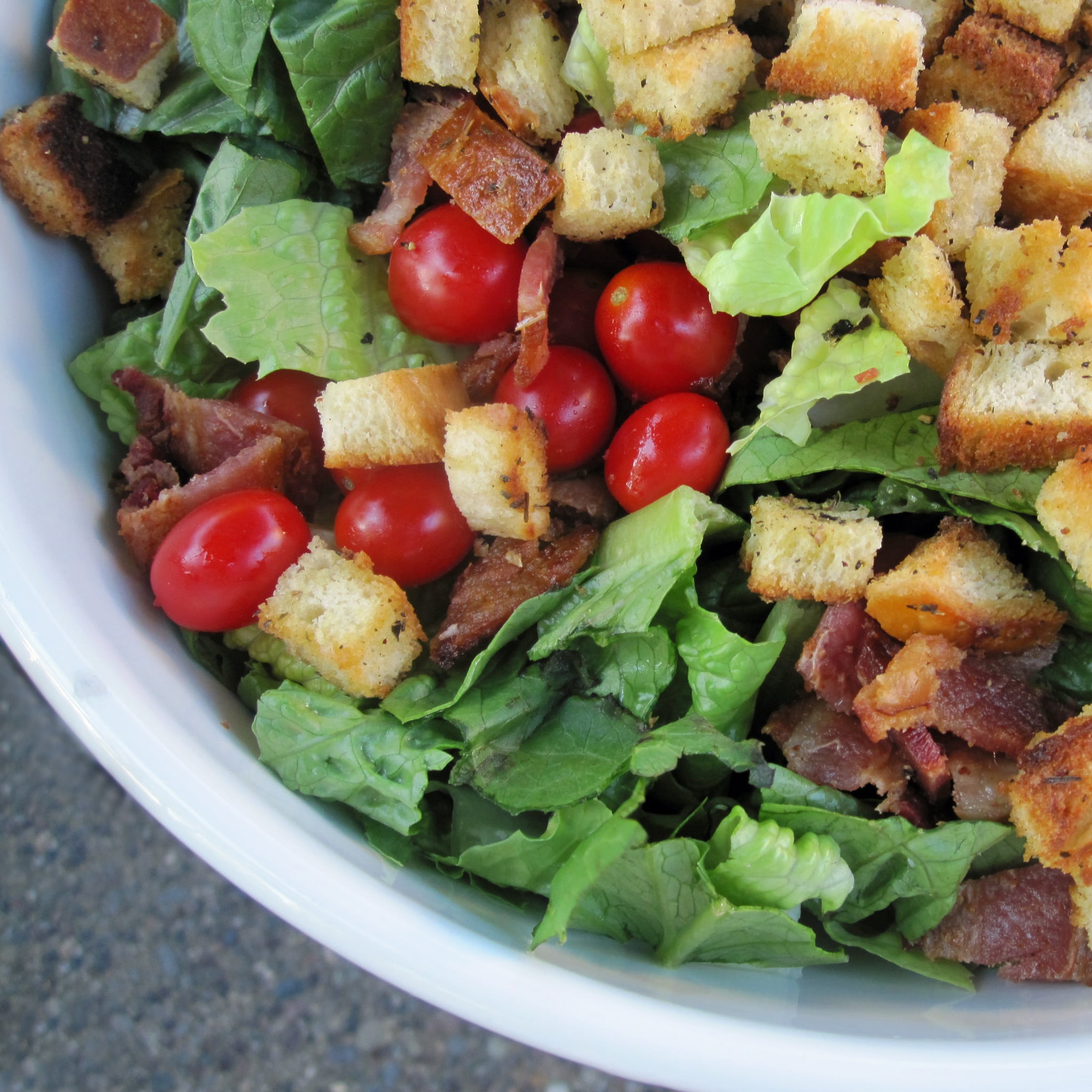 Although I adore caprese salad's simplicity and taco salad's bold medley of flavors, my all-time favorite salad is this BLT-inspired recipe. It tastes just like a bacon, lettuce, and tomato sandwich, but in salad form. Genius! It's fully loaded with salty bacon, juicy cherry tomatoes, crisp lettuce, and toasted croutons, all married together with a tangy buttermilk-scallion dressing, and is pretty much guaranteed to sate BLT cravings.
Ingredients
8 slices (8 ounces) bacon
1/2 baguette (8 ounces), sliced into 3/4-inch cubes (about 4 cups)
2 tablespoons olive oil
Coarse salt and ground pepper
1/3 cup buttermilk
3 tablespoons reduced-fat mayonnaise
2 tablespoons cider vinegar
1 scallion, thinly sliced
1 pound romaine hearts, chopped
1 pint cherry tomatoes, halved
Directions
Preheat oven to 375°F.
Arrange bacon in a single layer on a rimmed baking sheet lined with parchment paper. Bake until browned and crisp, about 15 minutes.
Transfer to a paper-towel-lined plate to drain. Cool, then crumble into large pieces.
Toss the bread with oil, and season with salt and pepper. Spread evenly on a baking sheet, and bake until golden brown, tossing halfway through, about 15 to 20 minutes.
Meanwhile, in a large bowl, whisk together the buttermilk, mayonnaise, vinegar, and scallion; season to taste with salt and pepper.
Add lettuce, tomatoes, and croutons; toss to coat with dressing. Sprinkle with bacon.
Information
Category

Vegetables, Salads, Main Dishes

Cuisine

North American

Yield

4 servings