Baileys Irish Cupcakes
Drink Your Dessert: Spiked Irish Cupcakes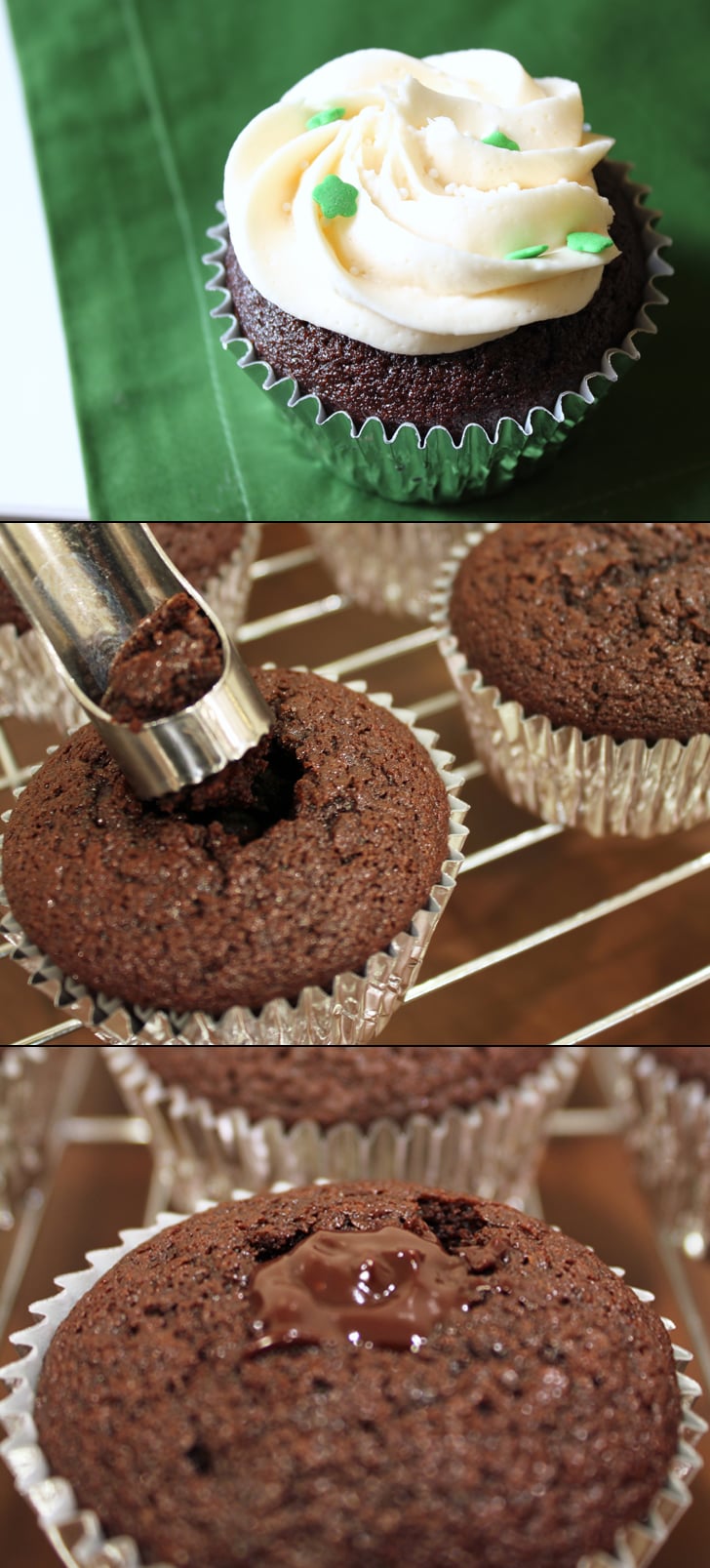 If you went to college or lived near a campus bar, you're undoubtedly familiar with a drink similar to a sake bomb or cement mixer that involves one shot each of Baileys Irish cream liqueur and Irish whiskey are dropped into a pint glass of Guinness stout, and some poor soul downs the entire concoction before the drink can curdle, often while standing on top of the bar. Yowza.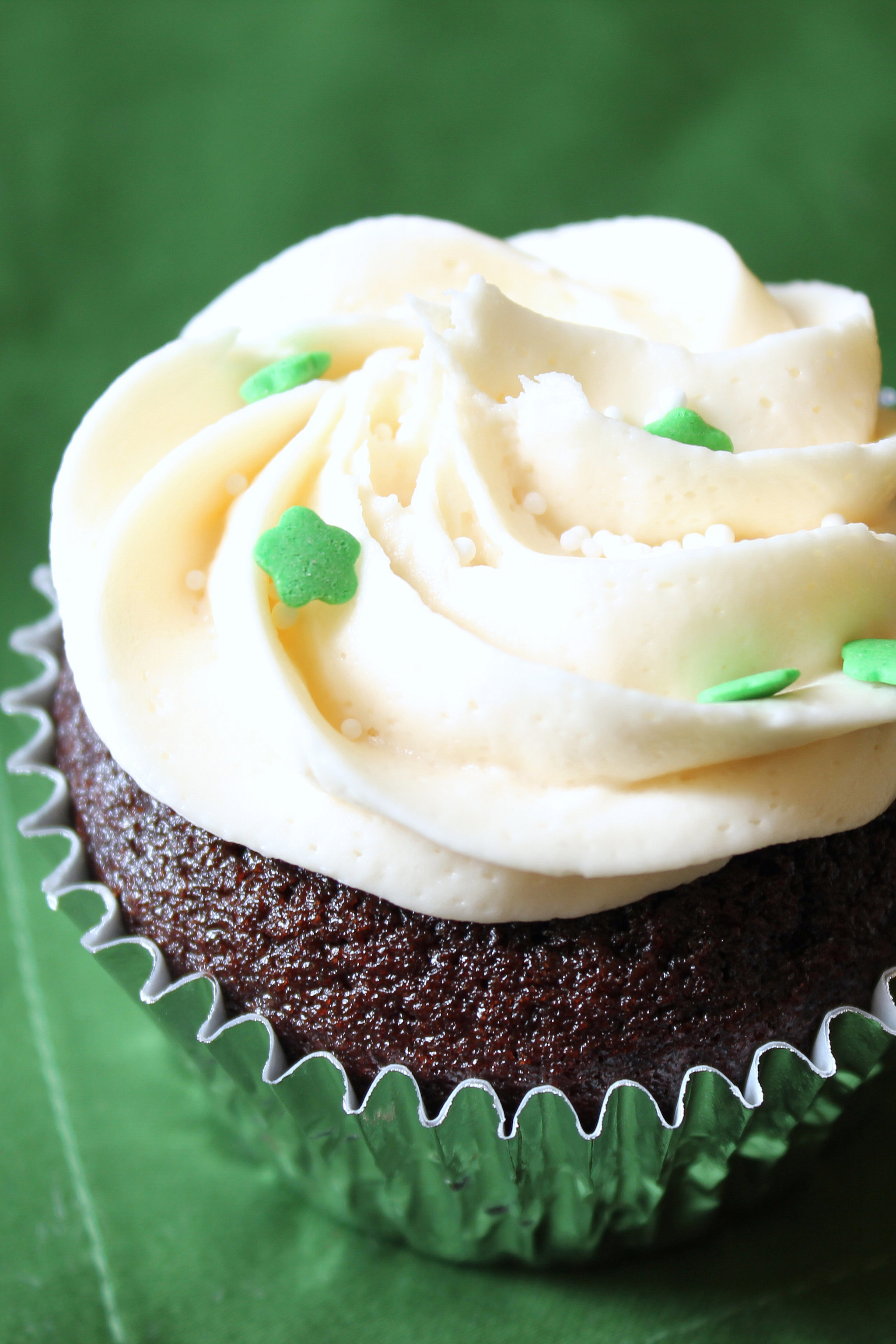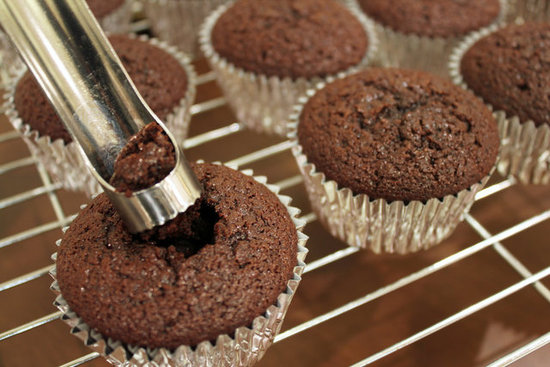 Now, a coed liver might be able to handle that potent combo, but mine certainly cannot, and this weekend I fear being cornered by an overzealous St. Patrick's Day reveler. So when in peril, fight fire with cupcakes!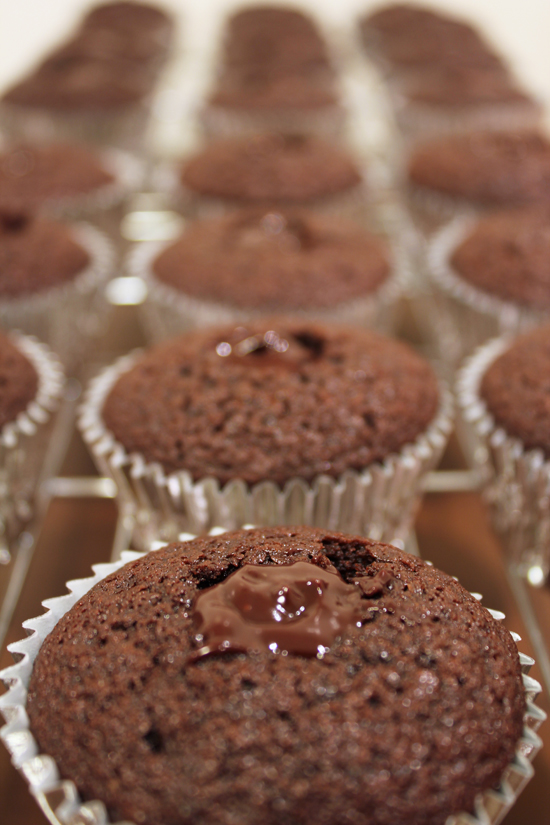 The brilliance of this recipe is that it both layers and melds the flavors of each liquor, just like the drink that it's based on. The whiskey in the ganache is sharp and bracing, the Baileys soothes as buttercream frosting, and the Guinness gives a moist, malty texture to the chocolate cake.
Of course, if you're not in a boozy mood (or if kids are present), you can leave out the whiskey and Baileys and just ensure that the alcohol cooks off sufficiently in the first step. But for a sweet drink substitute, these cupcakes sure are a shot of wonderful.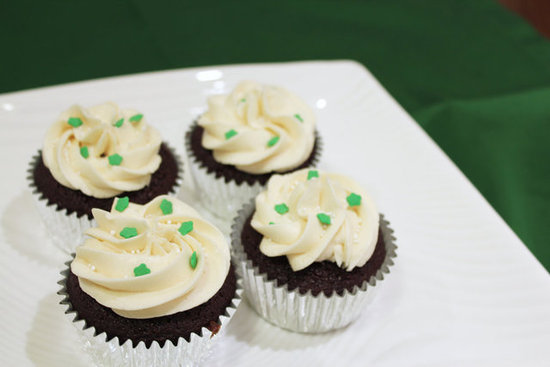 Chocolate Stout Cupcakes With Whiskey Ganache and Irish Cream Frosting
Adapted from Smitten Kitchen
Ingredients
1 cup stout (such as Guinness)
1 1/2 cups (3 sticks) plus 2 tablespoons unsalted butter, room temperature
3/4 cup unsweetened cocoa powder (preferably Dutch-process)
2 cups all-purpose flour
2 cups sugar
1 1/2 teaspoons baking soda
3/4 teaspoon salt
2 large eggs
2/3 cup sour cream
8 ounces bittersweet chocolate
2/3 cup heavy cream
1 to 2 teaspoons Irish whiskey (optional)
3 to 4 cups confectioner's sugar
3 to 4 tablespoons Baileys (or milk, or heavy cream, or a combination thereof)
Green sprinkles, for garnish (optional)
Directions
To make the stout cupcakes: Preheat oven to 350°F. Line 24 cupcake cups with liners. Bring 1 cup stout and 1 cup (2 sticks) butter to simmer in heavy large saucepan over medium heat. Add cocoa powder and whisk until mixture is smooth. Cool slightly.
Whisk flour, sugar, baking soda, and 3/4 teaspoon salt in large bowl to blend. Using electric mixer, beat eggs and sour cream in another large bowl to blend. Add stout-chocolate mixture to egg mixture and beat just to combine. Add flour mixture and beat briefly on slow speed. Using rubber spatula, fold batter until completely combined.
Divide batter among cupcake liners, filling them 2/3 to 3/4 of the way. Bake cake until tester inserted into center comes out clean, rotating them once front to back if your oven bakes unevenly, about 17 minutes. Cool cupcakes on a rack completely.
To make the whiskey ganache filling: Chop the chocolate and transfer it to a heatproof bowl. Heat the cream until simmering and pour it over the chocolate. Let it sit for one minute and then stir until smooth. (If this has not sufficiently melted the chocolate, you can return it to a double-boiler to gently melt what remains. 20 seconds in the microwave, watching carefully, will also work.)
Add the butter and whiskey (if you're using it) and stir until combined.
Fill the cupcakes: Let the ganache cool until thick but still soft enough to be piped (the fridge will speed this along but you must stir it every 10 minutes). Meanwhile, using your 1-inch round cookie cutter or an apple corer, cut the centers out of the cooled cupcakes. You want to go most of the way down the cupcake but not cut through the bottom — aim for 2/3 of the way. A slim spoon or grapefruit knife will help you get the center out.
Put the ganache into a piping bag with a wide tip and fill the holes in each cupcake to the top.
To make the Baileys frosting: Whip the butter in the bowl of an electric mixer, or with a hand mixer, for several minutes. You want to get it very light and fluffy. Slowly add the powdered sugar, a few tablespoons at a time.
To frost the cupcakes: Once cupcakes have cooled, spread or pipe Baileys frosting evenly across all 24 cupcakes. Garnish with green sprinkles, if desired.
Makes 24 filled and frosted cupcakes.
Information
Category

Desserts, Cupcakes

Cuisine

North American