Banana Ice Cream Bonbons
You'll Never Guess the Secret Ingredient in These Chunky Monkey Bonbons
These bite-size "ice cream" bonbons from Nom Nom Paleo might taste just like Ben & Jerry's Chunky Monkey ice cream but are actually made without using any milk or cream, dairy-based or otherwise. Their secret: frozen, pureed bananas! Watch the video to learn how to make these beautiful bonbons; they're bound to become one of your summertime freezer staples.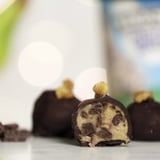 Ingredients
3 medium ripe bananas, peeled, sliced, and frozen
1 teaspoon vanilla paste or extract
Pinch of salt
1/4 cup chocolate chunks, chopped
7 ounces dark chocolate candy melts
3 tablespoons chopped walnuts
Directions
Into a food processor, blend frozen banana slices, vanilla, and salt until smooth and creamy.
Put mixture into a container with a lid. Fold in chocolate chunks, cover, and freeze for at least 2 hours or until the banana ice cream is set.
Line a baking sheet with parchment or wax paper. Use a melon baller or small cookie scoop to scoop out balls of frozen banana ice cream and place on the baking sheet. Cover tray, and place in freezer. Freeze overnight or until the scoops are set.
In a microwave-safe bowl, melt candy melts according to directions on the bag. Remove banana balls from the freezer, and using a skewer inserted into the ball or a chocolate dipping fork, dip in melted chocolate. Place chocolate-dipped bonbon back on the parchment-paper-lined baking sheet. While chocolate is still wet, sprinkle chopped walnuts on top. Store in freezer before serving.
Information
Category

Desserts, Frozen

Cuisine

North American

Yield

12-15 bonbons