Bananas Foster Recipe by Curtis Stone
Curtis Stone's "Up in Flames" Bananas Flambé
Chef Curtis Stone knows how to heat up a kitchen with his take on bananas foster. The face of Netflix's "steaming while streaming" kitchen campaign, Curtis has devised recipes that correspond to shows available to stream on Netflix. "The wildly dysfunctional Bluth family on Arrested Development always seems a little bananas, drunken, spicy, or up in flames, and since they've brought me so many hilarious moments, I created this recipe in their honor! And what could be more perfect than a flamed banana dessert?" he reasons.
"Up in Flames" Drunken Bananas With Spiced Ice Cream
From Curtis Stone
Notes
The spiced ice cream can be made up to 3 days ahead, kept frozen. The flambéed bananas must be served as soon as they are made.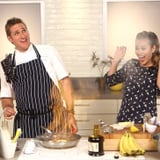 Ingredients
Spiced Ice Cream:
1 pint vanilla ice cream
1 tsp. freshly grated nutmeg
1/8 tsp. ground ginger
Large pinch of ground cloves
Flambéed Bananas:
2 tbsp. unsalted butter
1/4 cup (packed) dark brown sugar
1 tsp. fresh lemon juice
1/8 tsp. ground cinnamon
2 medium bananas, peeled
1/4 cup golden rum
2 tbsp. heavy whipping cream
Directions
To make the spiced ice cream: In a medium bowl, break up the ice cream with a spoon, then mix in the nutmeg, ginger, and cloves. Cover the ice cream, and return it to the freezer. Keep the ice cream frozen until ready to serve.
To cook the bananas: In a 12-inch nonstick frying pan, melt the butter over medium heat. Stir in the brown sugar, lemon juice, and cinnamon. Slice the bananas in half lengthwise, and lay the bananas cut side down in the butter mixture. Cook for about 3 minutes, or until the bananas are caramelized on the underside and the sugar mixture has melted and become golden brown.
Remove the pan from the heat. Add the rum. Using a long match, carefully ignite the rum. Be sure to do this in a well-ventilated area and away from any flammable material. Allow the flame to burn out. Turn the bananas over. Return the pan to medium heat, and stir in the cream. Baste the bananas with the caramel sauce for about 1 minute.
Divide the bananas between two plates. Spoon some sauce over the bananas. Top each with a scoop of ice cream, and then drizzle the remaining sauce over and around the ice cream and bananas. Serve immediately.
Information
Category

Other, Desserts

Cuisine

French

Yield

Serves 2

Total Time

15 minutes, 59 seconds
On Brandi: Everly