Beef and Broccoli Stir-Fry
Don't Take Out! Stay In and Stir-Fry Chinese Beef and Broccoli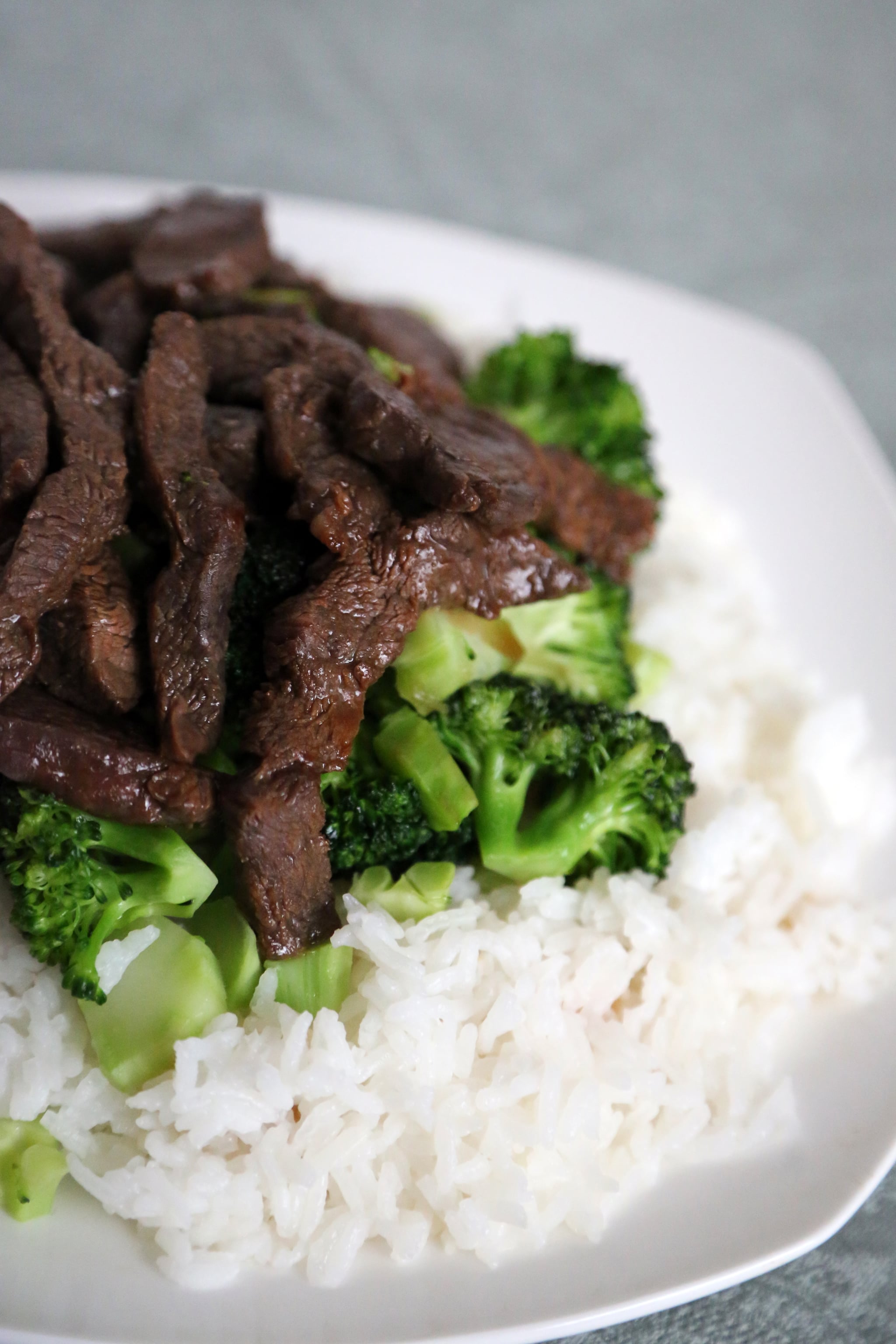 The first thing I learned to cook was scrambled eggs, followed by macaroni and cheese. I'm pretty sure the third thing I learned to cook was beef and broccoli stir-fry. My best friend growing up (who, 26 years later, is still my best friend) is Chinese, and her dad would make the most incredible stir-fries using very simple ingredients.
Growing up, we'd beg her father to tell us exactly how he prepared his beef and broccoli. How much soy sauce did he put in? For exactly how long did it need to marinate? And what's the trick to stir-frying so swiftly with chopsticks? He always shrugged at our questions and responded with ambiguous answers, so we resorted to watching him intensely to understand the process. Years later, every time we munch on our attempted beef and broccoli dish, we taste a glimmer of her father's famed flavors, but we've decided it may require a lifetime before we've mastered it.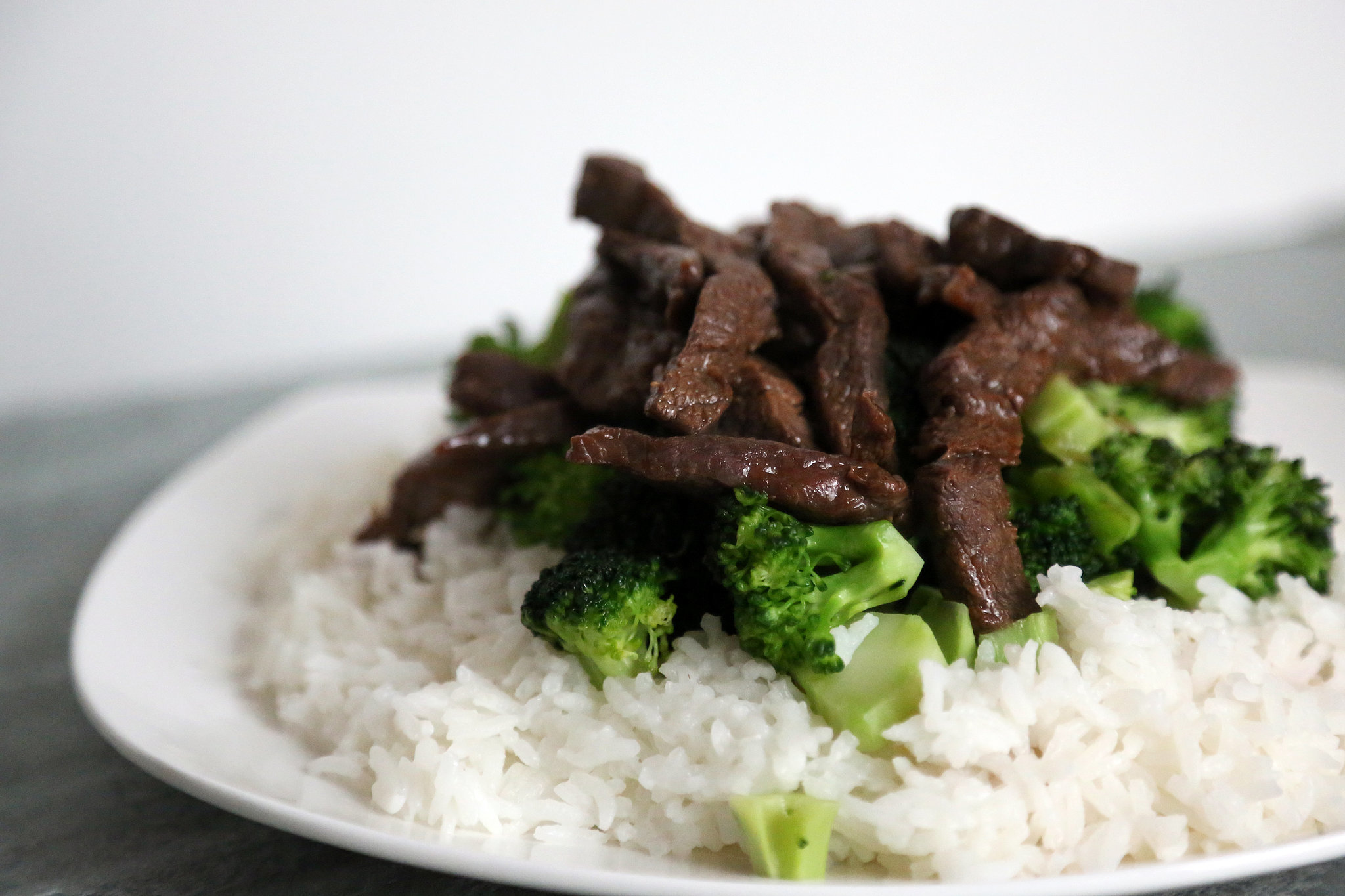 Even this rendition is a far cry from her father's. When I called my best friend for exact details to the recipe, I realized she has inherited her father's fashion. She vaguely replied, "Oh, you could add a little of this and a pinch of that. These ingredients are optional, of course. It's whatever you feel like."
What I felt like creating is the most basic marinade, but three simple ingredients magically transform into a rich, flavorful sauce for the beef. The standout ingredient has to be oyster sauce. It gives dishes a salty, earthy, almost mushroom-like flavor. I adore it. Also worth mentioning is peanut oil. Although a bit more expensive than canola oil, it is so worth the splurge. Unlike neutral oils, peanut oil imparts a subtle, nutty flavor to the stir-fry. If you're allergic to peanut oil, use a neutral vegetable oil to stir-fry and splash a few dashes of roasted sesame oil into the finished dish to achieve a similar effect.
Beef and Broccoli Stir-Fry
From Anna Monette Roberts, POPSUGAR Food
Notes
Peel the stalks of the broccoli using a vegetable peeler. It makes the broccoli cook faster, plus the stalks become tender and easy to chew. If you're not a fan of the stalks, you will be after you try them peeled.
Serve the beef and broccoli with cooked white rice. I prefer to serve the rice under the beef and broccoli, so it absorbs all of the flavorful pan liquids.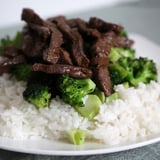 Ingredients
1/2 pound steak, sliced into thin, 2- to 3-inch pieces
2 tablespoons soy sauce
1 tablespoon oyster sauce
1 teaspoon sugar
1-1/2 tablespoons peanut oil, divided
3 cups broccoli, florets and stalks, peeled and cut into bite-size pieces
Directions
In a small bowl, combine steak, soy sauce, oyster sauce, and sugar. Cover and let marinate for several minutes. If you have time, refrigerate and marinate 4-8 hours.
Heat a large wok over medium-high heat for several minutes. Add 1 tablespoon of peanut oil and heat for several minutes. Add broccoli and cook for 1 minute, stirring occasionally. Season with salt and cook for 1 minute more. Add 1-2 tablespoons of water to create a steaming effect. Cook for 2-3 minutes more, until water is absorbed and broccoli is bright green and tender. Remove from heat and pour broccoli into a large serving dish. Set aside.
Return wok to stove. Add 1/2 tablespoon of peanut oil and heat for several minutes. Add marinated steak and cook, stirring occasionally, until steak is brown and no pink remains on the outside. For a well-done steak, cook for about 3-4 minutes. Remove from heat and pour steak and sauce on top of dish with broccoli. Serve immediately with white rice.
Information
Category

Main Dishes, Beef

Cuisine

Chinese

Yield

Serves 2
Image Source: POPSUGAR Photography / Anna Monette Roberts