Bernie Sanders Ben & Jerry's Ice Cream Flavor
How to Score a Taste of Ben & Jerry's Bernie's Yearning Flavor
Things are looking pretty sweet for presidential candidate Bernie Sanders. The founders of Ben & Jerry's are showing their support for the candidate by passing out free scoops of the company's Bernie-inspired ice cream in New York City today.
TODAY! Jerry & I will b scoopin' FREE ice cream 4 @BernieSanders in Washington Square Park from 4:30 to 5:30 P #FeelTheBern #WeAreBernie

— Ben Cohen (@YoBenCohen) April 1, 2016
The flavor is called Bernie's Yearning and is basically a classic creamy mint base with a solid disc of chocolate on top. "The entire top of Bernie's Yearning is covered with a thick disc of solid chocolate, which represents the huge majority of economic gains that have gone to the top 1%," Ben and Jerry explained on berniesyearning.com.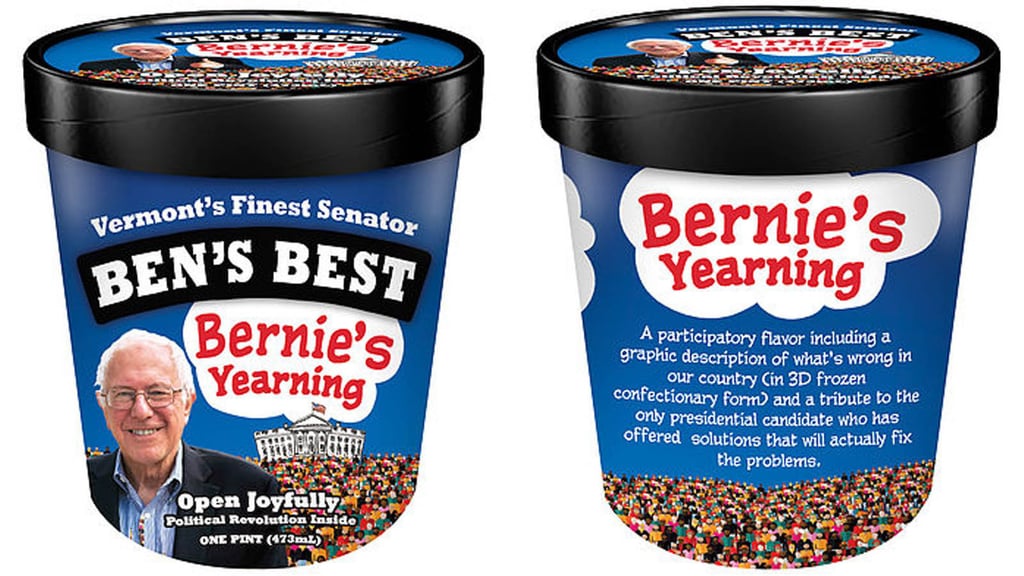 On the website, cofounder Ben Cohen stated that while the two have long been supporters of the Vermont senator, Bernie's Yearning won't be a permanent part of the brand's ice cream collection. Instead, the duo donated a limited amount of the flavor to the Bernie Sanders campaign and gave some out to lucky winners of a drawing. The presidential hopeful himself got to try it for the first time, and judging by his enthusiastic reaction, it definitely has his stamp of approval.
Whether or not you're a supporter of Bernie, ice-cream-lovers can enter to win a taste of the limited-edition pint on the site. Get a closer look at the flavor below and let us know if you would line up outside to try it out.
Would You Try This Bernie Sanders Ice Cream Flavor?
No. Keep politics out of ice cream.