The Best Cheese at Whole Foods Market
6 Cheeses You Should Definitely Try From Whole Foods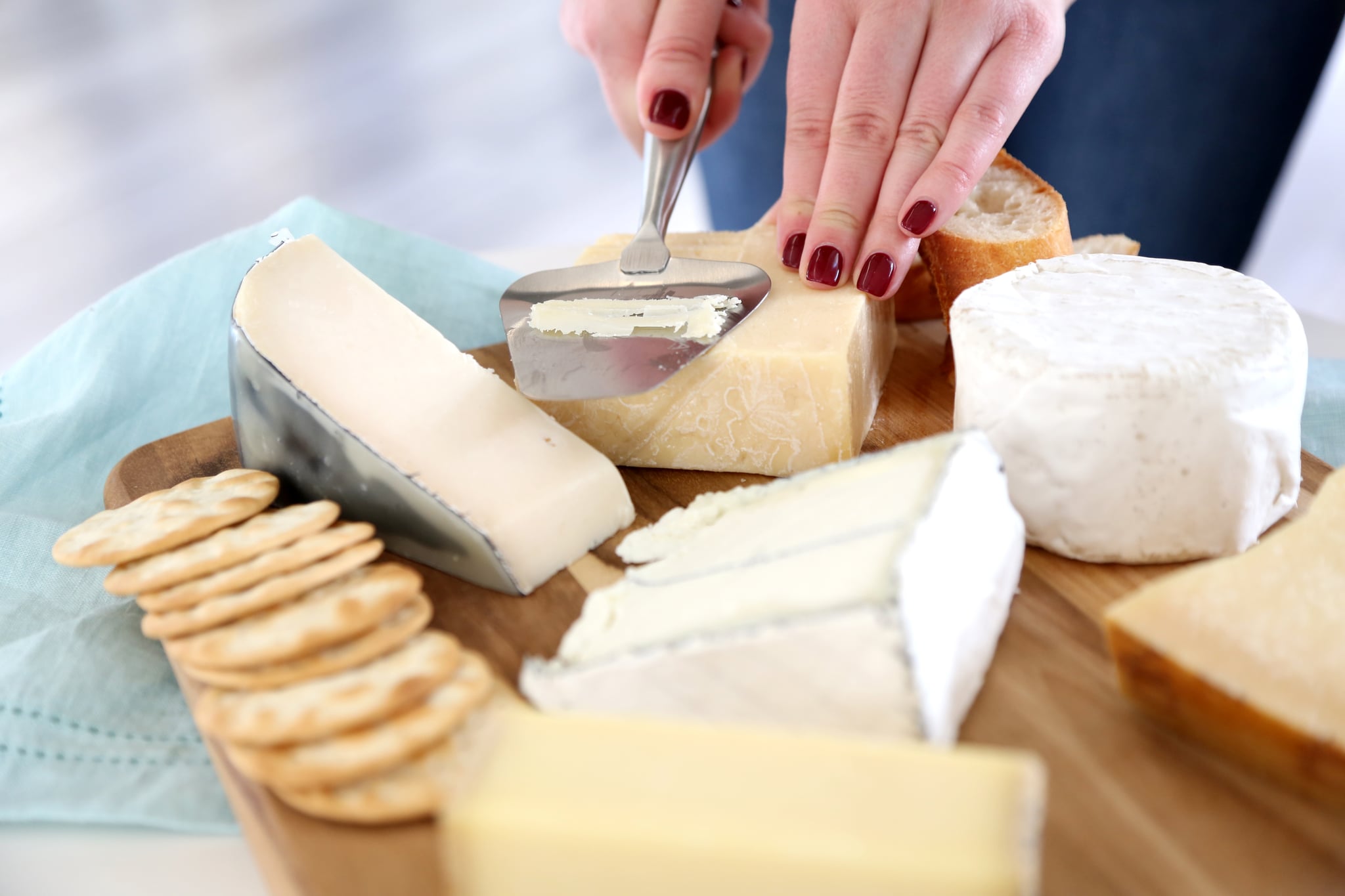 Have you ever wondered which of the cheeses at Whole Foods Market are the most popular? Brandon Wood, CCP certified cheese professional/Dublin Whole Foods specialty buyer gave POPSUGAR all the details on the top six bestsellers, plus everything you would want to know about them, from how they are made to what they are best paired with to fun facts to share with your friends so you sound as knowledgeable as a cheesemonger!
Cowgirl Creamery Mt. Tam
Tasting Notes: Mt. Tam is a Triple Crème, Brie-style cheese out of Tomales Bay, CA, made by Cowgirl Creamery. This cheese is amazing across the palate because of the uniqueness of the texture and the mouthfeel. When you cut a wheel in half, it has the soft creaminess you find in a classic French Brie on the edge, but a textured middle that has the appearance of a curded cottage cheese. Cream is what you taste on the front of your tongue and the aroma of fresh cream surrounds your nostrils as it hits your tongue. Once it comes across the palate, you can feel the texture of the center and it really brings the flavors of a fresh curd with a rich, buttery finish.
Pairings: Champagne — particularly a bubbly closer to where the cheese is made, like Mumm; honey, Friends in Cheeses Fig spread, and Marcona almonds.
Fun Fact: Made with Straus Family Dairy's fresh organic milk, which I think this is one of the coolest things, Cowgirl's mission is to give a representation of its land, its community, its animals, and its local milks, by partnering with local dairies such as Straus.
Kaltbach Cave Aged Gruyere
Tasting Notes: Kaltbach Cave Aged Gruyere is aged 12 months in the classic Sandstone Caves of Switzerland. The aroma of the cheese is slightly fruity with notes of nuttiness and fresh hay. The front of your tongue gets wrapped in the mushroom-y creaminess and then develops across the palate, opening up the drier hay flavors and light nutty notes.
Pairings: A solid chutney, French onion soup, Rieslings, and Gewürztraminer. The cheese is solid in any mac 'n' cheese or fondue and is excellent on its own melted over a nice sourdough baguette.
Fun Fact: This cheese has been around since 1115 and the sandstone caves are obviously a cool standout for this cheese.
Cypress Grove Humboldt Fog
Tasting Notes: Humboldt Fog comes from Humboldt County and is a fresh goat's milk cheese with a fresh layer of vegetable ash right down the middle, separating the evening milking from the morning milking. The aroma is tangy and notes of lemon citrus, which continues once it hits your palate. You get a rich creaminess that is delicate across the palate with nice tangy notes on the front and a citrus-y finish.
Pairings: Great on a Rustic Bakery Sel Gris Cracker, fresh figs, honey, French baguette, Crisp Duckhorn Sauv Blanc, hard apple cider with subtle sweet notes, and also great crumbled onto an arugula salad with strawberries.
Fun Facts: Thought up in a dream by Mary Keehn, who helped revolutionize the goat milk cheese movement in California and then across the country.
The edible vegetable ash running through the middle to separate the evening milking from the morning milking is a staple differentiator of this cheese. The morning and evening milking actually usually have subtle differences in the moisture and the fat content.
Cypress Grove Midnight Moon
Tasting Notes: Midnight Moon has a rich brown-butter aroma with a layer of caramel sweetness. The milk is curded and hooped, then waxed in Holland and then sent to Cypress Grove, where it is aged for six months and released to our mouths. The cool part about this cheese is that you get that true flavor of Holland milk, creating that richness in the breakdown on the palate. This then allows the release of a slight tangy creaminess on the front of your palate that pushes back to the textured finish with tyrosine crystals and that brown-butter sweetness.
Pairings: Fig jam, honey, a Crisp Mira Sauv Blanc, a light Pinot (maybe the Forager), mixed into enchiladas, nicoise olives, BobbySue's Nuts
Cabot Catamount (exclusive to Whole Foods)
Tasting Notes: Hailing from Vermont, this play on the classic Cabot cheddar is aged nine months and is textured and nutty and has a rolling sweetness that comes in and out across the palate, making this cheese stand out from its counterparts. It has a texture all the way through with tons of crunchy tyrosine crystals running throughout, a cheese that's good from nose to tummy.
Pairing: A nice strong Cabernet or a jammy Zinfandel (like Klinker Brick); just by itself with honeycomb or a sweet white wine. Also great for mac and cheese and grilled cheese sandos.
Fun Facts: They use parmesan enzymes in this cheese, which gives it that sweetness.
Image Source: POPSUGAR Photography / Anna Monette Roberts