Best Recipes From Ayesha's Homemade Season 2
How to Hack Tacos Like Ayesha Curry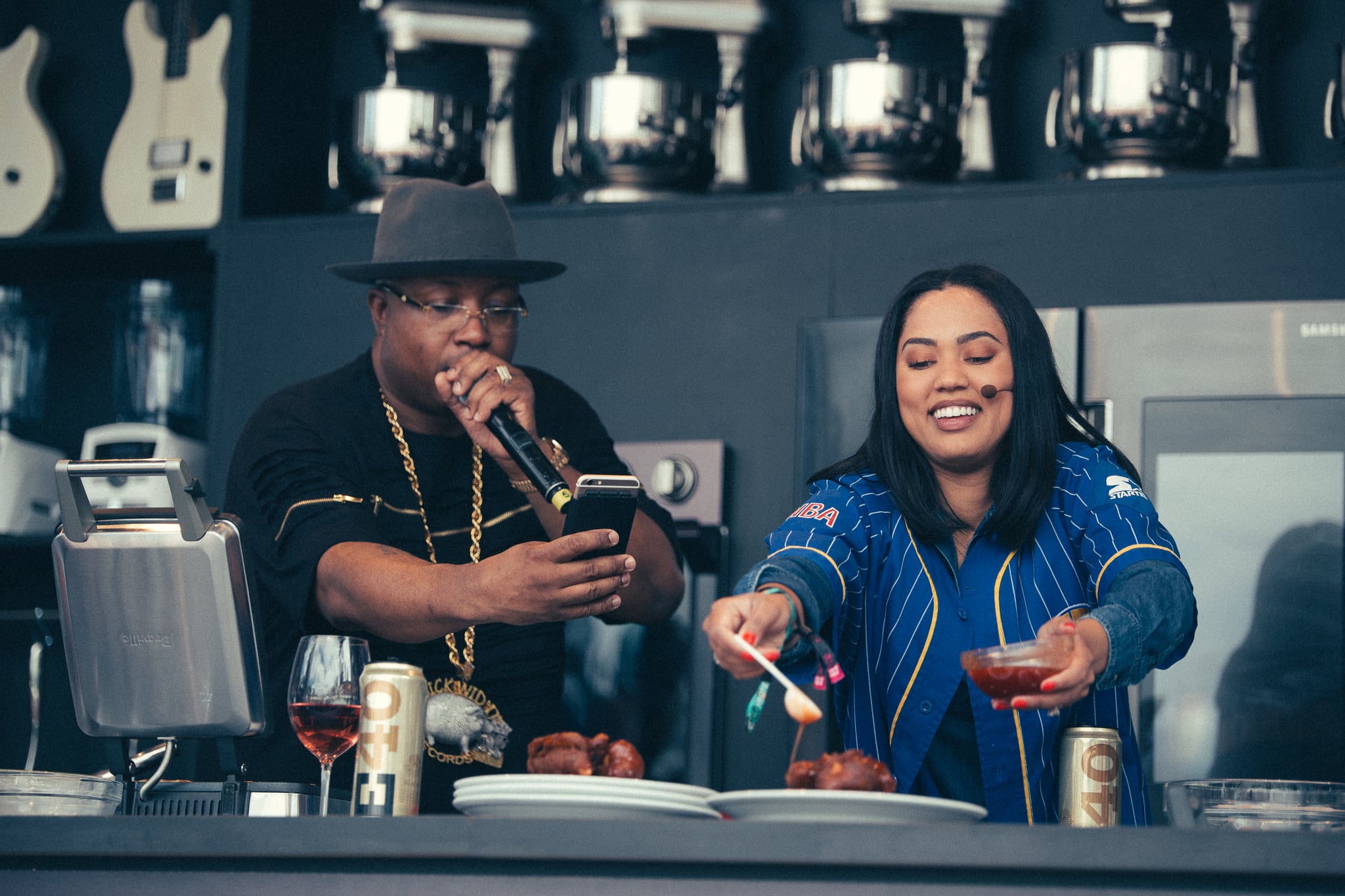 Image Source: Nisha Gulati / Latitude 38
I'm escorted to the inside of an Airstream, where Ayesha Curry sits in a red linoleum booth with her husband, Stephen. They have just come off of the BottleRock Culinary Stage with E-40, where Ayesha made a beer-battered fried chicken for the crowd. It's a scorching afternoon in Napa, yet Ayesha looks flawless and relaxed in her jean bodysuit, sipping on a Pistachio Fizz cocktail. We talk about the big food ventures she's working on — a cooking show, a new restaurant, a meal delivery service — and why you'll want to make an effort to cook and eat all of the above.
POPSUGAR: I'm always messing up fried chicken! How do you perfect it?
Ayesha Curry: You need to make sure the oil is at the right temperature. I think that's the hardest part of it all. Williams Sonoma [has] these fryers . . . I'm not plugging I swear . . . but you can regulate the temperature. Don't be afraid of seasoning. Make sure you're throwing in seasoning and salt into your flour dredge. I didn't do it today, but I think a good Southern key to get juicy, flavorful meat — it's a Chik-fil-A secret — soak the chicken in pickle juice . . . a little bread and butter pickle juice.
PS: International Smoke, your new restaurant in San Francisco, has created quite the buzz. Can you share more details?
AC: We hope to open at the very end of Summer. If we run into some hurdles with the construction, September at the latest. It's the lighter, fresher side of barbecue, and nothing's more family than a barbecue, right? I feel like it was my opportunity to channel that sexy, feminine side. This is a place where people can come and eat and enjoy each other's company. I want people to go on dates there; I want people to celebrate there. It's kind of the sexier side of barbecue.
PS: What is your signature dish?
AC: I'd say the signature dish is going to be the black miso sea bass. All of our main dishes we have this beautiful tableside element where the diners are involved. When the sea bass comes to your table, it's in this cast-iron black cauldron. It's smoking; it's flaming. You see it. Stuff's going everywhere. You smell that smoke. When it gets to the table, the smoke disperses. You're left with these pieces on a stick that look purple, but it's black squid ink sea bass. You bite into it. It's so white, milky, and flaky. It's amazing. Whether it's the element of surprise or the element of involvement, I want everybody to be excited about the meal, so it's not just somebody throwing you a platter of ribs. We're very passionate about everything, very serious about it, but also we have a great, great cocktail program. We kind of have our own take on the punch bowl.
PS: You have another exciting new food venture, Homemade. What separates it from other meal delivery services on the market?
AC: It's family-inspired meals by me, so our focus is really family. But we don't exclude anybody; we have couples' meals. There's nothing on the market nationally that's focused on the entire family. I'm a family girl, so I involved my brother Jaz. He's created these amazing coloring books, and I've created characters [based] off my daughters. We have a new story [for each box] that relates back to the food. We're teaching kids about their bodies and why they need to eat a certain way but also make it fun and give parents time to prepare the meals.
This week we had short ribs on the menu. The short ribs go into the oven for 10 minutes, and they're done. Short ribs normally take hours. These short ribs were fast, snappy, and easy. The feedback I've been seeing on social is that these meals are incredibly easy, full of flavor, and nobody is left hungry. A lot of the other companies out there, they have so many steps. It's not necessarily for the novice cook. And ours is for whether you've cooked your whole life or you've never cooked a day in your life, you can prepare this meal and it's going to be memorable. That is the whole foundation.
PS: What are some standout recipes from this season of Ayesha's Home Kitchen, your Food Network show?
AC: The food this season was so much more elevated than last season. I had much more of a hand in picking and choosing, so that was a great thing for me. We have an amazing chicken taco recipe, and it's such a hack. It's so incredibly easy, and it will 100 percent impress your guests. Cilantro lime rice that has pepitas (pumpkin seeds). It's so different. And then this week actually, we're doing a Southern spread: we're doing a scratch-made hush puppies, red velvet deep-fried sandwich cookies, and an amazing 30-minute pulled pork sandwich recipe from start to finish, and a moonshine cocktail.
Travel and expenses for the author were provided by Alaska Airlines, sponsors of the BottleRock Skydeck, for the purpose of writing this story.