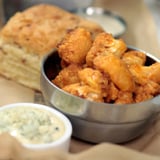 Ingredients
For buffalo sauce:
1 pound butter
1 pint hot sauce, like Gindo's
1/2 ounce worcestershire sauce
For cauliflower dust:
4 ounces kosher salt
2 ounces ground cumin
2 tablespoons garlic powder
1 tablespoon onion powder
2 tablespoons smoked paprika
1 teaspoon mustard powder
1 teaspoon cayenne pepper
For buffalo cauliflower:
2 pounds cauliflower florets
1/2 gallon buttermilk
2 ounces smoked paprika
2 cups all-purpose flour
Vegetable oil, for frying
For dipping sauce:
2 tablespoons ranch dressing
1 tablespoon blue cheese, crumbled
Directions
To make buffalo sauce: In a sauce pot over low heat, melt butter. Once butter is melted, whisk in hot sauce and worcestershire sauce until incorporated. Let simmer until it comes together. Set aside.
To make cauliflower dust: In a medium-sized bowl, mix together salt, cumin, garlic powder, onion powder, smoked paprika, mustard powder, and cayenne pepper. Place in a shaker or a sifter.
To make buffalo cauliflower: Preheat oven to 250ºF. Place a cooling rack inside a half sheet pan (or line a baking sheet with parchment paper), and spread out cauliflower florets evenly. Sprinkle heavily with cauliflower dust, and roast until the cauliflower just starts to brown, about 10 minutes or until al dente.
In a large bowl, mix together buttermilk and smoked paprika. Add roasted cauliflower to buttermilk mixture, and let soak for at least 2 hours or overnight.
Heat oil in a heavy-bottomed Dutch oven or electric deep fryer to 350ºF.
Place flour in a large bowl. Take cauliflower out of the buttermilk mixture, and toss in flour to coat. Carefully place cauliflower into the oil, and fry for about 90 seconds, or until the crust is golden brown. Remove from the oil, and place on a paper-towel-lined plate to drain excess oil.
In a small bowl, mix together ranch dressing and blue cheese.
Once cauliflower has cooled slightly, toss in buffalo sauce, and serve immediately with dipping sauce.
Information
Category

Appetizers, Finger Foods

Cuisine

North American

Yield

4-6 servings