Chicken Spaghetti Casserole Recipe
Meet Tonight's Dinner: Chicken Spaghetti Casserole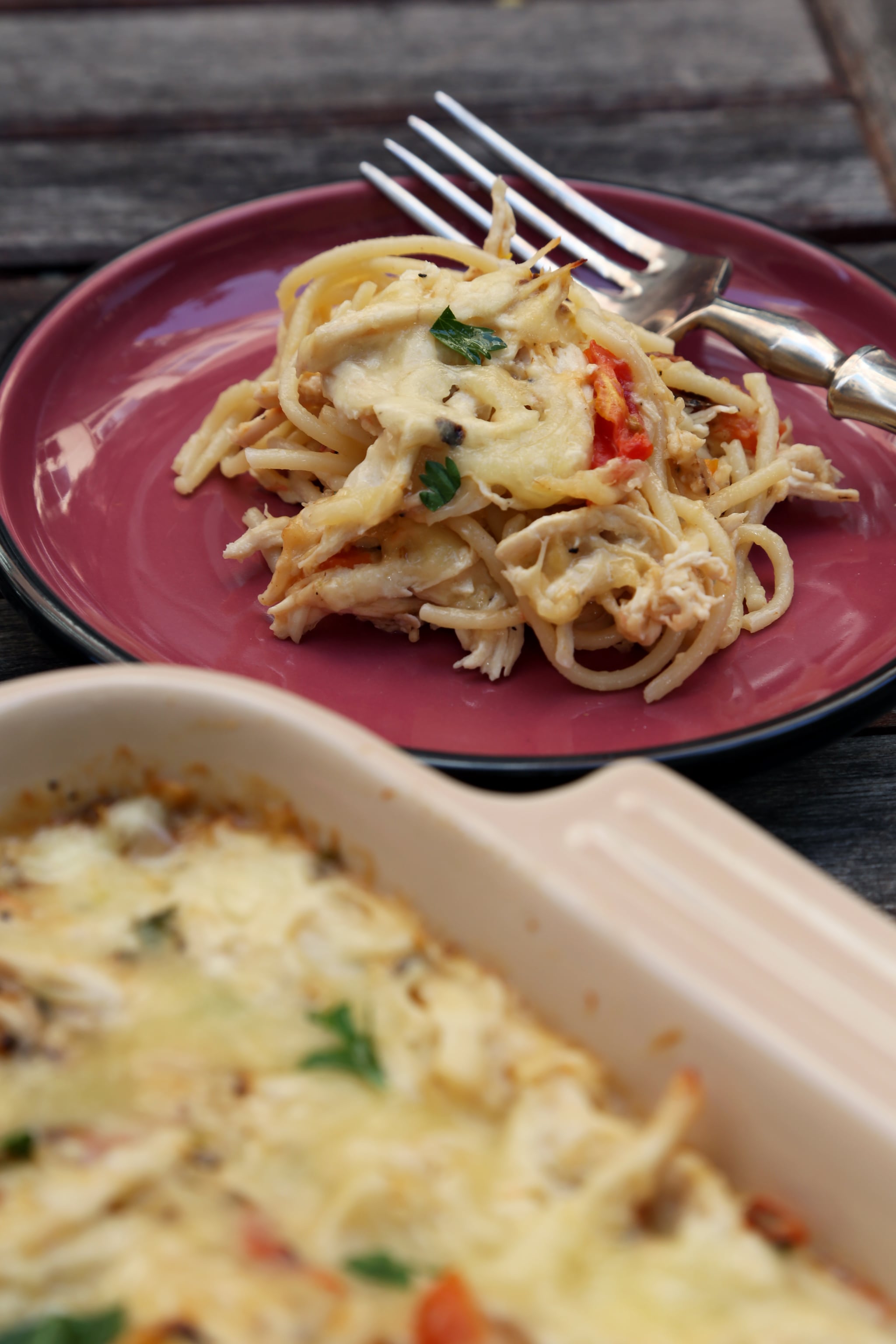 A few years ago when I was living in New York, a fellow Texan transplant asked if I had ever heard of the blog Homesick Texan. I hadn't, and she explained, "On days when I'm missing tamales, kolaches, queso, and casseroles, I go to this site. This woman has recipes for everything Texan." My eyes widened. Before even visiting Homesick Texan blogger Lisa Fain's webpage, I became an instant fan. When her second cookbook, The Homesick Texan's Family Table ($22), came out, I instantly began tagging must-make recipes. But the one I had to try first was this chicken spaghetti casserole.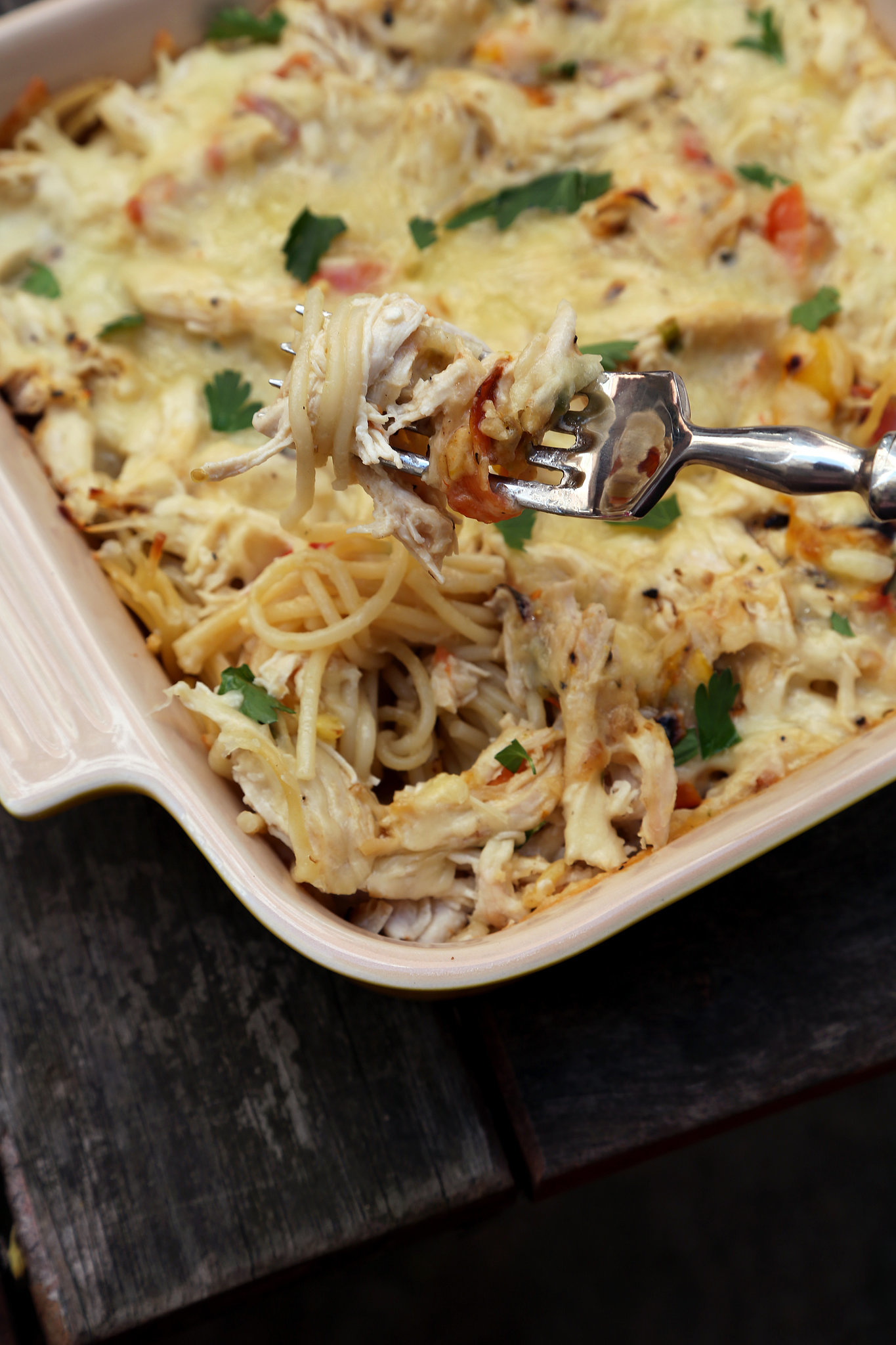 The best way to describe this casserole is as a Tex-Mex chicken mac and cheese. Since all the aromatic vegetables are charred and chopped finely, the dish is kid- and picky-eater-approved. If you're feeding a smaller family (or group), split the casserole into two smaller dishes, and freeze one for later. It's the Texan thing to do.
Notes
Chicken spaghetti is an old Texan favorite, a casserole where spaghetti, chicken, tomatoes, chiles, and cheese all come together to create a satisfying dish. Many recipes, including the one in my great-grandmother's collection, call for canned soup, but I've replaced it with a simple cheese sauce instead. I also blacken grape tomatoes, jalapeños, garlic, and onion under the broiler for a lively fire-roasted flavor.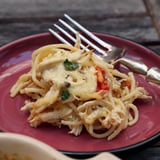 Ingredients
8 ounces spaghetti
2 cups grape tomatoes, halved lengthwise
2 jalapeños, stemmed, seeded, and halved lengthwise
4 cloves garlic, left whole
1/2 yellow onion
2 tablespoons (1/4 stick) unsalted butter
2 tablespoons all-purpose flour
2 cups whole milk, plus more as needed
2 cups (8 ounces) shredded cheddar cheese
2 cups (8 ounces) shredded monterey jack cheese
1/2 teaspoon ground cumin
1/4 teaspoon cayenne
1/2 cup cilantro, chopped, plus more for garnishing
2 teaspoons fresh lime juice
Salt and black pepper
4 cups cooked chicken, shredded
Directions
Lightly grease a 9-by-13-inch baking dish. Line a baking sheet with foil.
Cook the spaghetti according to the package instructions in a large pot of boiling salted water. Drain, rinse under cold water, and transfer the spaghetti to a baking dish.
Meanwhile, turn on the broiler, and place a rack 6 inches away from the heating element. Place the grape tomatoes and jalapeños on the prepared baking sheet skin side up, along with the whole garlic cloves and onion. Broil for 5 to 7 minutes, until the tomatoes, jalapeños, garlic, and onion are softened and have begun to blacken. Remove from the oven, and when cool enough to handle, dice.
Turn the temperature down to 350°F.
To make the sauce for the spaghetti, melt the butter over medium-low heat in a saucepan. Whisk in the flour until well combined and slightly browned, about 30 seconds. Slowly pour in the milk, and cook, stirring, until the sauce thickens just a bit, 3 to 5 minutes. (You want it to coat the back of your spoon, but not be too thick, like custard. If it gets too thick, you can slowly add more milk, about a teaspoon at a time.)
Once the sauce thickens, immediately turn off the heat, and slowly stir in half of the cheeses, about 1/4 cup at a time, until melted and incorporated into the sauce. Stir in the diced vegetables, along with the cumin, cayenne, cilantro, and lime juice. Taste and adjust the seasonings, adding salt and pepper. Pour the sauce into the cooked spaghetti, and then stir in the shredded cooked chicken. Cover the spaghetti with the remaining cheeses.
Bake, uncovered, for 20 minutes, or until brown and bubbling. Garnish with cilantro before serving.
Information
Category

Pasta, Main Dishes

Cuisine

North American

Yield

8 servings
Image Source: POPSUGAR Photography / Anna Monette Roberts