Creamy Tomato Soup Recipe
Ditch the Cans and Make This Creamy Homemade Tomato Soup Instead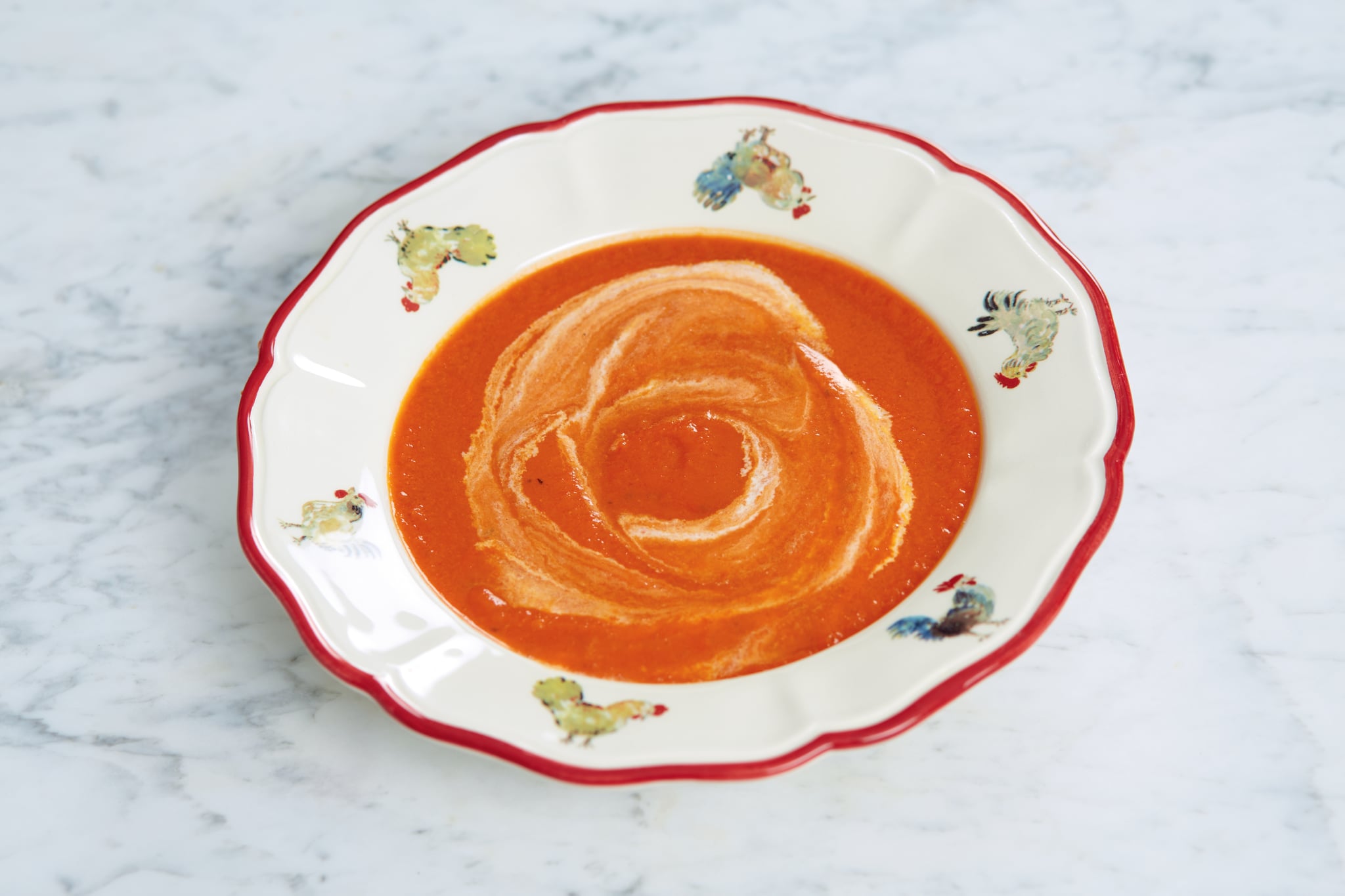 Use up all your surplus of ripe tomatoes in this tomato soup, courtesy of A Grandfather's Lessons: In the Kitchen with Shorey by Jaques Pépin ($30). It's so creamy and flavorful, it hardly needs adorning, save for more cream swirled in. Whip up a couple batches at once, freeze it, and let it be a comforting staple you have on hand all Fall long. Bonus points if you serve it in Pépin's adorable chicken-printed ceramic bowl (he painted the designs himself). Your future self will thank you!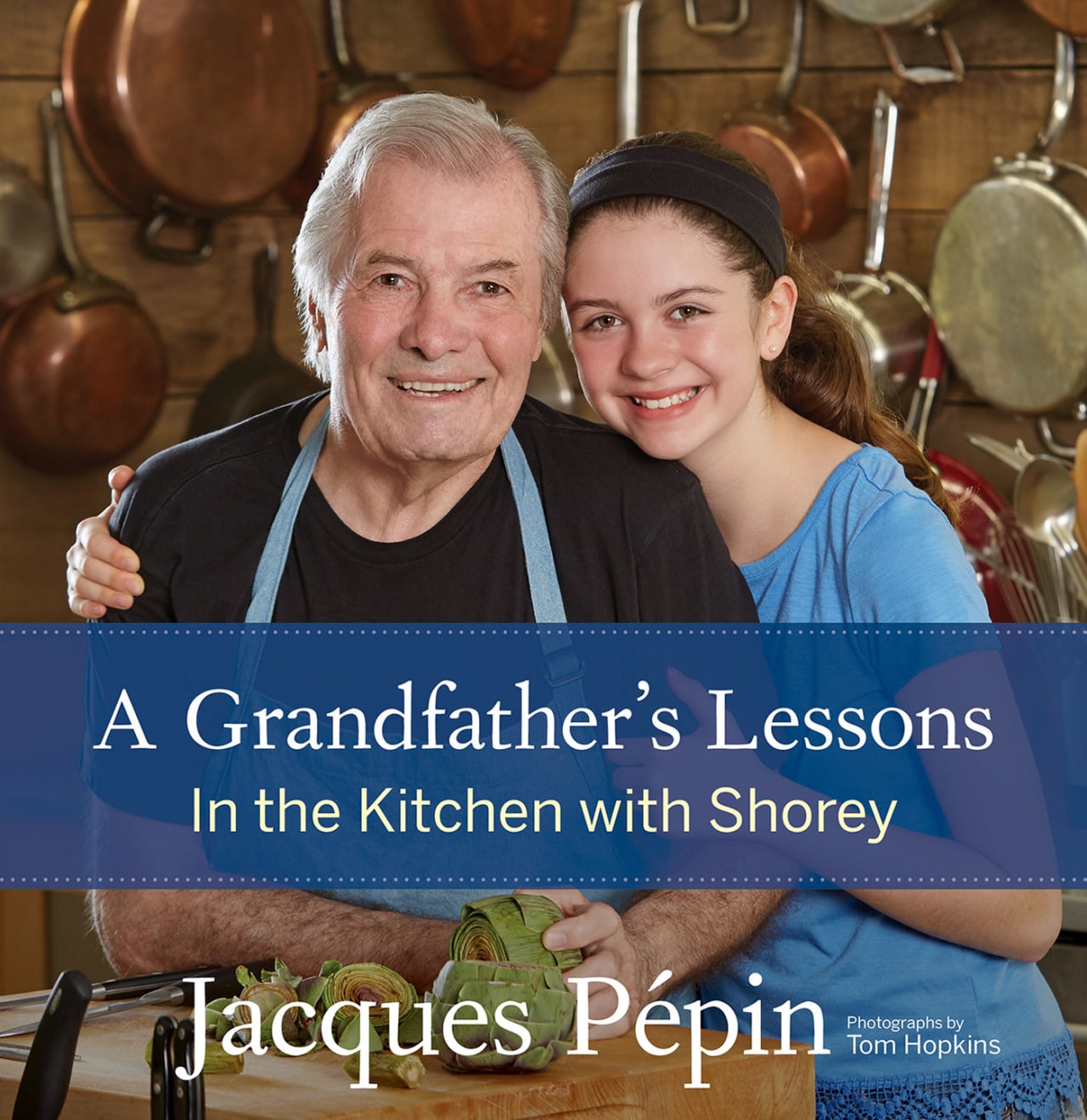 Notes
In Summer, there is nothing like homemade tomato soup. With tomatoes at their peak flavor, best nutritional value, and cheapest price, I make hot, cold, chunky, smooth, and raw versions throughout the entire season.
Shorey's father, Rollie, is a great gardener, and Shorey loves the garden and its bounty. So we made this tomato soup together. For a lighter version, you can omit the flour and cream. The soup can be garnished with herbs from basil to chervil, tarragon, or chives, and it can be served hot, with croutons, if you like, or cold. Emulsifying the soup in a blender makes it smoother than if you use a food processor; for an even creamier result, you can finish the soup with a hand blender. Tomato soup with grilled cheese sandwiches makes the best possible lunch.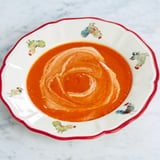 Ingredients
2 tablespoons olive oil
2 cups diced (1-inch) onion
3 garlic cloves, crushed
1 tablespoon fresh thyme leaves, or 1 teaspoon dried thyme
1 tablespoon all-purpose flour
2 1/2 cups water
2 1/2 pounds very ripe tomatoes, cut into chunks
3 tablespoons tomato paste
2 teaspoons salt
1 1/2 teaspoons sugar
1 teaspoon freshly ground black pepper
1/2 cup heavy cream
Directions
Heat the oil in a heavy saucepan. Add the onion and cook for 2 minutes over high heat.
Stir in the garlic and thyme. Sprinkle the flour on top and mix well.
Add the water and mix it in, then add the tomatoes, tomato paste, salt, sugar, and pepper and bring to a boil. Reduce the heat to low and cook, covered, for 15 minutes.
Let the soup cool for 15 to 30 minutes, then process it in batches in a stand blender for at least 30 seconds per batch.
Stir in the cream. Serve hot or cold.
Information
Category

Soups/Stews

Cuisine

North American

Yield

Serves 8

Total Time

1 hour, 29 minutes, 59 seconds
Image Source: Tom Hopkins