Dal Tadka Recipe
Dal Tadka Is the Staple Indian Dish You've Never Heard Of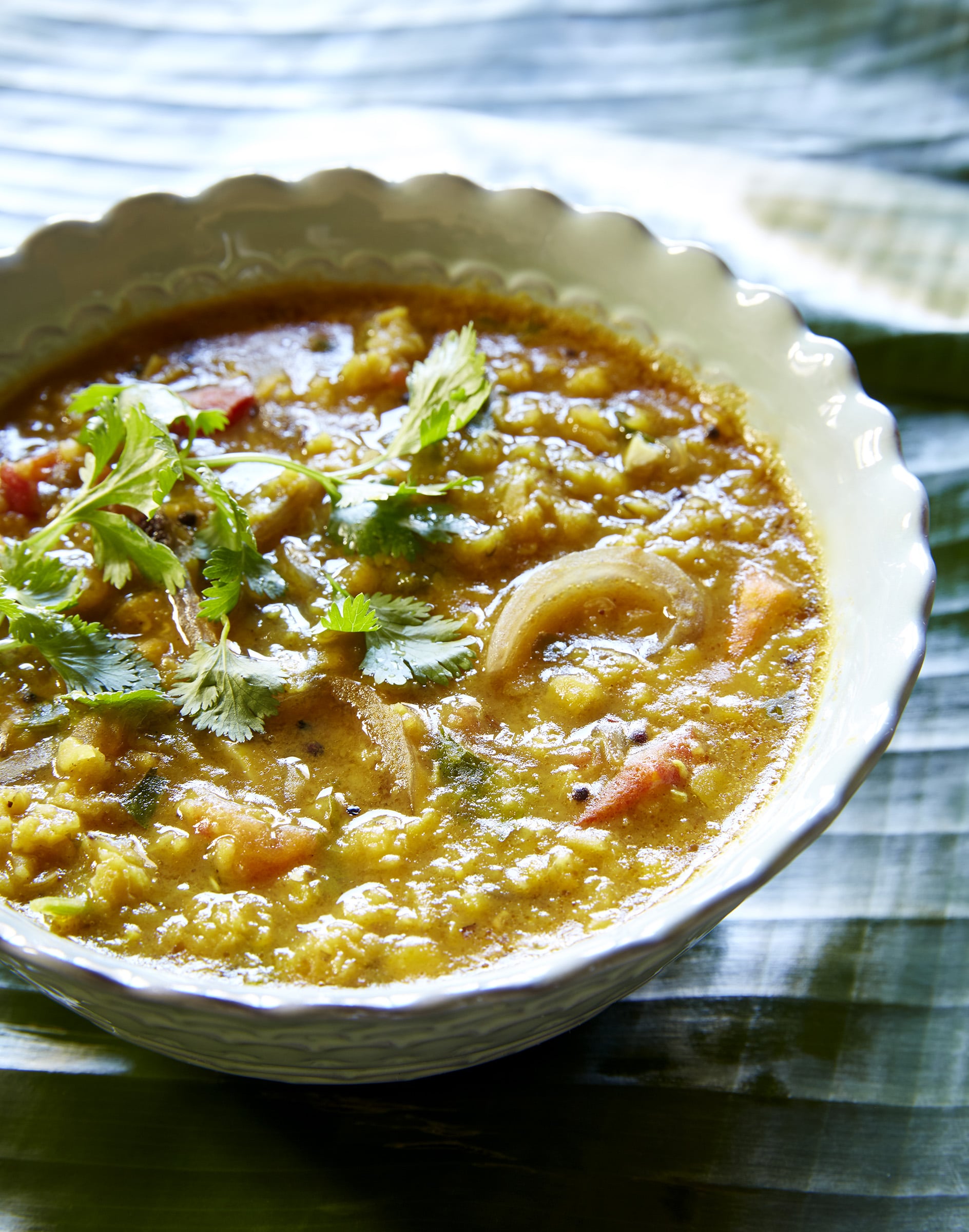 Dal is an Indian soup or stew made from a dried legume that comes from the garbanzo bean family. Cheap, flavorful, and easy to prepare, dal consists of many ingredients you'll find at your local supermarket. This recipe from Deepa's Secrets ($25) by Deepa Thomas is like an inverted soup recipe. The dal is cooked separately from the spices and oil, and then the two are stirred together and garnished with butter, cilantro, and more spices. Serve this with some naan for dipping, if you know what's good for you.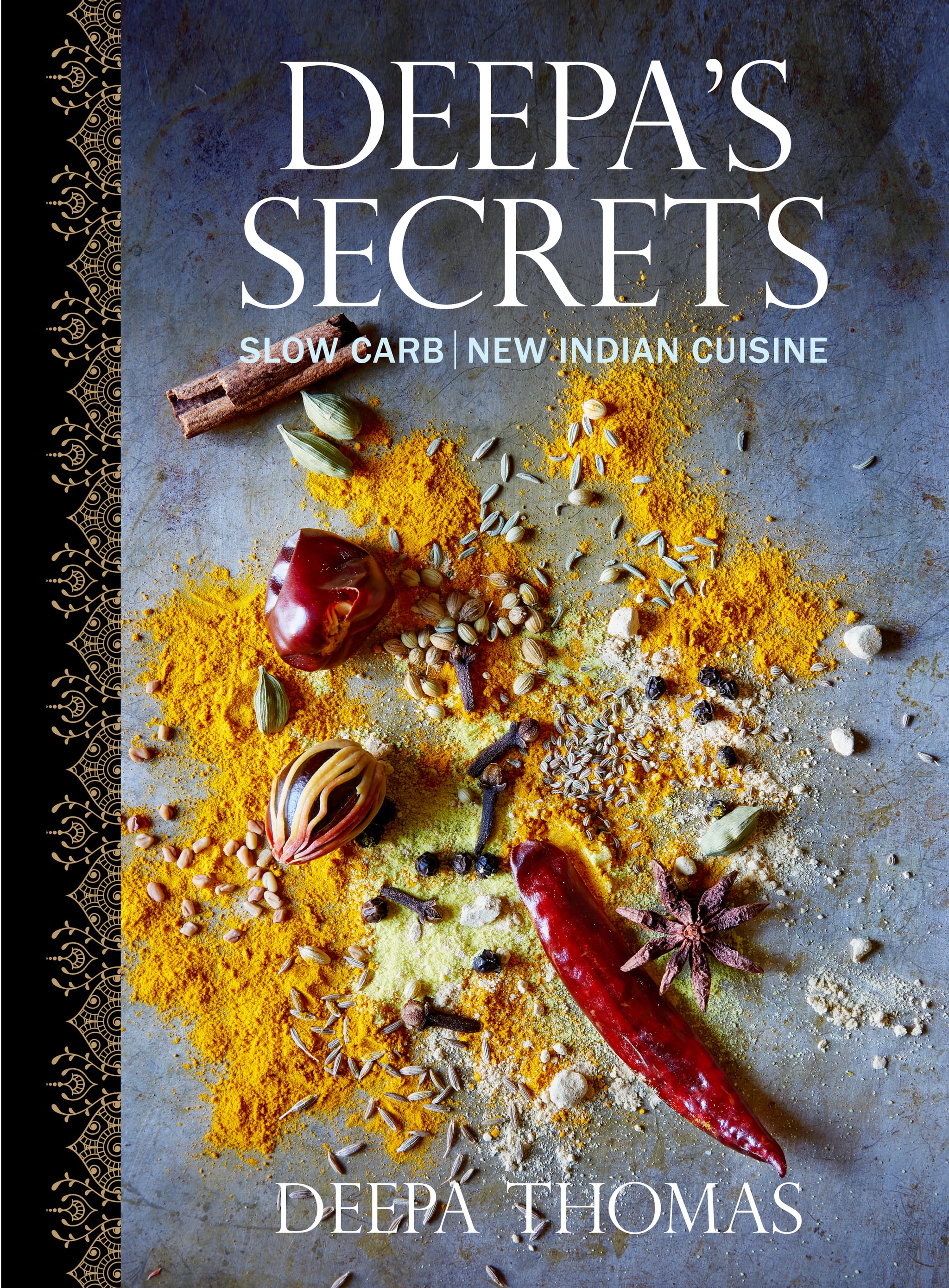 Notes
My uncle, General Joseph, had dal at lunch. Nair, his chef, made it every day, and it always surprised me how something so ordinary tasted anything but. I've recreated Nair's dal here.
Make Ahead: Rinse and soak chana dal for at least an hour, or overnight, to decrease cook time. The entire dish can be made ahead — Dal for Dummies! It will keep in the fridge for a few days, and in the freezer for up to one month.
Chana dal is high in fiber, low in fat, and very low on the glycemic index — both heart-healthy and diabetes-friendly. Although it looks like the split yellow pea, chana dal is the split kernel of a variety of garbanzo called Bengal gram and stays firmer when cooking.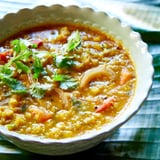 Ingredients
1 cup chana dal, soaked overnight
1 teaspoon salt
1 teaspoon fresh ground black pepper
Tadka:
2 tablespoons grapeseed (or your favorite) oil
1 teaspoon black mustard seeds
1 teaspoon (Lucknow) fennel seeds
1 teaspoon cumin seeds
1/2 red onion, sliced
1 jalapeño, cut from top to tip 4 times, leaving top in place (remove seeds for less heat)
2 garlic cloves, thinly sliced
1/2 teaspoon cayenne flakes
1 tomato, sliced
1 tablespoon fresh ginger, grated
Crowning flavor:
1 tablespoon butter
1 cup cilantro, stemmed and rough chopped
1 tablespoon chaat masala
Directions
To make dal: Rinse soaked dal. Cover rinsed dal with water, plus one inch, in a deep saucepan. Add salt and pepper, and cook, covered, over medium heat to desired doneness (approximately 15 minutes; I like a little bite to the dal). Stir occasionally to keep from sticking. (Add more water if necessary.)
To make tadka: Heat grapeseed oil in a deep saucepan. When oil shimmers, add mustard, fennel, and cumin seeds. (Shield yourself with a lid — the seeds pop.)
Add onion and jalapeño and sauté until light brown. Add garlic, cayenne flakes, and tomato. Cook for two minutes.
Add cooked dal and grated ginger to the tadka. Adjust consistency by adding water, if desired, and by pureeing a portion of the dal with a hand blender (or mashing with the back of a spoon or ladle) and returning to the pot. Check seasoning.
To garnish with crowning flavor: Top with a dollop of butter, a shower of cilantro leaves, and a sprinkle of chaat masala.
Information
Category

Soups/Stews, Bean

Cuisine

Indian

Yield

Serves 4
Image Source: Sherry Heck / Deepa's Secrets