Dominique Crenn's Cooking Tips
The 1 Pantry Staple Every Cook Needs, According to the World's Best Female Chef

Image Source: Getty / Amanda Edwards
In 2016, Dominique Crenn earned the incredibly impressive title of the world's best female chef. The renowned French chef is owner of two restaurants in San Francisco, Atelier Crenn and Petit Crenn, and she's known for her "poetic culinaria" style of cooking — her menus are written as poems. As elevated as her recipes are, at the end of the day, she really just wants to eat a "nice grilled cheese sandwich." Dominique teamed up with LG Signature, a new line of innovative appliances, and she chatted with me on the phone about what's in her fridge, what it's like earning such a prestigious title, and more. You can watch Dominique's episode of Chef's Table on Netflix to get to know her even better.
On Being Crowned the World's Best Female Chef
"Well it's a very interesting conversation and for me it's kind of a platform to continue that dialogue. Perhaps in a few years, I hope it will just be 'chef' and not 'woman chef.' It's a conversation to have, and it's also to show the world that we are great cooks, but it's not just about me; it's about my team and the people that have helped me be where I am today. It's definitely a conversation that we keep continuing to have to kind of eliminate this world of female against male."
On the 1 Essential Pantry Staple Every Cook Needs
"Salt. Sea salt, fleur de sel — any salt. I grew up in France, and I was using a lot of Brittany Sea Salt. But any sea salt, for sure.
On Her Go-To Method For Scrambling Eggs
"It's all about temperature for me because I really start it very, very low, and I don't really turn up the heat, and I cook very low with a spatula. You kind of bring back the egg in the middle and you keep cooking it on the side and bring it back to the middle. No dairy. I can finish with a little bit of butter or cheese, but usually I won't. The way that I cook it makes the eggs so kind of airy and buttery without any butter. It's not overcooked on the pan, which I think a lot of people make that mistake that they cook eggs in a high-heat pan, and it's just killing the egg."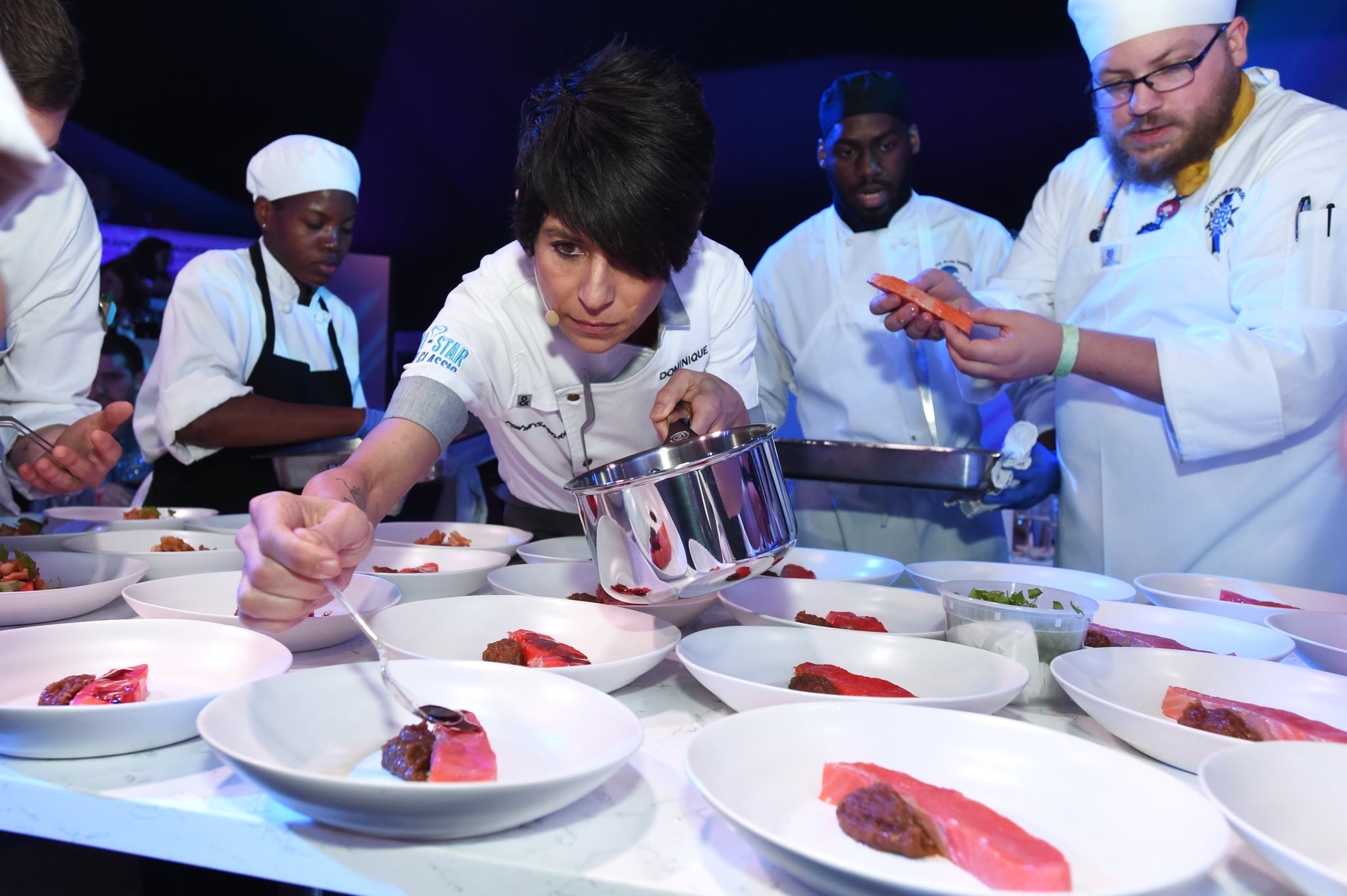 Image Source: Getty / Bernstein Associates
On What's in Her Fridge
"I love to cook a nice grilled cheese sandwich. You have to do butter — good butter. I know we say the French butter is the best. I love tomatoes, avocado, cornichons for sure. You have to have the best bread in the world, which is the brioche that I make at Atelier Crenn.
On What It Takes to Make It in the Culinary World — and in Life
"Determination. Determination is the number one thing you need to have. You can have passion, you can have communication, but determination. You have to be determined. Determination in life can get you anywhere, not just in a food world. You have to be confident and you have to have determination to be able to get into this world."