Dry-Brined Turkey Recipe
A Better, Simpler Way to Brine Your Turkey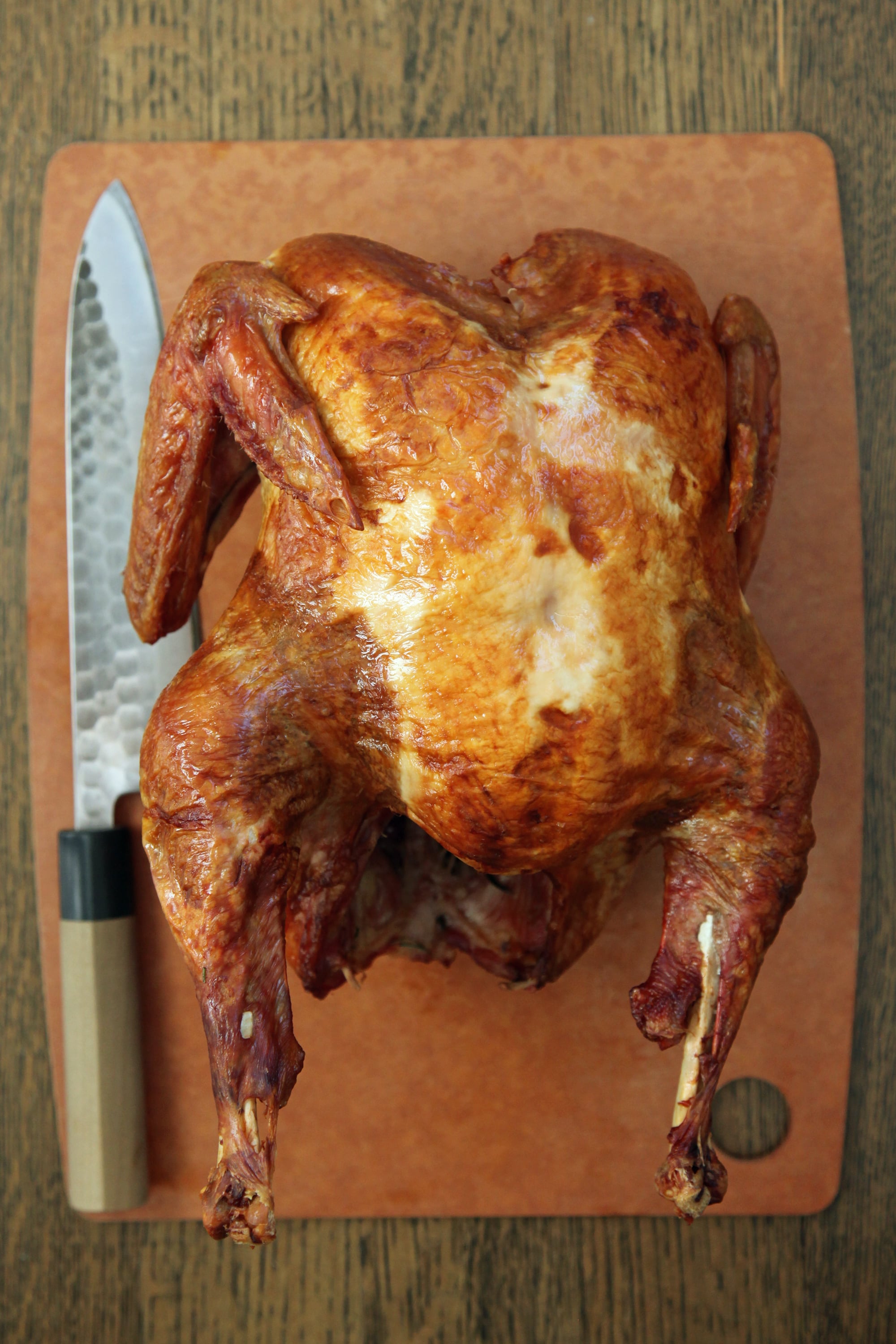 I always assumed that brining a turkey was the best plan of action, a foolproof way to get perfectly seasoned, moist, juicy results. While the promise of well-seasoned, juicy meat is spot on, the results can be almost too juicy — waterlogged, some might say. Moreover, it also requires having an enormous fridge that can house a container large enough to fit a turkey plus brine inside of it. (Or, alternatively, filling a cooler with very icy water and not freaking out about it.)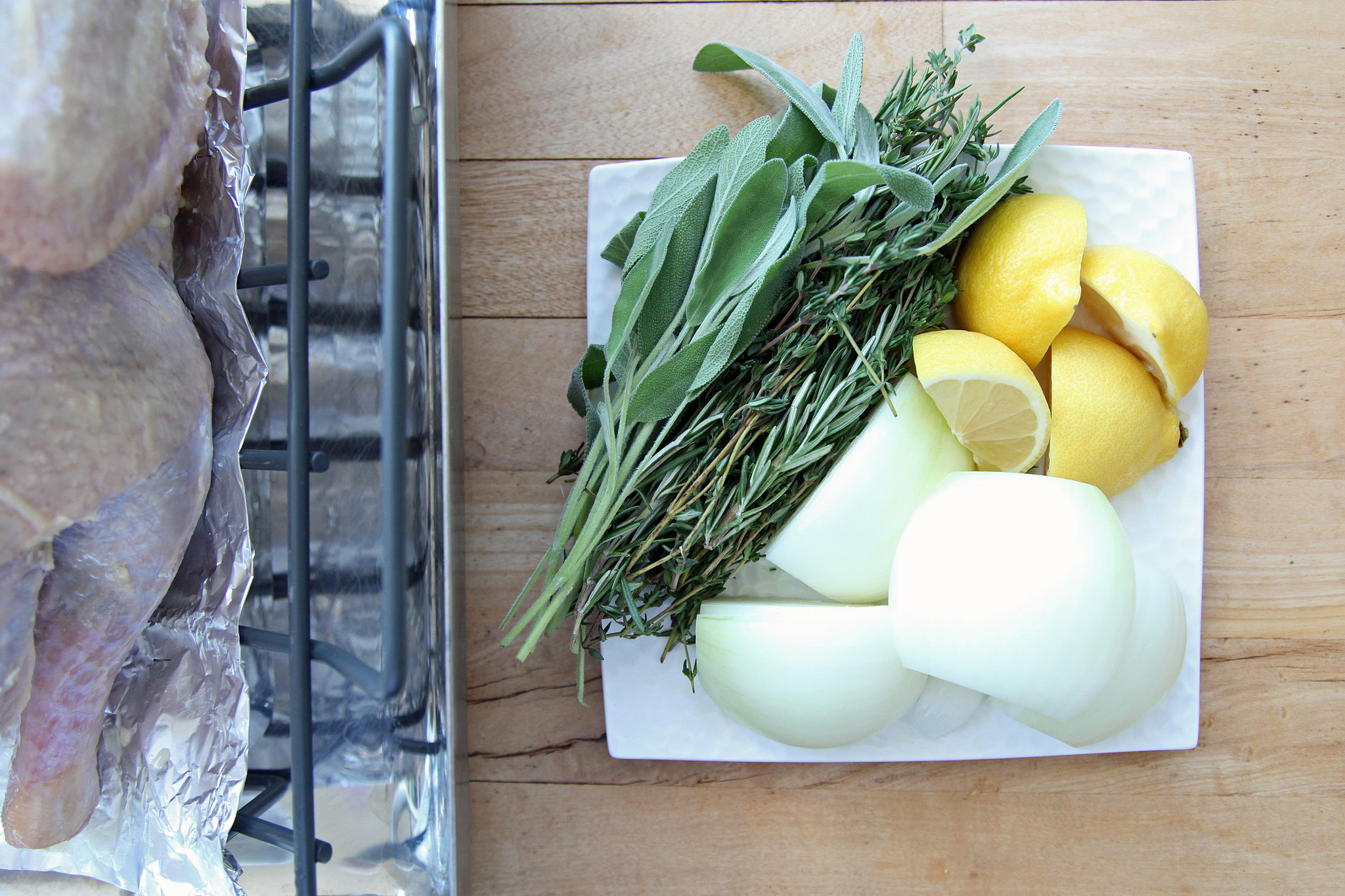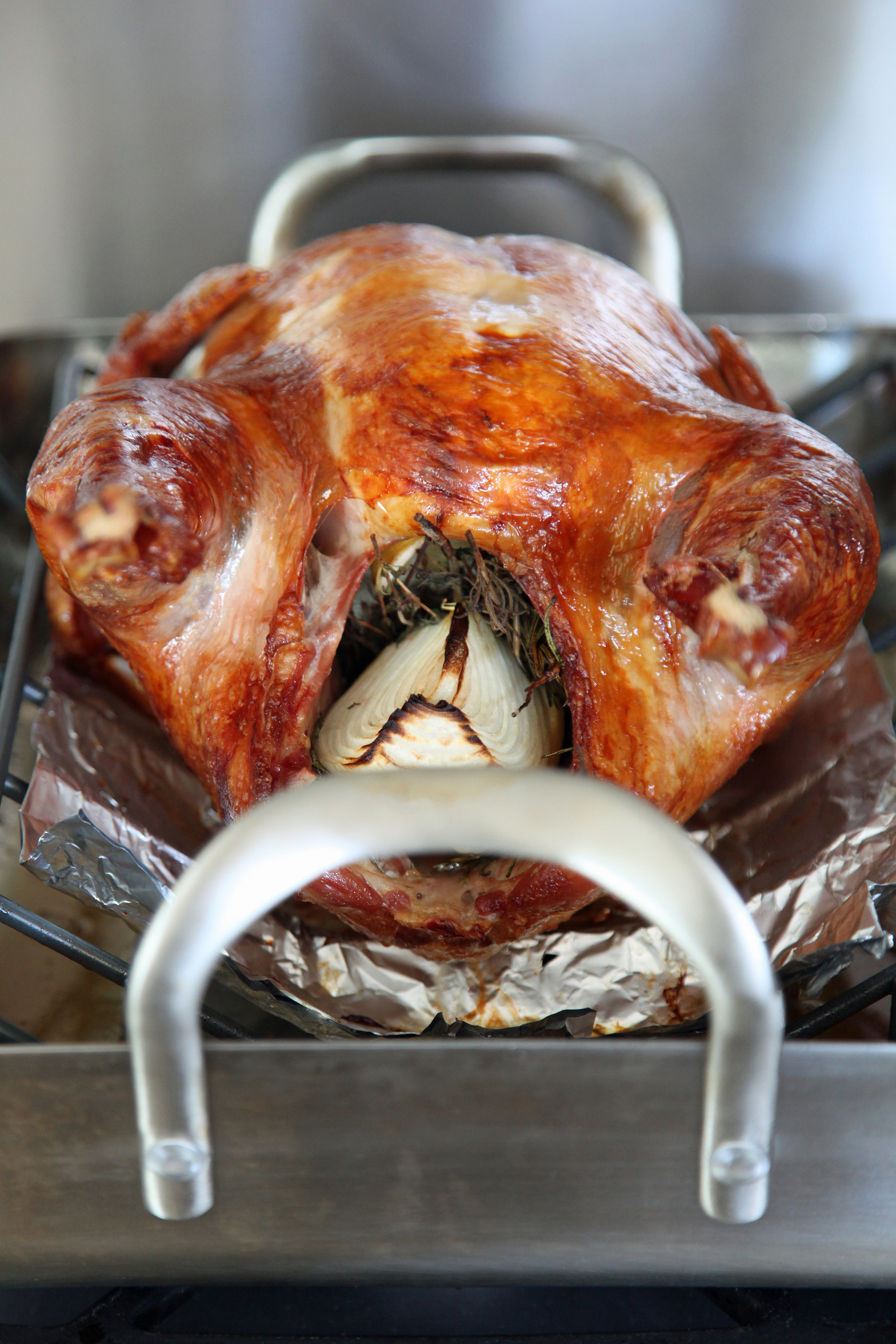 Instead, I now swear by a much smarter, quicker technique — dry-brining — which eliminates both problems. Instead of seasoning the turkey by submerging it in a saline solution (the brine), dry-brining is done by salting the turkey inside and out, refrigerating it uncovered for 12 to 24 hours (24 being ideal), and letting osmosis do its magic.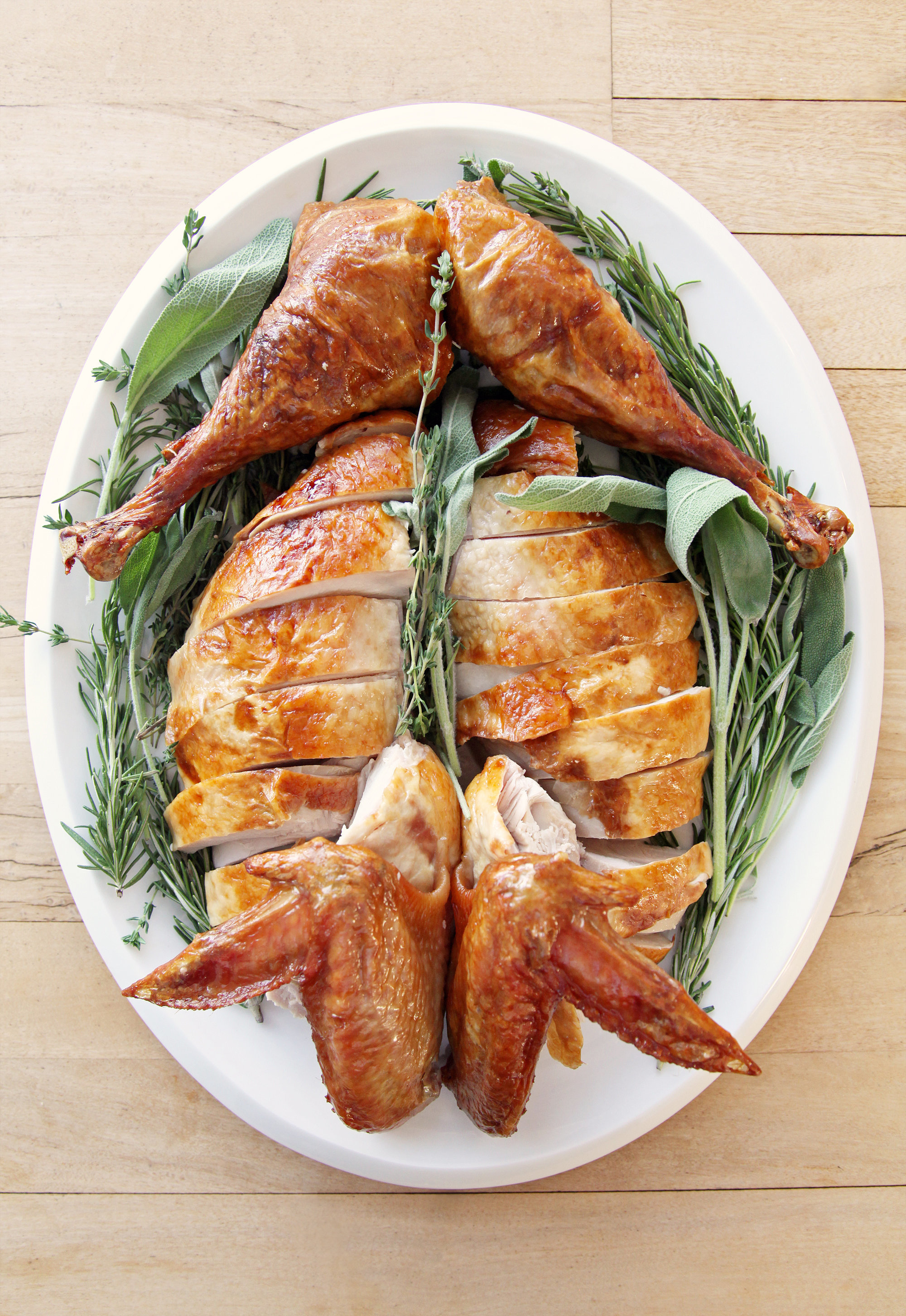 Not only will the meat be perfectly salty, but it'll also retain moisture better than a turkey that's salted just prior to cooking, without having the waterlogged texture of a wet-brined bird. And, since it's refrigerated uncovered, the skin is primed for optimal crispness. Plus, there's no need to figure out how to store a massive container in your fridge or use a cooler.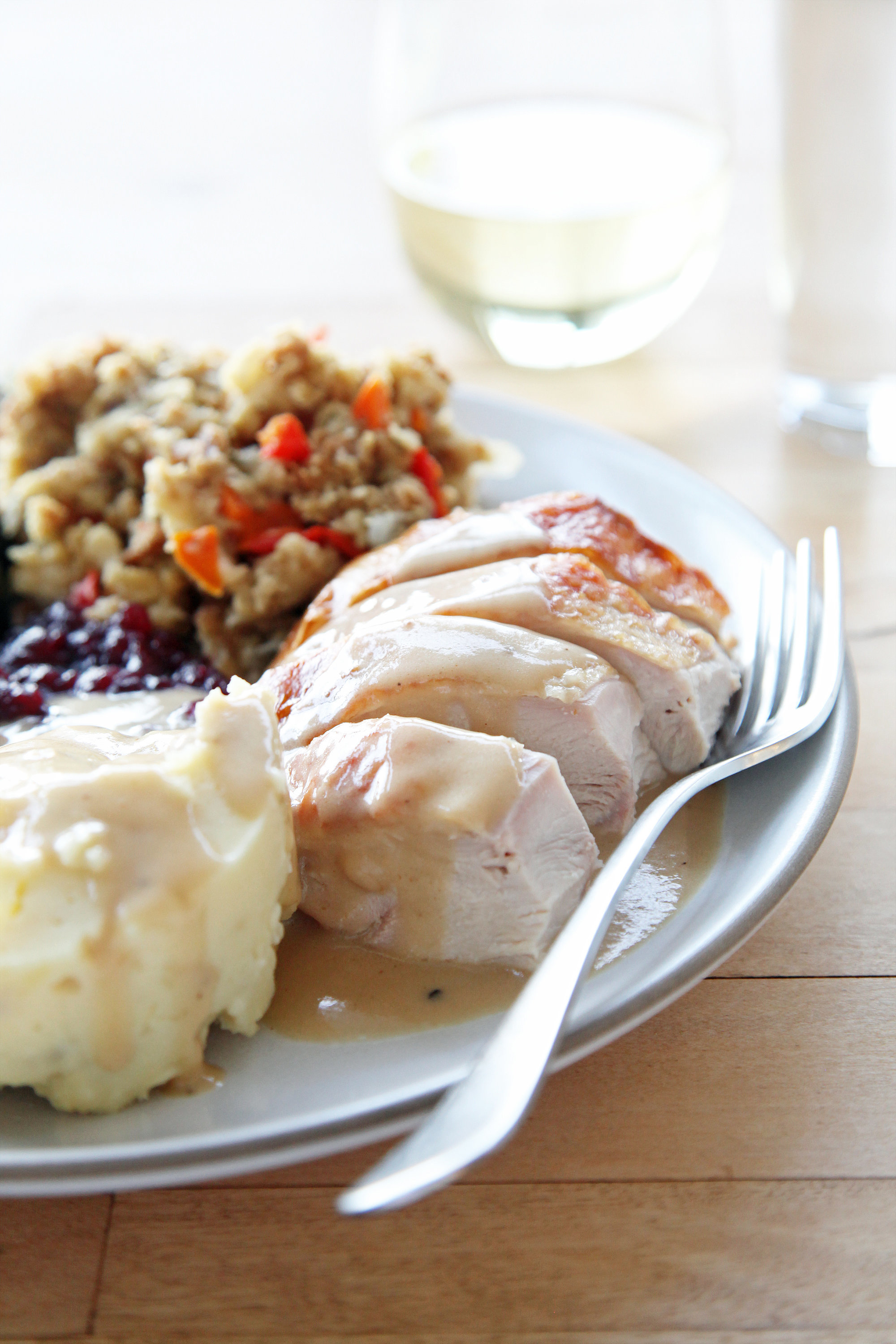 Dry-Brined Turkey
From Nicole Perry, POPSUGAR Food
Notes
If roasting a smaller or larger turkey, adjust the cook time accordingly. Avoid self-basting and kosher turkeys, as they are already salted. Dry-brine the turkey with 1 tablespoon or kosher salt per 4 pounds.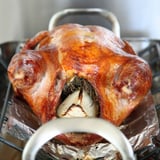 Ingredients
1 12-to-14-pound turkey, neck and giblets reserved for stock
Kosher salt
4 tablespoons melted butter
1 large onion, peeled and quartered
1 lemon, quartered
Sprigs of thyme, sage, and rosemary
Directions
Line a quarter sheet pan or large platter with a cooling rack or a coil of foil. Remove any remaining feathers from the turkey with tweezers; pat it dry inside and out with paper towels. Salt the turkey both inside and out. Set atop the cooling rack or coil of foil and refrigerate for 12-24 hours uncovered. (If possible, flip the bird halfway through the refrigeration, so that the skin can dry out all over.)
Preheat the oven to 400°F. Line the v-rack of a roasting pan with heavy-duty tinfoil, and use a paring knife to poke holes in it every inch or so (this will protect the turkey from sticking to the rack, while allowing the drippings to accumulate on the bottom of the pan). Spray with nonstick spray.
Let turkey come to room temperature for an hour. Brush all over with melted butter. Place turkey breast-side down on the prepped v-rack and add 1 1/2 cups water to the bottom of the pan (this will prevent the drippings from burning). Stuff the cavity with the onion, lemon, and herb sprigs.
Roast for 45 minutes, then using clean oven mitts or a wad of paper towels, carefully flip the turkey so that the breast side is facing up, and return to the oven. Roast for an additional 50 to 60 minutes, or until the thickest part of the thigh registers 170-175°F and the thickest part of the breast is 160°F.
Transfer the turkey to a carving board, and let rest 30 minutes before carving. Make the gravy while the turkey rests.
Information
Category

Main Dishes, Game

Cuisine

North American

Yield

10-12 servings
Image Source: POPSUGAR Photography / Nicole Perry