Make dinner deliciously easy thanks to pantry items you probably already have on hand. We partnered with the makers of HORMEL® NATURAL CHOICE® for this quick weeknight dinner recipe.
After a busy day you may not want to go out to dinner, but you can make a meal that tastes like it came straight from a restaurant. Having your pantry stocked with everything you need is key, which lets you toss this dish together in minutes. I absolutely love a creamy pasta dish after killing it at work. It's comforting, savory, and nice to curl up with.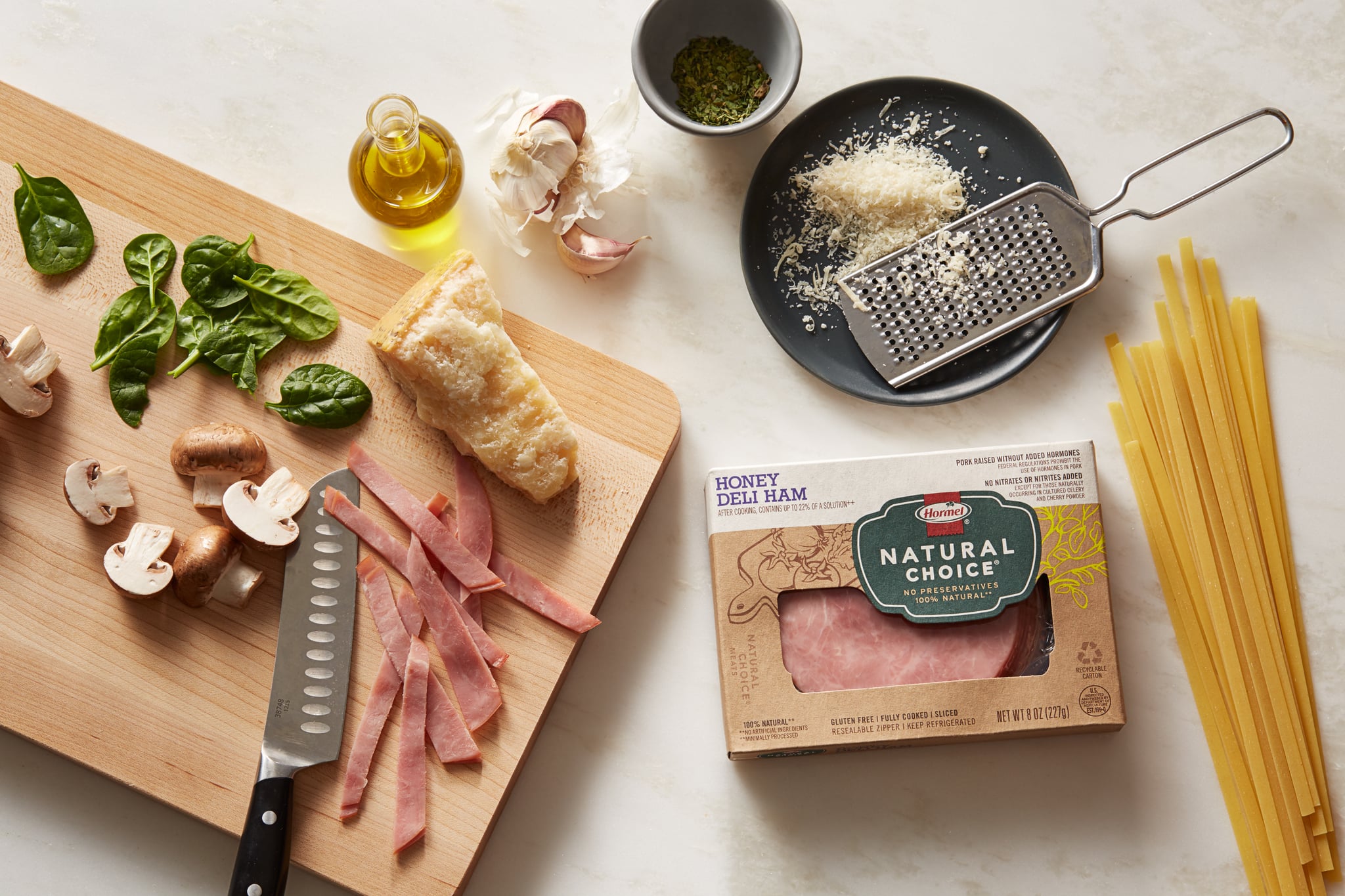 While the pasta is bubbling, the base to the creamy sauce starts with sizzling slices of deli ham. Next, combine it with mushrooms and garlic. The sweet-and-smoky flavor of the deli ham adds a delicious flavor that's a touch unexpected. A sprinkling of fresh spinach adds color and flavor.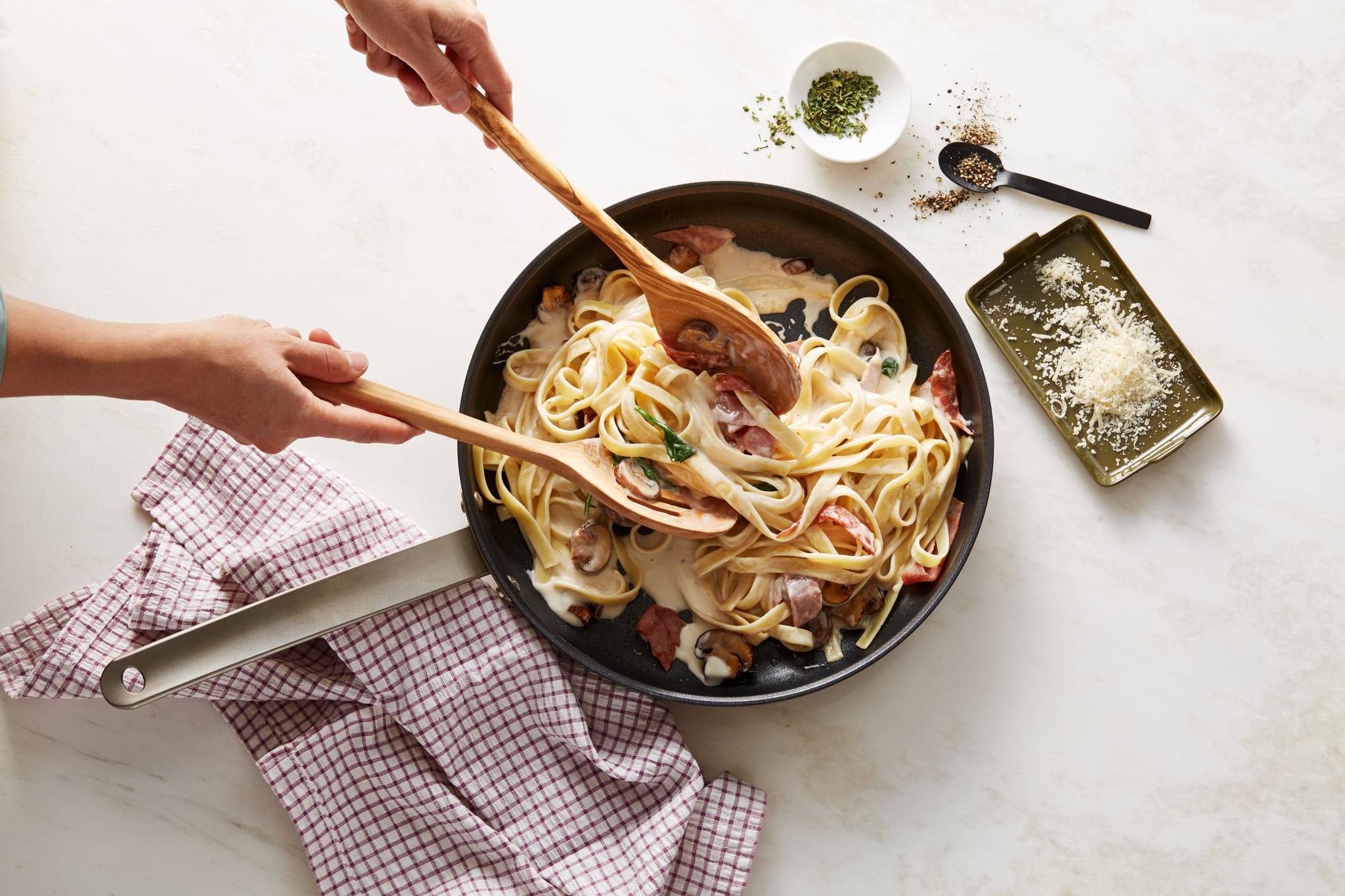 Using store-purchased Alfredo sauce saves you time and makes this dish beyond easy. Serve with lots of Parmesan cheese and you have a dinner in less than 20 minutes. What's great is this recipe serves two, making it perfect for busy nights with your favorite person. Or take leftovers for lunch the next day!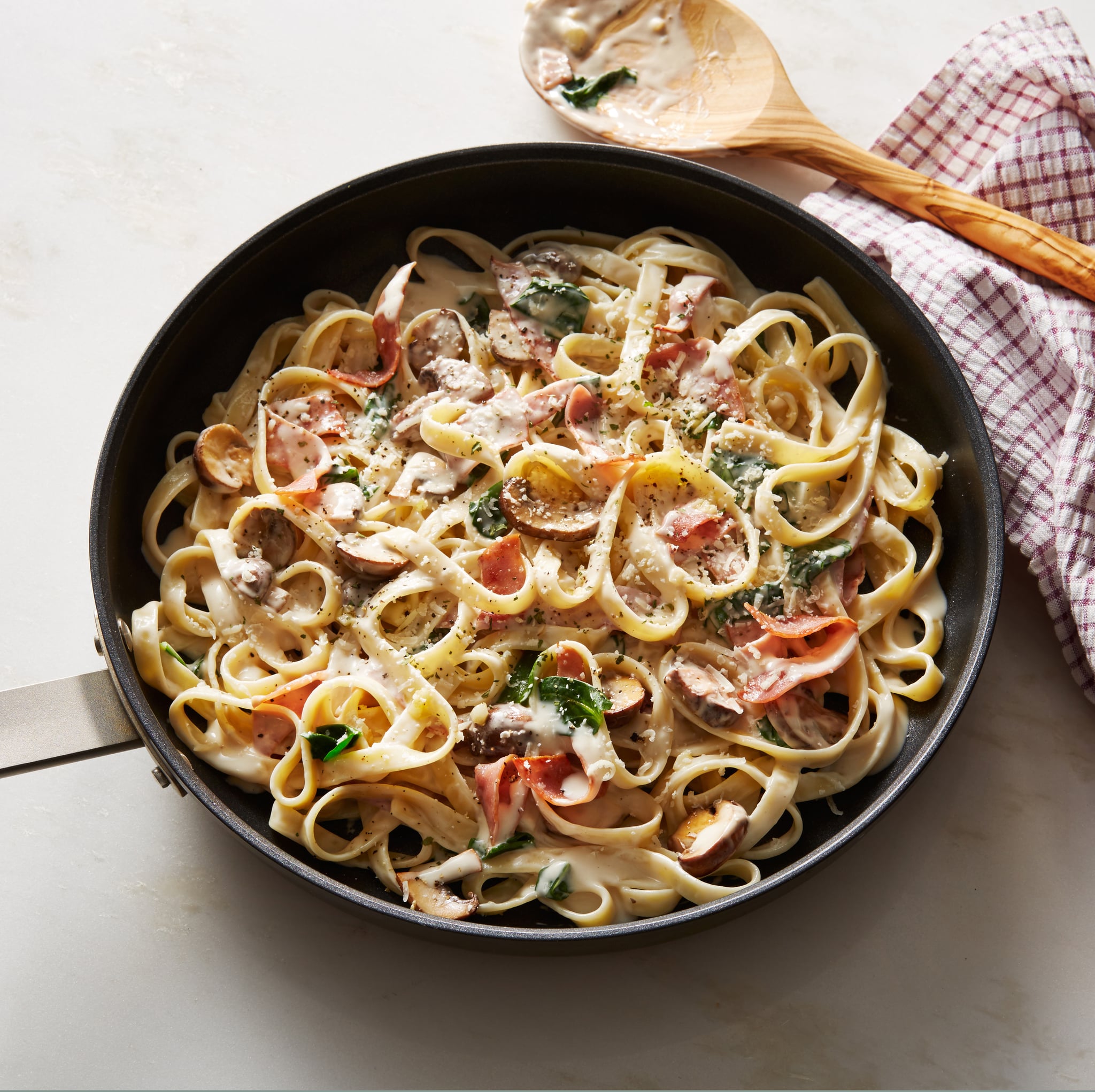 Easy Spinach, Ham, and Mushroom Fettuccine
From Sarah Lipoff, POPSUGAR Food
Ingredients
8 ounces Fettuccine noodles
1 cup baby cremini mushrooms, halved
1 teaspoon chopped garlic
1 teaspoon olive oil
1 tablespoon water
4 slices HORMEL® NATURAL CHOICE® Honey Deli Ham, cut in strips
1 teaspoon balsamic vinegar
1 cup fresh spinach, chopped
1 cup pre-made Alfredo sauce
1/2 cup milk
1 tablespoon Parmesan cheese
1/4 teaspoon fresh black pepper
1/4 teaspoon dried parsley
Directions
Bring a large stock pot of salted water to a boil and add the fettuccine noodles.
Place the mushrooms, chopped garlic, olive oil, and water in a medium saute pan over medium heat. Cook for 2 to 3 minutes or until the mushrooms start to cook through.
Add the sliced ham and balsamic vinegar, cooking until the ham starts to brown, an additional 3 to 5 minutes. Lower the heat and add the spinach.
Toss the cooked fettuccine noodles in the pan. Gently mix with the premade fettuccine sauce and milk, coating the noodles. Bring to a simmer, then remove from heat.
Top with the Parmesan cheese, fresh black pepper, and dried parsley. You're ready for dinner!
Information
Category

Pasta, Main Dishes

Cuisine

Italian

Yield

4 servings

Total Time

19 minutes, 59 seconds
More from the makers of HORMEL® NATURAL CHOICE® Deli Meats


We believe in making delicious meat and cheese you can trust to always be 100% natural-made without artificial preservatives or ingredients. Make the natural choice here.