Fast and Easy Sous Vide Salmon Recipe
Hands Down the Quickest Way to Cook Salmon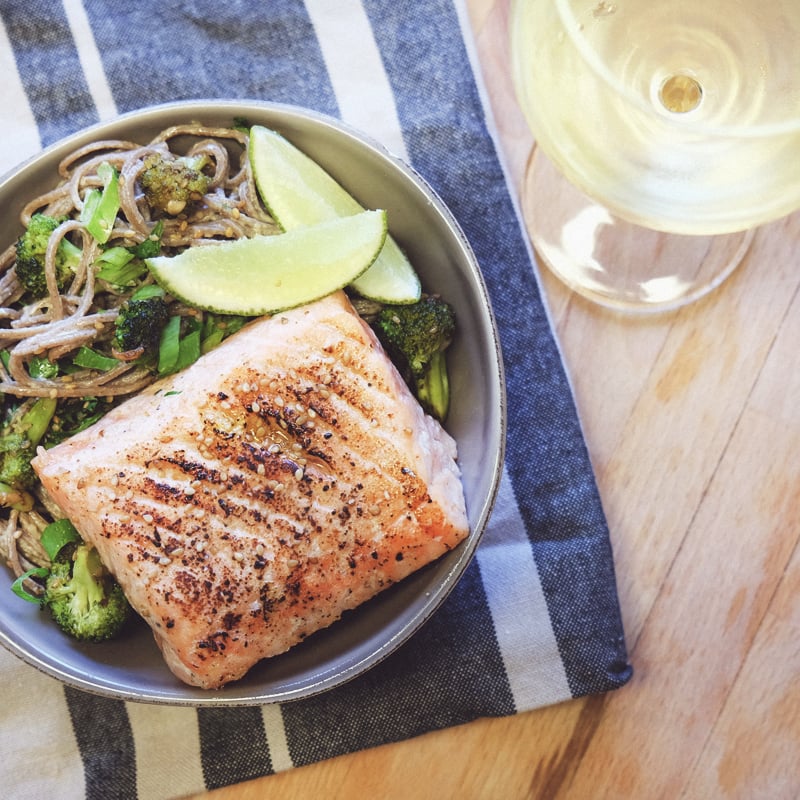 What better time than the New Year to embrace new pieces of equipment and cooking techniques? Sure, it can be daunting to venture into unknown territory (admittedly, sous vide scares us too!), but this salmon recipe served over a bed of soba noodles couldn't be a simpler way to introduce a newbie to sous vide cooking.
Nomiku, makers of sous vide immersion circulators (instruments that heat water to a consistent temperature), introduced us to this salmon-cooking technique that only takes 20 minutes. It basically involves throwing salmon, some oil, and a few other ingredients into a bag, submerging the bag in water, and letting it dance around until the salmon cooks through! If you can throw some cereal in a ziplock bag, you can sous vide.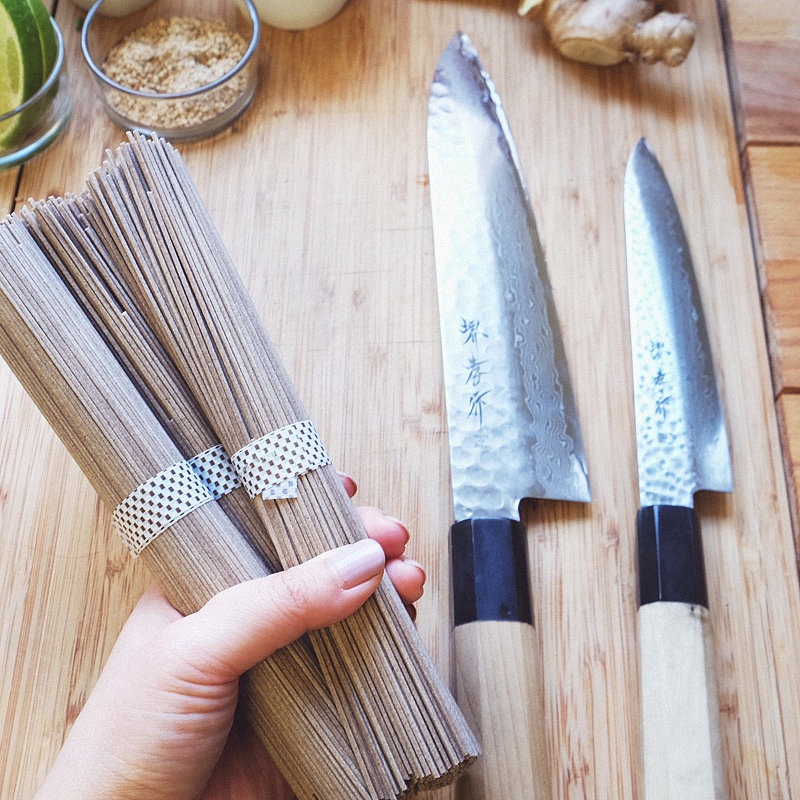 The salmon is paired with tahini-tossed soba noodles and garlicky broccoli — it's a seriously delectable dinner that comes together in under 30 minutes! I recommend doubling up on the soba noodles and packing the leftovers for a lunch your co-workers will surely drool over.
Sous Vide Sesame Salmon With Soba Noodles
From Monica Lo, Nomiku
Ingredients
For salmon:
2 (6-ounce) sashimi-grade salmon filets, with skin
Salt and pepper
1 teaspoon sesame oil
1 cup extra virgin olive oil
1 tablespoon fresh ginger, grated
2 tablespoons honey
For sesame soba:
4 ounces dry soba noodles
1 tablespoon grapeseed oil
2 cloves of garlic, chopped
1/2 head of broccoli
3 tablespoons tahini
1 teaspoon sesame oil

2 teaspoons extra virgin olive oil
1/4 lime, juiced
1 stalk green onion, sliced
1/4 cup cilantro, roughly chopped
1 teaspoon toasted sesame seeds
Sesame seeds and lime wedges, for garnish
Directions
Set up sous vide water bath, and set temperature of the sous vide to 51°C (123.8°F). Generously salt and pepper salmon filets.
In a medium-sized mixing bowl, mix sesame oil, olive oil, ginger, and honey. In a quart-sized freezer-safe zip bag, add seasoned filets and seasoning mixture. Using the water displacement method, seal and sous vide at 51°C (123.8°F) for 20 minutes.
While the fish is cooking, prepare soba noodles according to package directions.
Meanwhile, in a skillet over medium-high heat, heat grapeseed oil. Stir-fry garlic and broccoli until soft, about 6-8 minutes.
In a small mixing bowl, whisk together tahini, sesame oil, olive oil, lime juice, green onions, cilantro, and toasted sesame seeds. Mix into cooked and drained soba noodles, and toss in stir-fried broccoli and garlic.
Heat a skillet over medium-high heat. Place a piece of parchment paper on the bottom of the skillet (the parchment paper will keep the skin from sticking to the pan). Turn up the heat to high, and transfer salmon to the pan, skin side down. Sear until skin is crisp, about 30 seconds to 1 minute.
Divide soba noodles into two bowls; top with salmon, sesame seeds, and a lime wedge.
Information
Category

Main Dishes

Cuisine

Japanese

Yield

Serves 2

Total Time

19 minutes, 59 seconds