Fondue Cheese Bread Roll Wreath
This Baked Fondue Bread Wreath Is Easy, Cheesy Goodness
Is there anything more comforting than toasty bread straight from the oven paired with warm, gooey cheese? We think not! This baked Camembert fondue bread wreath is a guaranteed hit at your next holiday party. It's so easy to make and simply delicious, your guests will be asking for more after it's gone!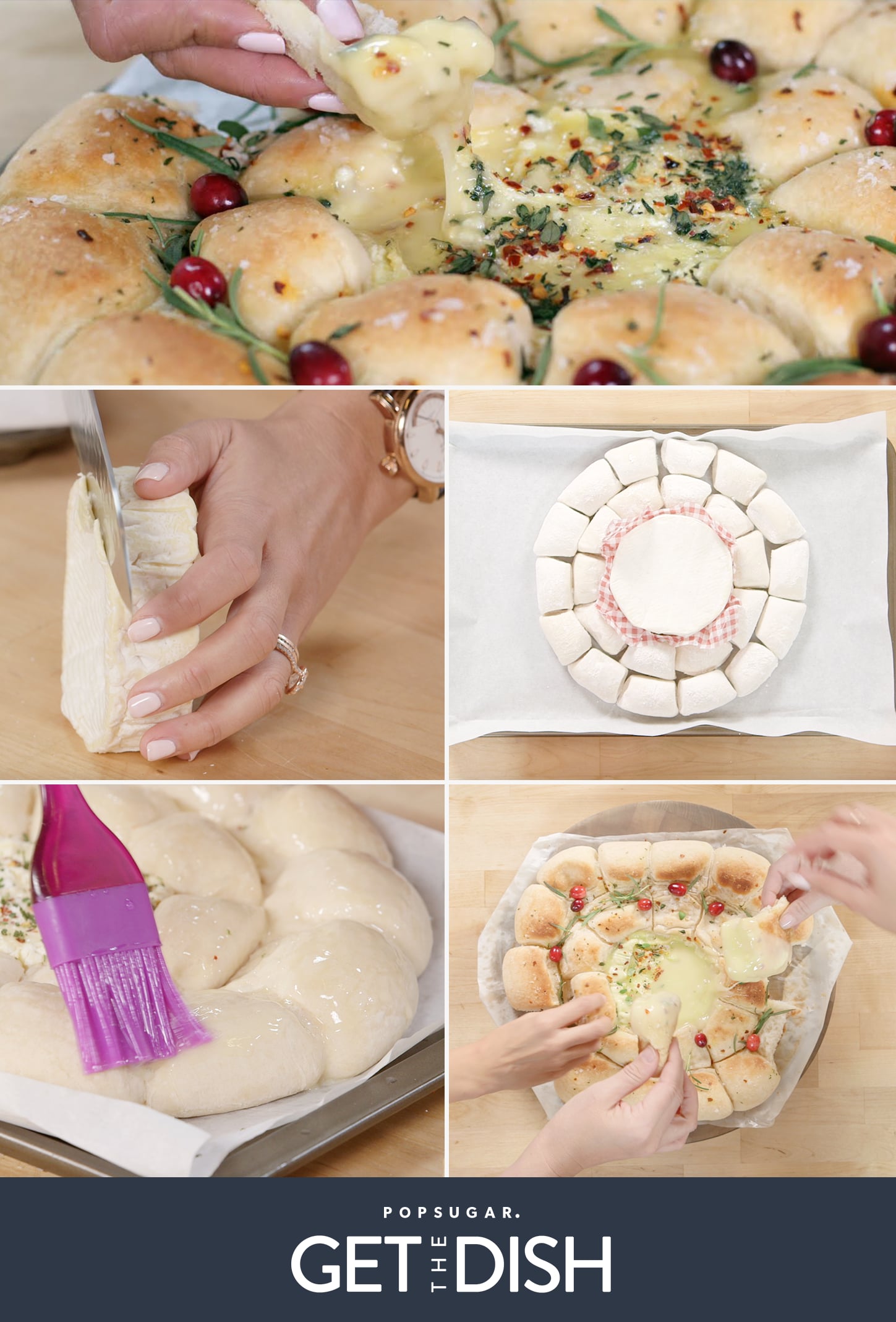 Baked Camembert Fondue Bread Wreath
From Nicole Iizuka, POPSUGAR Food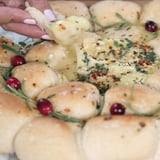 Ingredients
For cheese bread wreath:
1 (25-ounce) bag Parker House-style frozen rolls
1 (8-ounce) round Camembert cheese
1/4 cup unsalted butter, melted
1/4 teaspoon red chili flakes
1/4 teaspoon rosemary, minced
1/4 teaspoon thyme leaves
1/2 teaspoon flaked sea salt
To garnish:
Fresh rosemary
Fresh cranberries
Directions
Preheat oven to 325°F and cover a baking sheet with parchment paper.
Remove the frozen rolls from the bag and break into sections. You will need 25 balls of dough. Place cheese round in center of baking sheet and arrange the rolls around the cheese, 9 rolls in the inner circle and 13 to 14 in the outer circle. Remove the cheese and place back in the refrigerator until ready to use.
Brush frozen rolls with melted butter and then let them thaw and rise in a warm, draft-free area for 3 hours, or until they have doubled in size.
Par-bake the rolls for 7 minutes, or until the top is just lightly golden brown. Remove from oven.
Remove cheese from the refrigerator and using a sharp knife, carefully cut off the top layer of rind from the Camembert wheel. Fit the cheese cut-side up in the center of the wreath and sprinkle the top with red chili flakes, rosemary, and thyme. Use remaining butter and brush the tops of the rolls again and sprinkle with flaked sea salt. Return the wreath to the oven and bake an additional 8 to 10 minutes, or until the rolls are golden brown and the cheese is melted through.
Use the parchment paper to transfer the wreath to a serving platter or board and garnish with small pieces of rosemary and fresh cranberries. Serve immediately.
Information
Category

Appetizers, Breads/Crackers

Cuisine

North American

Yield

10-12 servings

Total Time

3 hours, 59 minutes, 59 seconds