Fresh Strawberry Raspberry Pie Recipe
The 1 Pie You Need to Make This Spring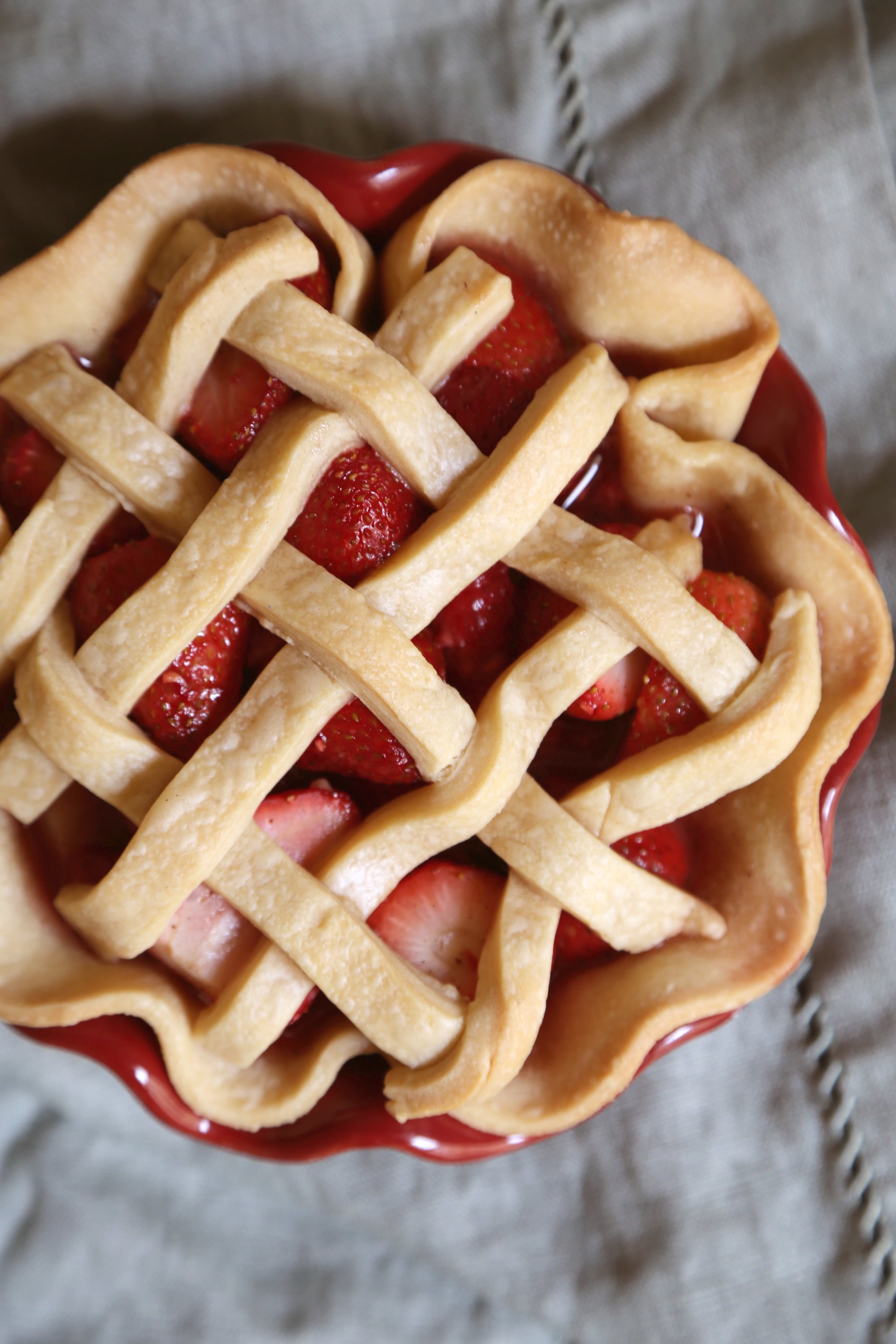 Pie doesn't have to be something you reserve for the holiday season (or even Pi Day). It deserves a place on your kitchen counter any day, any season, so you can help yourself to a shim (a sliver of a slice) when a sugar craving strikes. When I saw this recipe for a strawberry-raspberry pie, I knew I had to go there. It's still a bit early in the season for strawberries, but that's a good thing when it comes to pie. Baking the underripe, tart berries with some vanilla and sugar breaks them down and sweetens them up to gooey, syrupy perfection.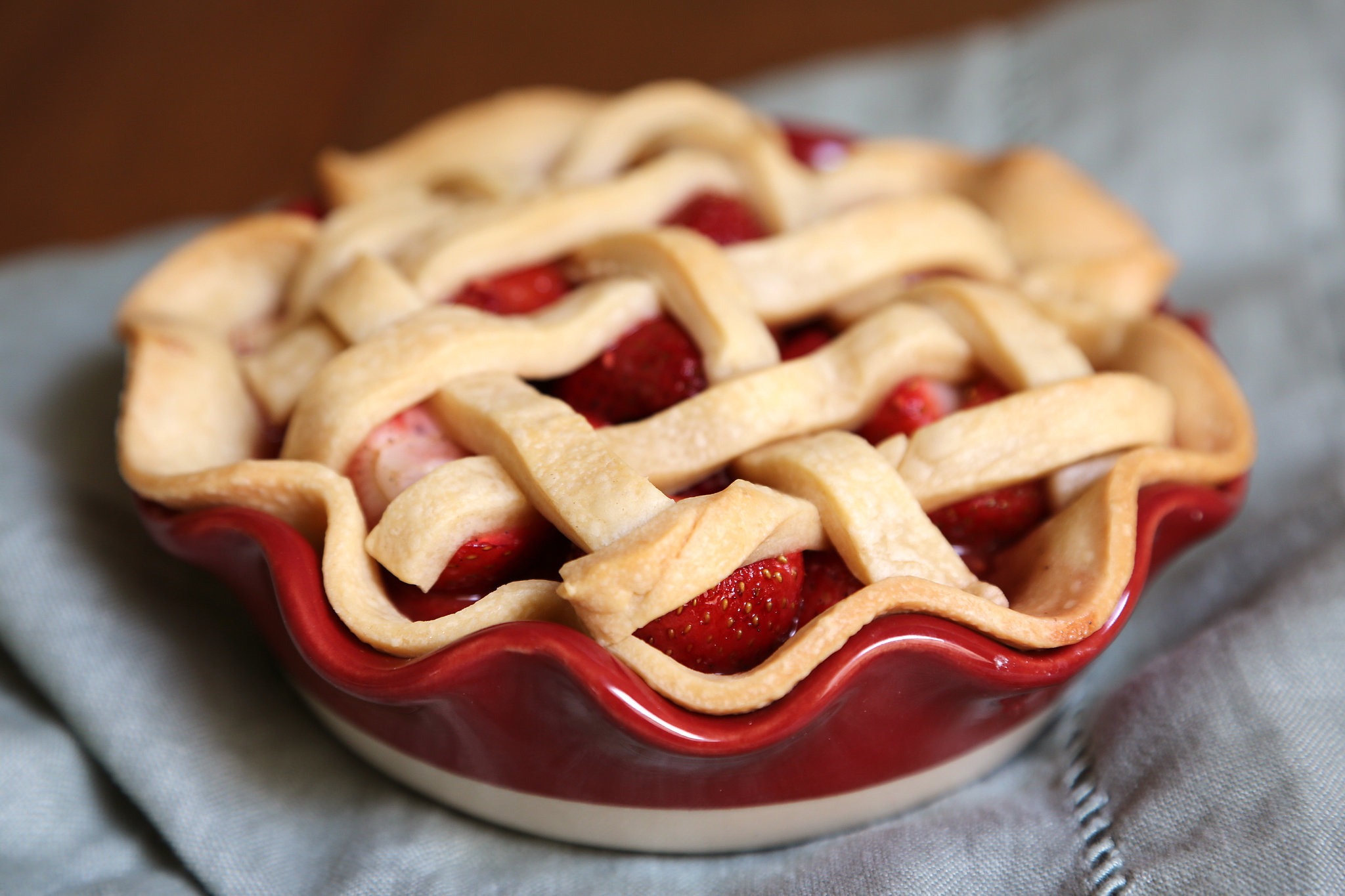 Notes
Editor's note: If you don't have time to make homemade crust, opt for store-bought as a shortcut. I also used salted butter, as I think it enhances the flavor of baked goods.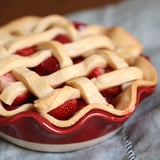 Ingredients
For the crust:
2 1/4 cups all-purpose flour
1/2 teaspoon salt
1/2 cup (1 stick) unsalted butter
1/3 cup vegetable shortening
5 to 7 tablespoons ice water
For the filling:
1 package (16 ounces or 3 cups) strawberries
1 package (6 ounces or 1 1/3 cups) raspberries
2/3 cup sugar
5 tablespoons cornstarch
2 tablespoons brandy or 1 tablespoon vanilla extract
For assembly:
1 tablespoon unsalted butter, cut into pieces
1 large egg yolk, lightly beaten
Directions
To make the crust: Place flour and salt in bowl of a food processor and pulse until combined. Add butter and shortening and pulse until mixture resembles coarse crumbs. Add water, 1 tablespoon at a time, and pulse just until dough comes together (be careful to not overmix). Pat dough into 2 disks (one slightly larger than the other) and wrap in plastic wrap. Chill at least 30 minutes.
Roll out larger disk of dough on a lightly floured surface to a 12-inch circle. Gently transfer dough to 9.5-inch pie plate. Leave edges untrimmed and set aside in the refrigerator.
To make the filling: Hull strawberries, and cut in quarters if large or cut in half if smaller. Place strawberries, raspberries, sugar, cornstarch, and brandy in a large bowl and stir until combined. Set aside. Berries are best if prepared just prior to completing pie.
To assemble: Preheat oven to 400°F. Remove pie shell from refrigerator. Roll out smaller disk of dough into an 11-inch circle. With a pastry cutter or knife, cut dough into 12 strips (about 3/4-inch-wide each). Fill with berry mixture and dot with butter pieces. Lay 6 dough strips across filling. Fold back every other strip slightly more than halfway. Place 1 strip perpendicular to the others and unfold strips back down. Fold back alternate strips and place another strip over filling. Unfold strips and repeat with remaining pastry strips until you have weaved a lattice pattern. Trim ends of strips and fold over with overhang of dough from pie shell. Crimp to form decorative pattern. Brush crust with beaten egg yolk.
Place a sheet of aluminum foil under pie to catch any drippings. Bake 45-50 minutes or until bubbling and golden. Let cool on a wire rack at least 2 hours.
Information
Category

Desserts, Pies/Tarts

Cuisine

North American

Yield

2 pies

Total Time

1 hour, 15 minutes
Image Source: POPSUGAR Photography / Anna Monette Roberts