Girl Scouts Thin Mint S'mores Recipe
Get Lucky With Thin Mint S'mores!
Just in time for St. Paddy's Day, we are making some adorable little leprechaun hats that taste just as good as they look. That's because we're using a secret ingredient . . . Thin Mints!
Notes
If it's not Girl Scout Cookies season, you can make your own or substitute another thin, round cookie.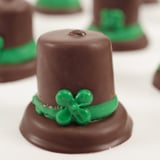 Ingredients
Dark chocolate candy melts
Large marshmallows
Green candy melts
Green sanding sugar
Directions
In a microwave-safe bowl, melt dark chocolate candy melts in 30-second intervals or until completely melted.
Dip cookie in chocolate, coating completely, and set on parchment paper. Repeat with the rest of the cookies.
Stick a toothpick or long skewer into a marshmallow so it is easy to dip in the chocolate. Cover marshmallow completely with melted chocolate, and place on parchment paper flat-side down. Place chocolate-covered cookies and marshmallows in the refrigerator for 5 minutes or until chocolate is set.
In the microwave, melt green candy melts in 30-second intervals or until completely melted. Dip the base of the marshmallow into green candy melts to create a small band of green around the bottom. While the chocolate is still wet, roll in green sanding sugar.
Use another small spoonful of melted chocolate to attach the marshmallow to the cookie, and carefully remove toothpick. Fill the hole with a little bit of dark chocolate. Place chocolate hats in the refrigerator to set.
To make shamrocks: Melt green candy melts and place melted chocolate in a piping bag. Pipe three dots onto a piece of parchment paper in a triangle, and drag a toothpick through the center of each dot going down to create a shamrock shape. Sprinkle the top with green sanding sugar. Place shamrocks in the refrigerator for 5 minutes or until they are set.
To finish the hat, attach a shamrock to the bottom of the hat using some melted green candy melts.
Information
Category

Desserts

Total Time

1 hour