Grilled Corn Salad Recipe
This Corn Salad With Cornbread Croutons Is a Corn-ucopia of Deliciousness
The following recipe was originally published on Nosh With Tash. You can follow Nosh With Tash host and private chef Natasha Feldman on Instagram here.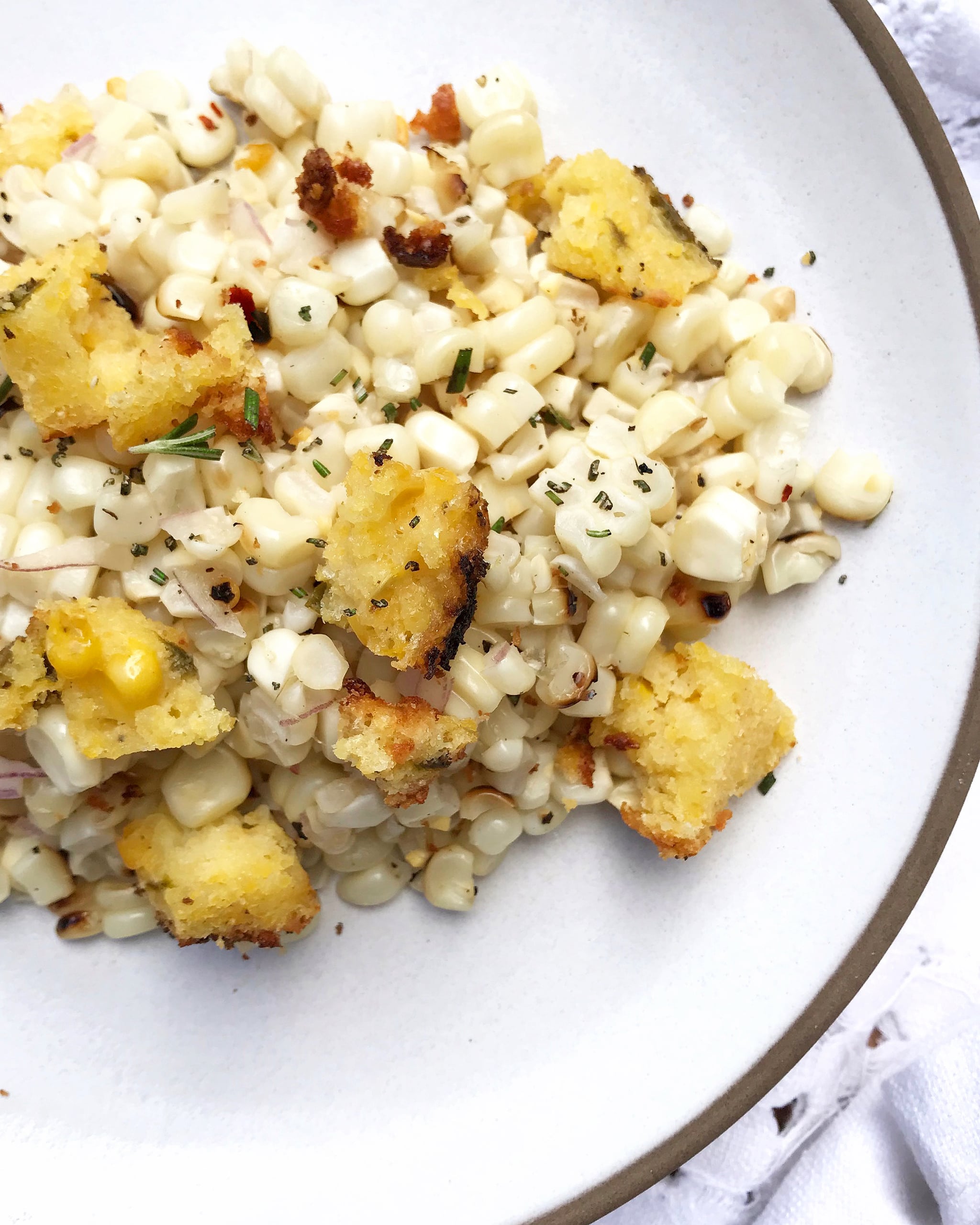 If you live in LA, than you've been to a Hillstone Restaurant. There are like a billion of them and they're always crowded. You might walk in and think "WHY IS THIS CHAIN SO CROWDED ALL THE TIME?!?" . . . but then you eat the food and you're like "OH YES THIS FOOD IS SO GOOD." Where was I going with this? Oh yes, the cornbread. They have THE BEST cornbread, so I found the recipe and yoinked it.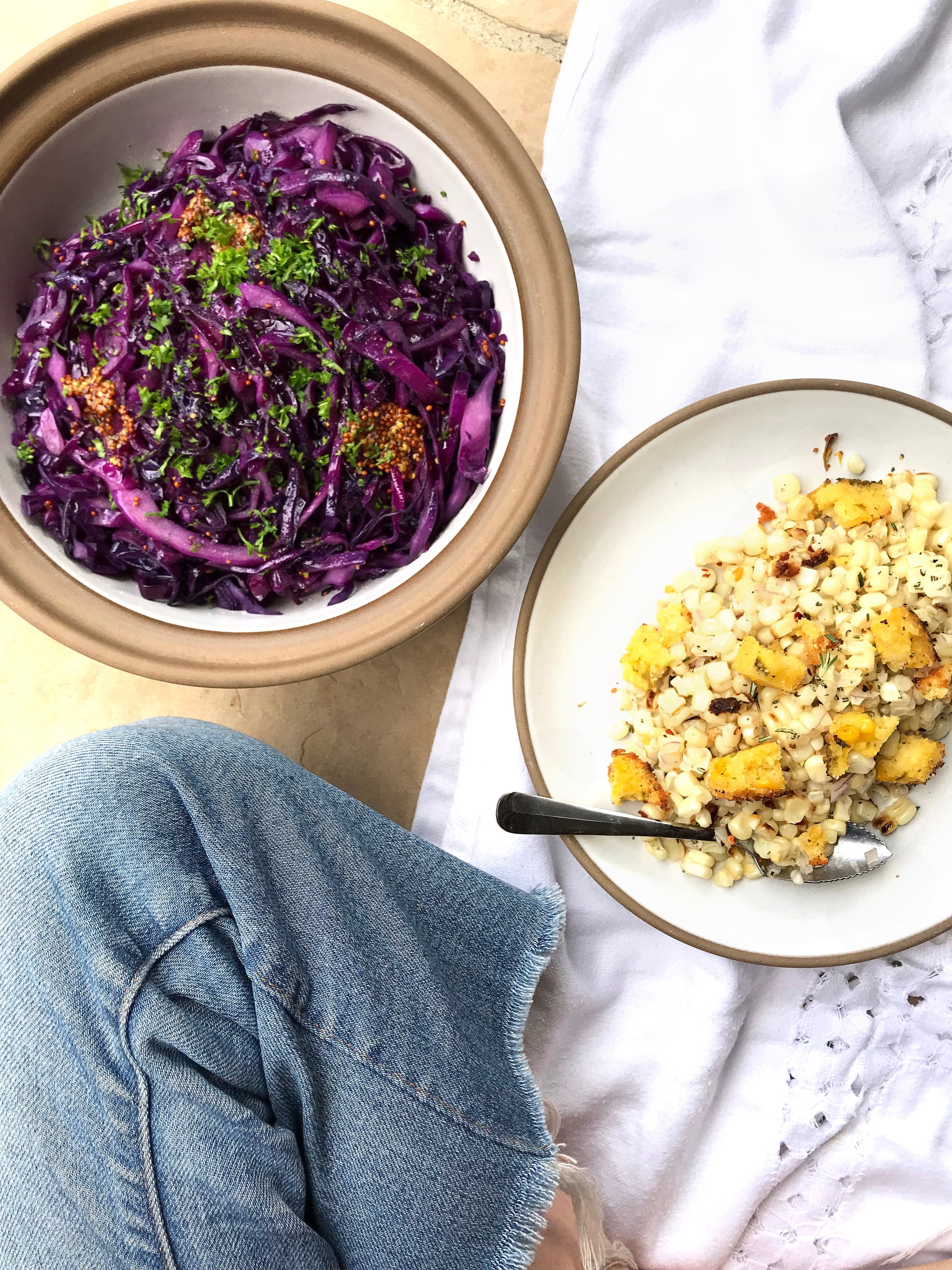 In trying to come up with a really delicious salad to highlight summer corn, I thought, why not up the corn salad with my favorite cornbread croutons. Corn on corn on corn.
Charred Corn Salad With Cornbread Croutons
Nosh With Tash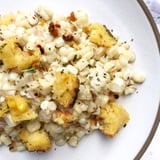 Ingredients
For the Croutons:
(This portion is NOT my recipe, it's the recipe for the cornbread at Hillstone . . . my favorite cornbread)
1 1/4 cups all purpose flour
1 cup fine cornmeal
1 tablespoon baking powder
1 1/2 teaspoons kosher salt
4 eggs
1 - 15 ounce can of creamed corn
1 4.5 ounce can of mild chilies, chopped
1 1/2 ounces shredded white cheddar
1 1/2 ounces shredded jack cheese
1 1/2 sticks of butter, room temperature
2/3 cup sugar
Cooking spray
For the Salad:
4 ears of corn
1 tablespoon canola oil
1 tablespoon olive oil
1 tablespoon red onion, chopped
2 teaspoons lime juice
1/4 teaspoon red pepper flakes
1/4 teaspoon rosemary, minced
Salt and pepper to taste
Directions
For the Cornbread Croutons:
Preheat oven to 400 with your cast iron skillet in the oven, if you don't have a cast iron skillet a 9 by 9 baking pan will work
Whisk the flour, cornmeal, baking powder and salt into a small bowl
In another, larger, bowl beat together the eggs, creamed corn, chilies, and cheeses
In a totally separate bowl (I know, it's a lot of bowls) mix together the butter and sugar
Pour the butter into the egg mixture and combine until just incorporated
Then gently fold the flour in until, again, the mixture is barely incorporated
Spray the hot, hot pan with a thin layer of cooking spray and pour in the batter
Cook for about 30-35 minutes until the cornbread doesn't jiggle when you touch it on the top
Once the cornbread has cooled, cut it up into cubes to sprinkle on top of the salad
If you want to make the cornbread a day before serving, simply cut up the cornbread just before assembling your salad and broil to crisp it up and give it some new life
For the Salad:
Coat the corn in the canola oil and sprinkle with salt
Grill or broil the corn until charred on one side (I only char the corn on one side because I like it still crisp, but if you like a more cooked corn, have at it)
When the corn is cool enough to handle, cut the corn off the cob
Combine the corn, red onion, lime juice, red pepper flakes and salt and pepper to taste
Just before serving top with cornbread croutons and fresh rosemary
Information
Cuisine

North American

Yield

Serves 5