Healthy Clam Chowder Recipe
A Lighter Take on New England Clam Chowder
There's no better antidote to crappy Winter weather than clam chowder. If you're partial to the New England kind — the traditional version that calls for copious amounts of salt pork and more heavy cream than you want to know about — then you'll love this creative take on the classic.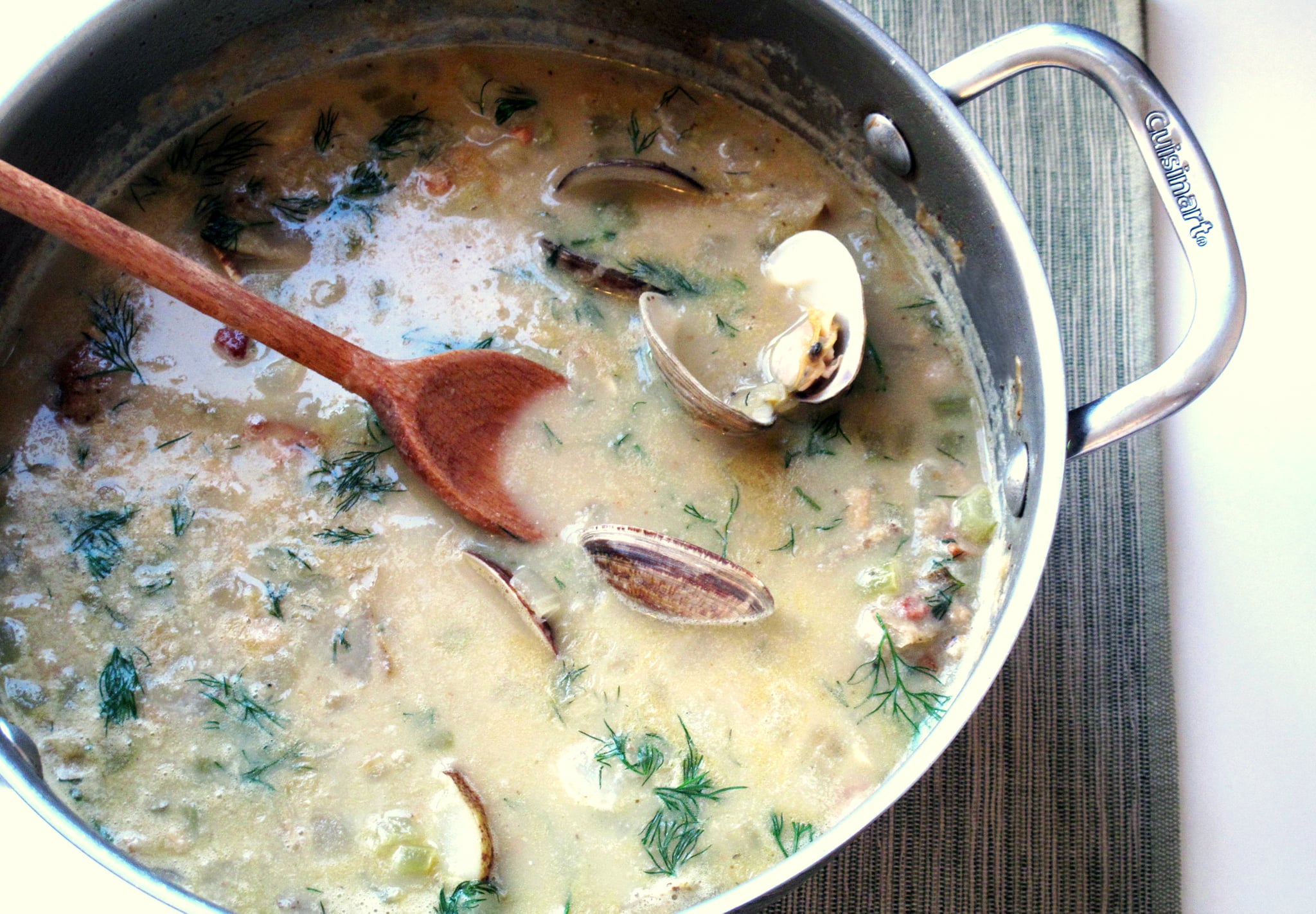 This rendition, which comes from chef Sam Talbot's book, The Sweet Life, calls for a few unusual additions: celery seeds, rice flour, and almond milk. You may be skeptical at the moment, but I promise you won't be once you try it: it's zippy, creamy, and briny all at once. Once the chowder comes together, it's finished with a generous dusting of fresh dill weed.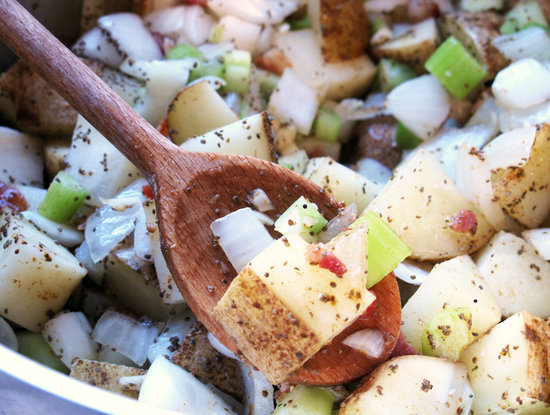 Ingredients
2 tablespoons olive oil
2 slices thick-cut bacon, chopped into small pieces
1 pound red or white russet potatoes, peeled and coarsely chopped
1 large Vidalia or yellow onion, diced
2 celery ribs, diced
2 garlic cloves, finely chopped
1 1/2 teaspoons Old Bay seasoning
1 tablespoon celery seeds
1/4 cup rice flour
2 8-ounce cans minced clams
1/2 cup dry white wine
2 cups bottled clam juice
2 cups low-sodium chicken broth
1 cup almond milk
1 tablespoon Worcestershire sauce
1 tablespoon hot sauce
2 dozen littleneck clams, scrubbed
1/4 cup chopped fresh dill
Salt
Pepper, freshly ground
Directions
In a medium saucepan, heat the oil over medium-high heat. Add the bacon, and cook until the fat is rendered and the bacon begins to brown, 2 to 3 minutes. Add the potatoes, onion, celery, garlic, Old Bay seasoning, and celery seeds. Cook, stirring frequently, until the onion and celery are translucent, 2 to 3 minutes.
Sprinkle the rice flour over the vegetables, and stir for 1 minute to make a roux. Add the canned minced clams and wine, stirring well to combine. Pour in the clam juice, broth, milk, Worcestershire sauce, and hot sauce. Bring the soup to a simmer, and cook, stirring occasionally, until the potatoes are fork-tender, about 45 minutes.
Add the whole clams and the dill, cover the pot, and cook until the clams open, 8 to 10 minutes. Discard any unopened shells. Season to taste with salt and pepper.
Nutritional information per serving: 236 calories, 15 grams protein, 25 grams carbohydrates, 7 grams total fat (1 gram saturated), 32 milligrams cholesterol, 3 grams fiber, 1,169 milligrams sodium
Reprinted from: The Sweet Life © 2011 by Sam Talbot. Permission granted by Rodale, Inc. Available wherever books are sold.
Information
Category

Soups/Stews, Chowder

Cuisine

North American

Yield

6 servings