Healthy Nachos Recipe From Martha Stewart
The 1 Nacho Recipe to Make For Super Bowl Season, According to Martha Stewart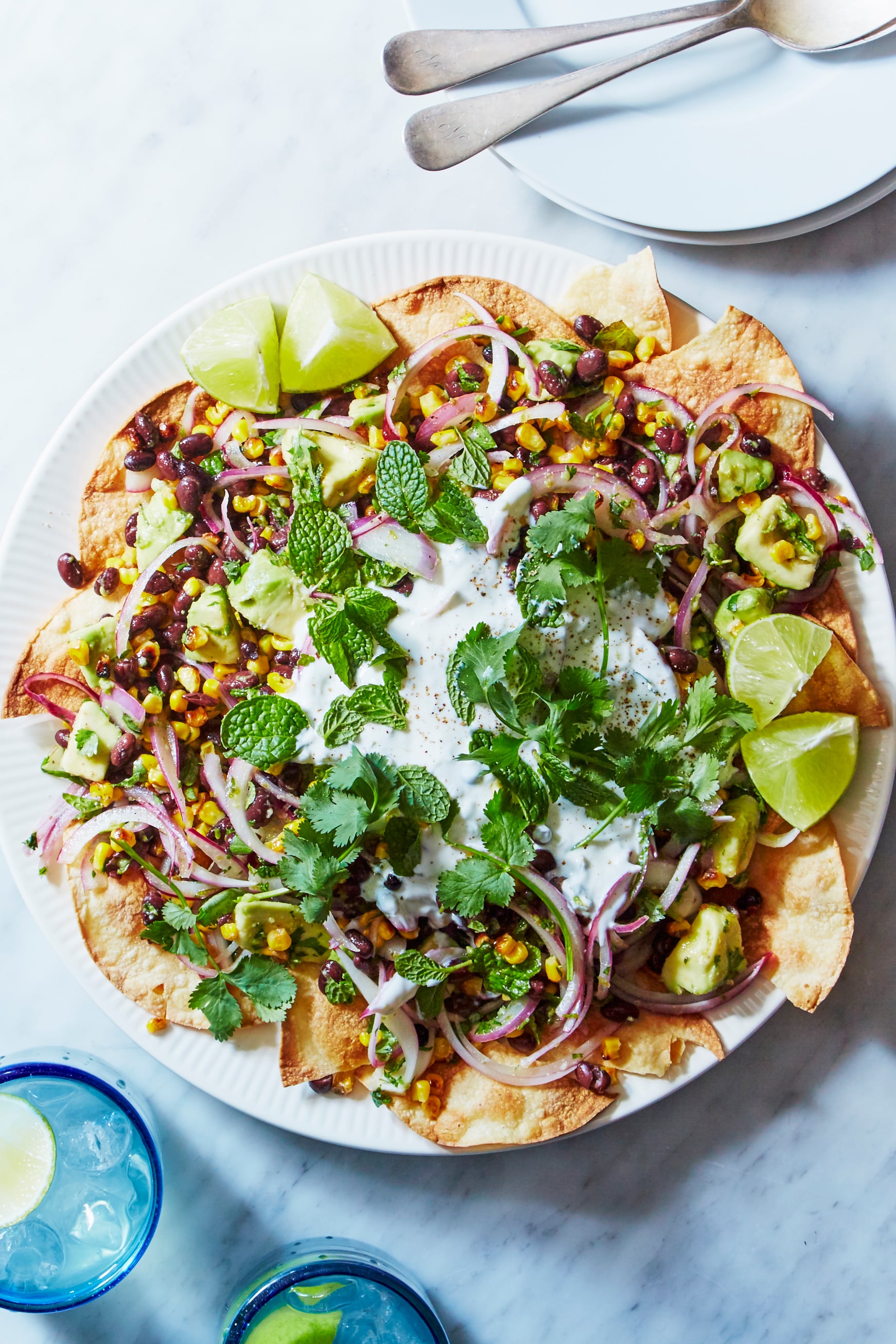 Martha & Marley Spoon sent me a game-day box they're promoting for the week of Super Bowl (ordering ends Jan. 26). Curious about this convenient meal delivery service that aims to take the meal planning and grocery shopping out of entertaining for special events, I rolled up my sleeves and tried a few of the recipes. This nachos recipe downright impressed me, which is why I felt compelled to share it with you today.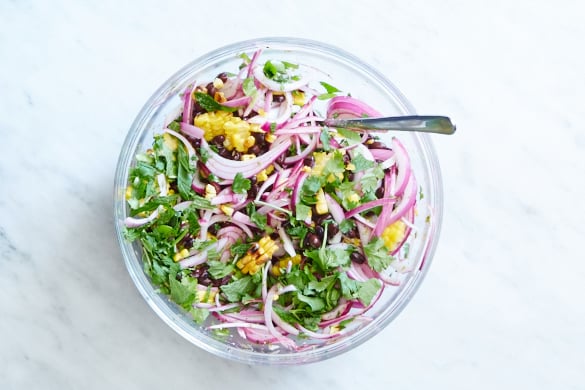 The nachos taste damn near perfect (you'll find yourself scraping the sides of the salsa bowl). However, I do recommend a few minor adjustments — they may seem slightly silly to mention, but they'll improve the snack drastically.
The first regards the tortilla chips. I found it difficult to snap the corn tortillas into pieces after they baked. As per my homemade tortilla chips recipe, cut the tortillas into quarters before baking them. I also brushed melted ghee on the chips instead of vegetable oil so they developed an incredible nutty aroma as they baked. I also sprinkled salt on the surface of the tortillas to re-create the flavor of restaurant chips.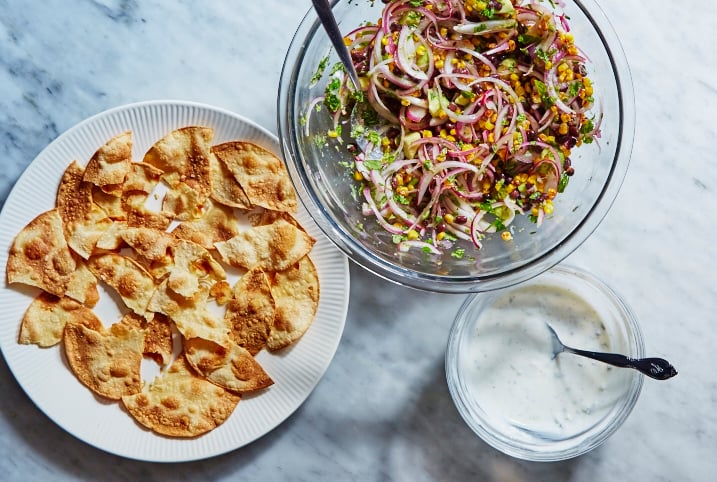 The other change may knock "healthy" out of the recipe name: I had to have cheese on these nachos. I grated goat gouda on top of the chips, stuck them back in the oven for minute to allow the cheese to melt, then I loaded them with the salsa. Can I tell you, it tasted every bit as good as you can imagine? The recipe serves two, and if you host a party, prepare to double, triple, or quadruple this appetizer. It'll go fast and has the potential to make the crowd go wilder than they do when their team scores.
Healthy Nachos With Charred Jalapeño Yogurt
Notes
We'd never say no to nachos for dinner—there's nothing like the combination of tangy sour cream and crunchy corn chips. We wanted to recreate some of those flavors and textures in a healthier version featuring oven baked tortillas, charred corn, fresh herbs, and avocado. A creamy yogurt sauce binds it all together. Just promise you'll still get in there with your hands. Cook, relax, and enjoy!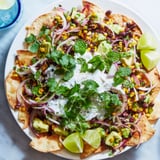 Ingredients
1 medium red onion
1 avocado
2 limes
Coarse salt
8 ounces frozen corn
Olive oil
1 jalapeño
6 white corn tortillas
1⁄2 ounce fresh cilantro
1⁄2 ounce fresh mint
1 can black beans
1 container Greek yogurt
Ground black pepper
Directions
Preheat broiler with rack in highest position. Halve, peel, and thinly slice onion. Halve avocado and remove pit. Peel and cut into 1-inch pieces. Zest 2 limes over a large bowl. Juice 1 1/2 limes into bowl with zest. Add onions and avocado, season with 1/4 teaspoon salt, and toss to combine. Set aside to macerate.
Toss corn with 1/2 teaspoon oil on a rimmed baking sheet and spread in a single layer over 1/2 of the sheet. Cut jalapeño in half lengthwise and place cut side down next to the corn on the sheet. Broil until charred, 5 to 7 minutes (watch closely as broilers vary). Transfer jalapeño to a small bowl and tightly cover with plastic wrap. Transfer corn to a small bowl.
Switch oven to 450°F. Place tortillas on the rimmed baking sheet and brush both sides of tortillas with 1 tablespoon oil. Bake (without flipping) until tortillas are dark golden brown, 12 to 14 minutes (watch closely as tortillas can toast quickly depending on your oven).
Meanwhile, pick cilantro and mint leaves from stems, reserve a few sprigs for garnish, and roughly chop the rest. Drain and rinse black beans. Add corn, beans, chopped herbs, and 2 tablespoons oil to bowl with onion; season with salt and pepper and toss to combine.
Peel away charred outer skin of jalapeño, discard skin and stem, and remove seeds for less heat. Finely chop jalapeño and add as much as you'd like to a bowl, depending on your heat preference. Stir in yogurt and 1 to 3 tablespoons water until loose enough to dollop; season with 1/4 teaspoon salt and pepper.
Break up tortillas into large chips and place on a platter or 2 plates. Top with corn and black bean salad. Dollop with jalapeño yogurt and garnish with reserved herbs. Cut remaining lime half into wedges and serve on the side for squeezing over. Enjoy!
Information
Category

Appetizers, Finger Foods

Cuisine

North American

Yield

2 servings

Total Time

39 minutes, 59 seconds
Image Source: Linda Pugliese