Hoppin' John Recipe
Try Your Luck With Hoppin' John Soup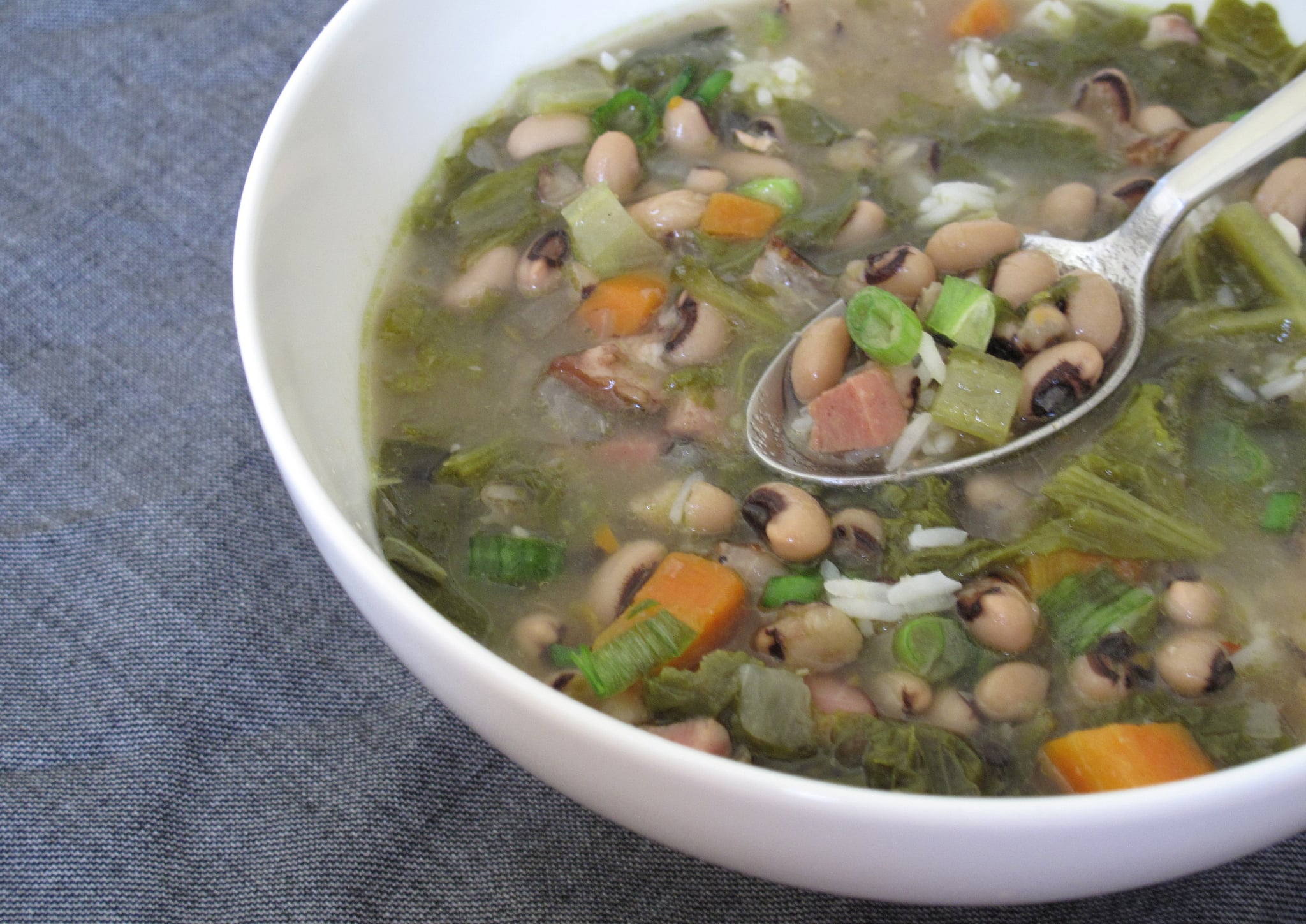 When the revelry of New Year's Eve has come and gone, it'll be time for me to draw up that list of New Year's resolutions. I don't know about you, but with the list of changes I'm vowing to make this year, I'm going to need any good fortune I can get. That's why I'm enlisting the help of hoppin' John.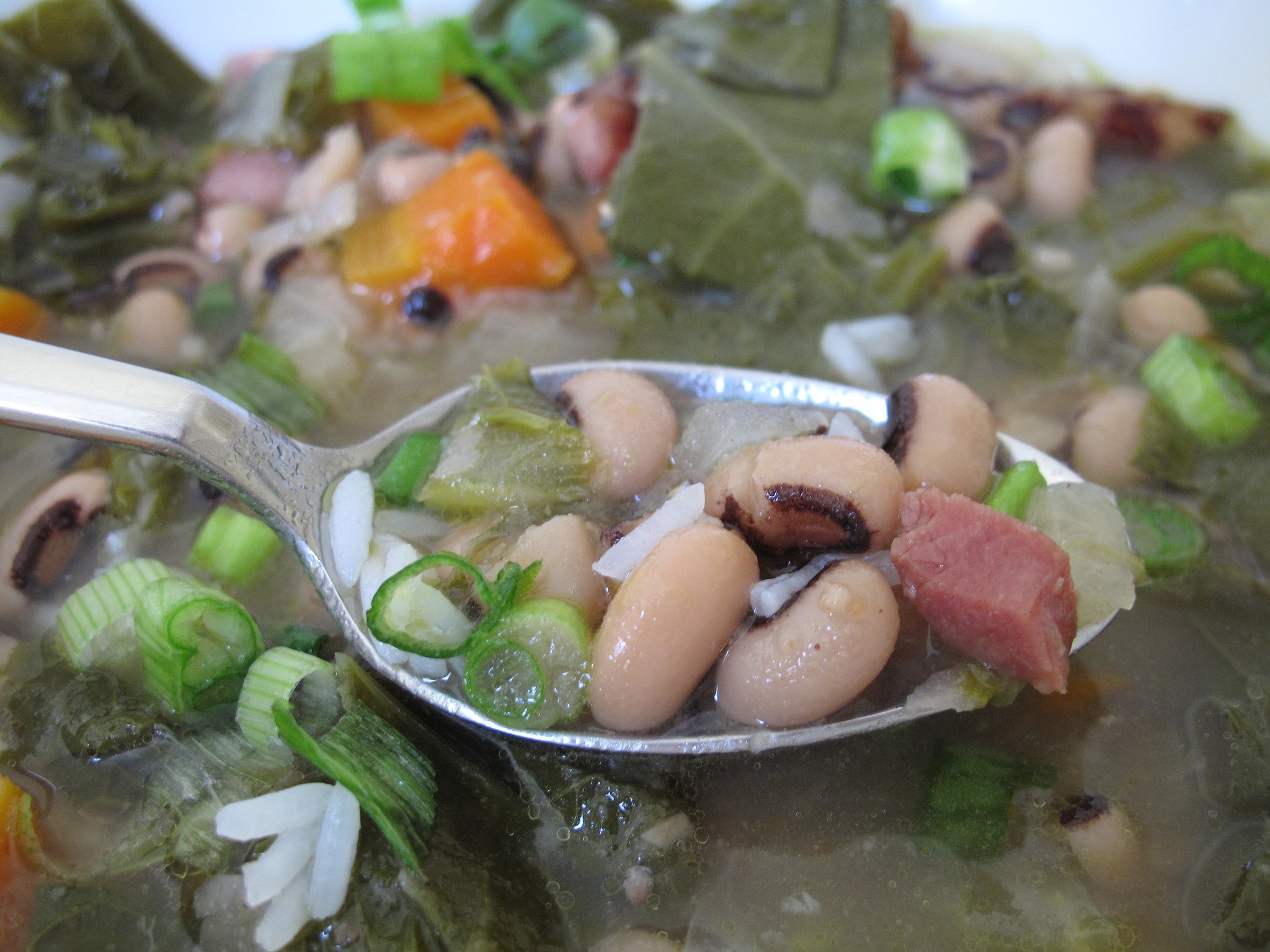 A New Year's fixture on every Southern table, this mélange of black-eyed peas, ham, onions, and rice is said to bring prosperity to anyone who eats it. Blackeyeds, as they're called in the South, are symbolic of coins and affluence; collard greens, with their leaves the color of currency, are another. Supposedly, more pork also means more luck — but that might just be an excuse to enjoy more of the pig.
When New Year's arrives this time around, consider passing the day with a comforting pot of hoppin' John soup. It makes a ton, which means, presumably, that you'll have plenty of luck to go around in the next dozen months.
Ingredients
1 pound dried black-eyed peas
1 smoked ham bone or 2 hocks
1⁄4 cup canola oil
1⁄2 cup cooked ham, finely chopped
1⁄4 teaspoon red chile flakes
2 cloves garlic, finely chopped
1 jalapeño, stemmed, seeded, and finely chopped
1 large carrot, finely chopped
1 large onion, finely chopped
1 rib celery, finely chopped
1 bay leaf
1 pound collard greens, ribs removed, leaves roughly chopped
2 tablespoons apple cider vinegar
Kosher salt, to taste
Black pepper, freshly ground, to taste
5 cups long-grain white rice, cooked
Chopped scallions, for garnish
Directions
Bring peas, ham bone, and 8 cups water to a boil in a 6-quart Dutch oven. Reduce heat to medium-low, and cook, skimming foam occasionally, until peas are tender, about 45 minutes. Drain peas, reserving 1 cup cooking liquid along with ham bone; set aside.
Heat oil in a 12-quart pot over medium-high heat. Add chopped ham, chiles, garlic, jalapeños, carrot, onion, celery, and bay leaf, and cook, stirring occasionally, until soft, about 8 minutes. Add reserved black-eyed peas, ham bone, and reserved cooking liquid, along with collards and 12 cups water.
Bring to a boil, reduce heat to medium-low, and simmer until collards are tender, about 1 hour. Stir in vinegar, and season with salt and pepper. Spoon rice into bowls, ladle soup over rice, and add garnish.
Information
Category

Soups/Stews, Bean

Cuisine

North American

Yield

Serves 8 to 10