Hurts Donut Clown Doughnut Delivery
You Can Scare the Sh*t Out of Your Friends With This Clown Doughnut Delivery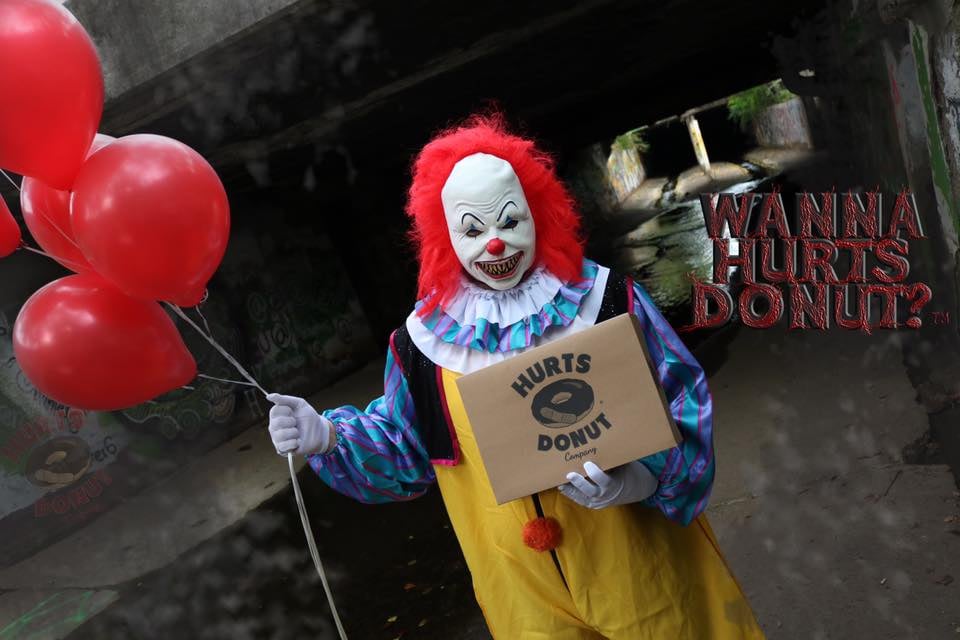 Did you see the It remake and have dreams of Pennywise showing up at your door with . . . doughnuts? No? Well, thanks to a doughnut shop called Hurts Donut, people were able to deliver doughnuts from a person dressed as a creepy-ass clown to their friends — or their enemies, perhaps.
"Wanna scare the sh . . . Shprinkles out of your friends!?" The Frisco, TX, doughnut shop wrote on its Facebook page. And from the looks of the videos the company shared, some people did indeed take advantage of the opportunity. Watch the two videos below to see what happened when the clown delivered doughnuts to unsuspecting employees at work. One surprised employee finds the clown waiting for him by the front desk and says, "I don't know what to think right now. Am I awake right now?" Another woman got the quiet delivery while sitting in her office, and all it took was a scream from the clown to make her jump.
While the special "scary clown deliveries" were only available for a couple of days in September, the Texas shop noted on Facebook that it "may pick a day for out of town clown deliveries as well" if there was enough interest in surrounding communities. TBH, this is probably the only time we'd refuse a box of doughnuts, and it's gonna be a hard pass from us.