Italian Pasta Made From Chipotle Mexican Grill Ingredients
What Happens When Chefs Get Ahold of Chipotle Mexican Grill Ingredients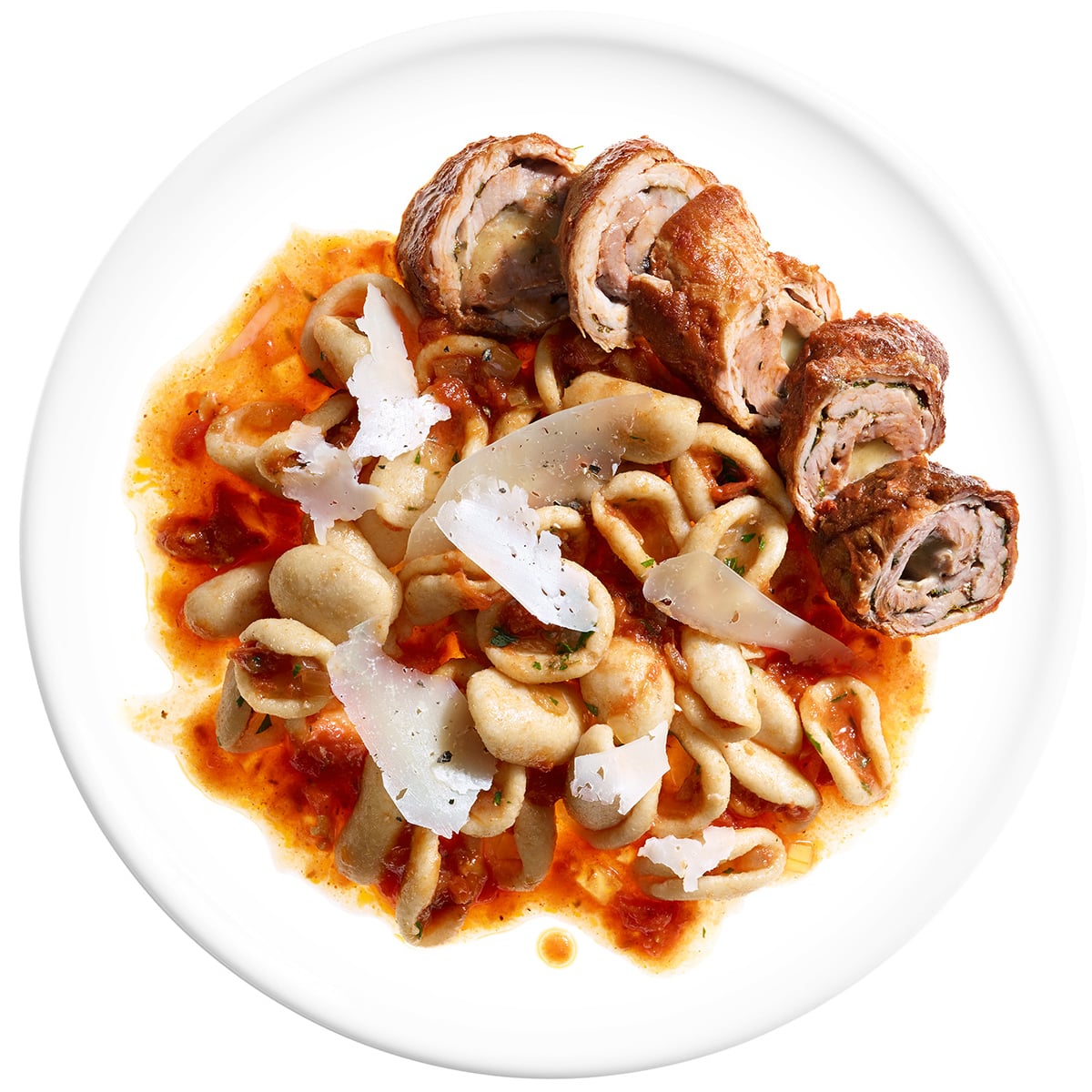 Italian chef Mario Batali is just one of 11 chefs who have developed recipes starring the ingredients found at Chipotle Mexican Grill. The cause is a good one: Chipotle will contribute up to $100,000 to (RED)'s Global Fund to fight against AIDS through limited-edition Chipotle + (RED) gift cards, available for the month of June. Mario's recipe does the unthinkable: brown rice is grounded into flour for homemade pasta, and monterey jack cheese and fresh herbs are rolled up inside pork shoulder like a burrito.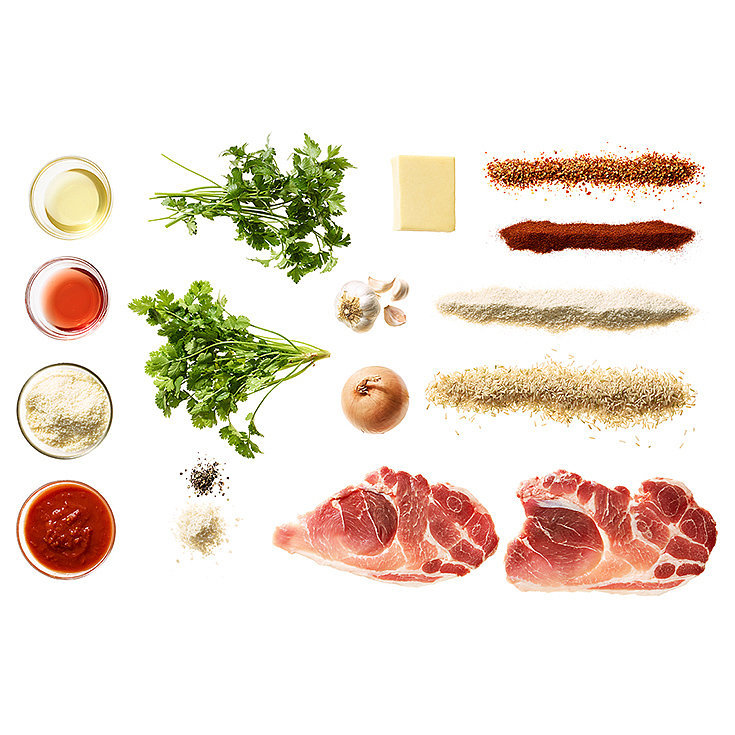 And the other (RED)cipes are just as incredible — chicken burrito soup, avocado hummus, and Mexican cauliflower chili scramble, all created with Chipotle ingredients.
Pork Braciolette With Brown Rice Orecchiette
From Mario Batali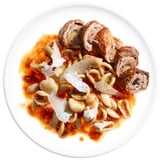 Ingredients
For Brown Rice Orecchiette Pasta:
3 cups brown rice, crushed in a coffee grinder to flour-like texture to yield 2 cups of brown rice flour
3/4 cup warm water
For Pork Braciolette:
8 thin slices of leg or shoulder of pork, about 4-inches by 4-inches by 1/4-inch
8 (2-ounce) pieces monterey jack cheese
2 tablespoons chopped fresh cilantro leaves
2 tablespoons chopped fresh parsley leaves plus 4 tablespoons
Salt and pepper
4 tablespoons rice bran oil
1 medium Spanish onion, finely chopped
4 cloves garlic, thinly sliced
2 tablespoons red chile
1/4 cup red wine vinegar
3 cups crushed canned tomatoes
1 recipe brown rice orecchiette pasta
1 cup freshly grated hard pecorino
Directions
To make brown rice orecchiette pasta: Place brown rice flour in a large mixing bowl and stir to mix well. Make a well in the center of the flour mixture and add water a little at a time, stirring with your hands until a dough is formed. You may need more or less water, depending on the humidity in your kitchen.
Place the dough on a floured work surface and knead it like bread for 8 to 10 minutes until smooth and elastic. Cover and let stand for 10 minutes at room temperature.
Roll dough into long dowels about 3-4-inch thick. Cut into flat disks about 1/4-inch to 1/2-inch thick. Press center of each disk with thumb to form saucer-shaped pasta and set aside until ready to cook.
To make pork braciolette: Bring 6 quarts water to boil and add 2 tablespoons salt.
Using a meat mallet or cleaver blade, pat each pork piece until 1/16-inch thick. On to each pork piece place one slice of jack cheese. Mix cilantro and 2 tablespoons parsley and divide among 8 pieces of pork. Season with salt and pepper and roll like a burrito to form a little package. Tie each with 2 pieces of butcher twine.
In a heavy bottom pot, heat olive oil until smoking. Brown pork pieces 4 at a time until deep golden brown all over and remove. Add onions and garlic and cook until softened and lightly browned. Add chilies, red wine vinegar and tomatoes and bring to a boil. Lower heat to medium and place meat in pan with sauce, submerging the meat halfway. Simmer uncovered for 20 to 30 minutes, or until pork is fork tender.
Put orecchiette into boiling water and cook until al dente, about 6 to 7 minutes, and drain.
Remove meat from sauce and toss orecchiette into sauce. Remove strings from meat. Pour orecchiette into a large serving bowl. Place meat on top, sprinkle with cheese and remaining parsley and serve.
Information
Category

Main Dishes, Pork

Cuisine

Italian

Yield

Serves 4