Italian Sausage, White Bean, and Kale Soup Recipe
Consider This Kale and White Bean Soup Your Dreary Day Dinner Prescription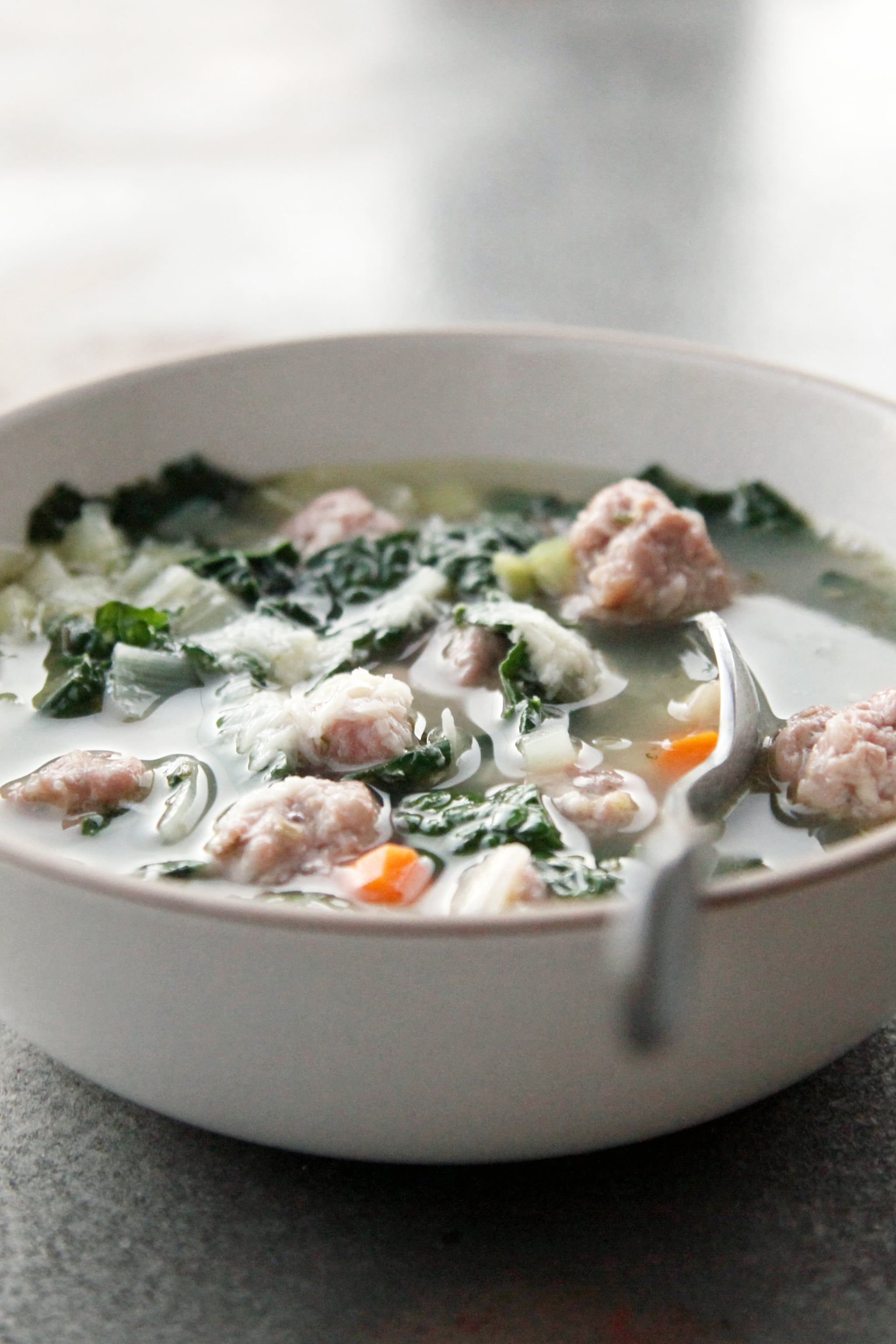 Dark, dreary nights have you down? Do you have a case of the seasonal blahs? This classic Italian soup will set you right. Light and bright in flavor (a generous slug of cider vinegar is not, I repeat, not, optional), yet hearty and wholesome (thank you, beans and meatballs), this soup is just the thing to curl up with while rain pitter-patters on your roof. This particular recipe even includes a nifty time-saving flavor booster: instead of making meatballs from scratch, roll bulk Italian sausage into itty-bitty bites; they're already perfectly seasoned!
Notes
This soup is fairly mild, but for less spice, swap sweet Italian sausage; for more, add a generous pinch of red pepper flakes at the same time that the garlic and tomato paste are added.
Ingredients
1 1/2 tablespoons extra-virgin olive oil
1 medium leek or yellow onion, finely chopped
2 medium carrots, peeled and finely chopped
2 medium celery stalks, finely chopped
Kosher salt
1 tablespoon minced fresh rosemary
2 tablespoons tomato paste
2 large cloves garlic, minced (about 1 tablespoon)
5 cups chicken broth
Two 15-ounce cans cannellini beans, rinsed and drained
6 ounces (about 1 bunch) lacinato kale, center ribs removed, leaves chopped
1 parmesan rind (1-by-3 inches; optional), plus grated parmesan for garnish
3/4 pound hot bulk Italian sausage, rolled into bite-size meatballs
2-3 tablespoons cider vinegar, to taste
Freshly ground black pepper
Directions
Heat 1 tablespoon of the oil in a 4- to 5-quart pot over medium heat. Add the leek or onion, carrot, celery, rosemary, and a generous couple pinches of salt and cook, stirring occasionally, until the vegetables begin to soften, about 6 minutes. Add the tomato paste and garlic and cook until fragrant, 45 seconds. Add the broth, and parmesan rind (if using). Bring to a boil, reduce the heat to medium low, and simmer gently until the vegetables are tender, about 15 minutes.
Meanwhile, heat the remaining 1/2 tablespoon oil in a 10-inch nonstick skillet over medium-low heat. Add the sausage meatballs, and cook, flipping about halfway through, until browned and cooked through, about 10 minutes.
Add the kale to the soup; cook 1 minute, then add the meatballs (discarding any of the rendered fat and oil) and the beans; cook for 4 more minutes to meld the flavors. Stir the cider vinegar into the soup and season to taste with salt and pepper.
Ladle into bowls and garnish with grated parmesan.
Information
Category

Main Dishes, Soup

Cuisine

Italian

Yield

Serves 4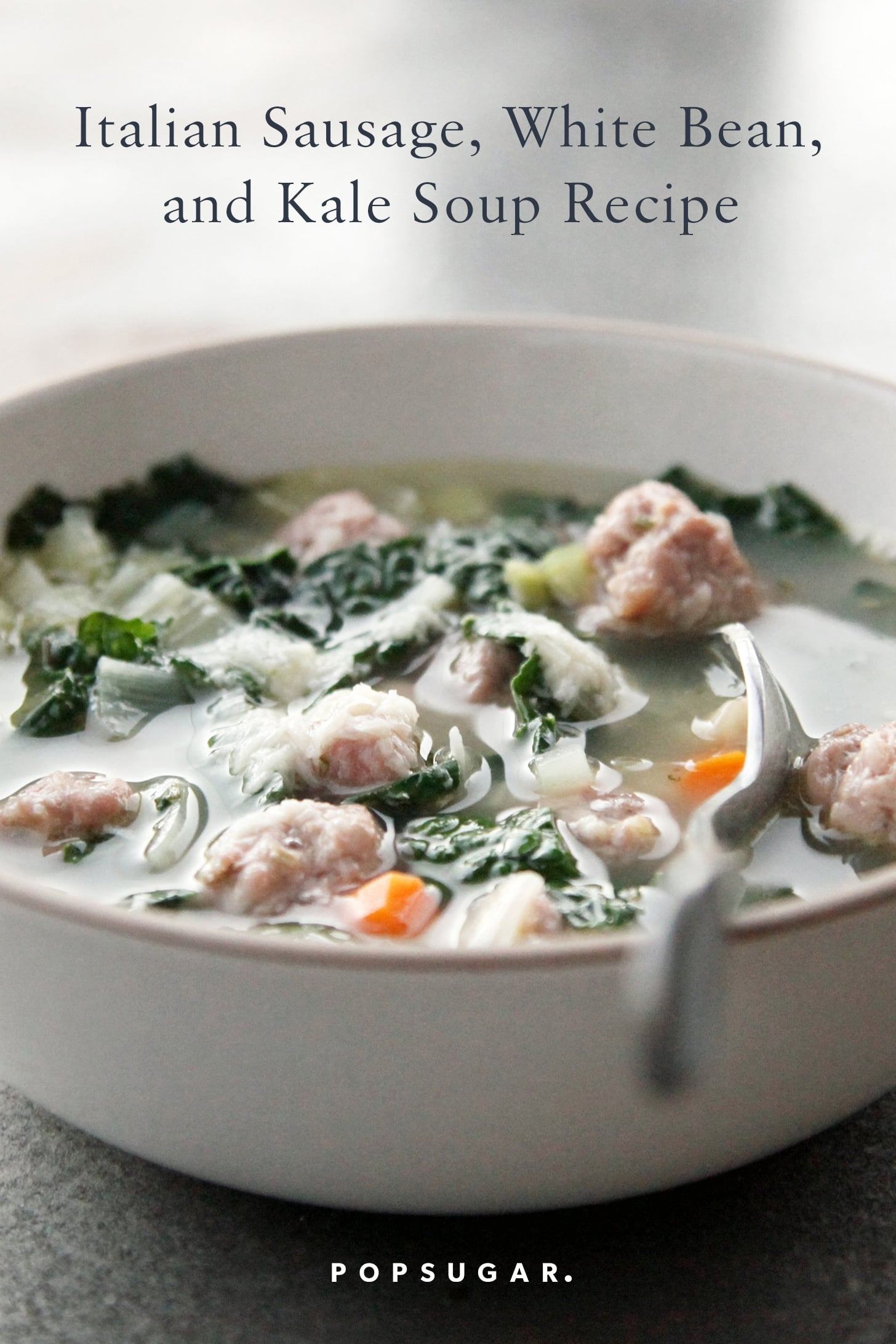 Image Source: POPSUGAR Photography / Nicole Perry