The Ivy's Grilled Vegetable Salad
The Ivy's Grilled Vegetable Salad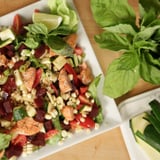 Ingredients
For the salad:
1 large beet
1 medium zucchini, sliced lengthwise
1 fresh ear of corn
1/2 bunch scallions
1 wild salmon filet
1 1/2 tablespoons extra-virgin olive oil
Coarse salt
1 head butter lettuce
1/4 cup grape tomatoes, quartered
6 fresh basil leaves
1/2 lime, sliced
For the balsamic and lime vinaigrette:
2 tablespoons balsamic vinegar
2 tablespoons light agave nectar 
1 tablespoon fresh lime juice
Coarse salt
Black pepper, freshly ground
Directions
Make the salad: Steam or boil beets until cooked through, about 30 minutes. Let cool, then peel and cut into a medium dice.
Heat a grill or grill pan over medium-low heat. Rub zucchini, corn, scallions, and salmon with olive oil, and sprinkle with salt.
Grill vegetables and fish until browned and cooked through, being sure to flip once. This should take about 20 minutes.
Cut zucchini and scallions into a medium dice. Cut corn off the cob, and break salmon into large pieces.
Make the dressing: Whisk vinegar with agave nectar and lime juice in a bowl. Slowly whisk in oil; add salt and pepper to taste.
Assemble the salad: Toss grilled vegetables with lettuce, tomatoes, and basil. Place on a large platter, and top with salmon. Drizzle with the vinaigrette, and serve with lime wedges.
Information
Category

Salads, Main Dishes

Cuisine

North American

Yield

2 servings