Jello Shot Recipe With Rum
Thanks to Hurricane Jello Shots, Tailgating Will Never Be the Same
Our partner Tasting Table shares the best of food and drink culture. Today, we're featuring a must make for tailgating parties: hurricane jello shots.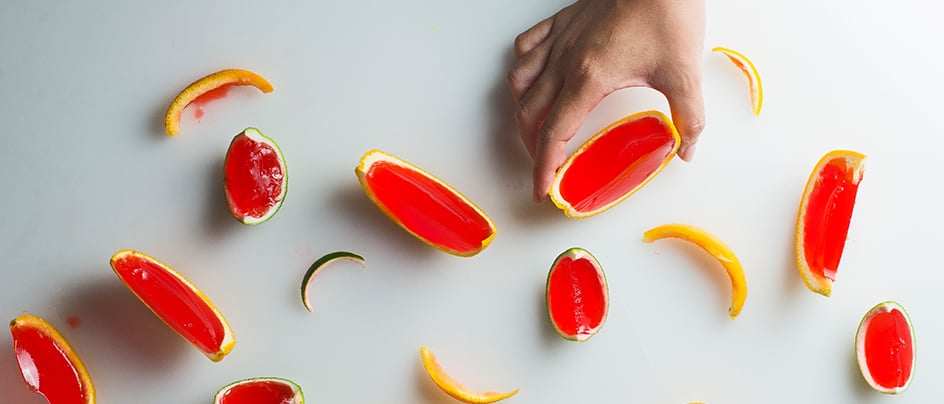 Been a while since you've sported a toga or done a keg stand? That's okay; some youthful traditions are worth upholding. The alcoholic jello shot is one — especially when you make one that's actually delicious (and kind of beautiful).
For our enlightened version, we started with a neon-red New Orleans classic, the Hurricane. A blend of rums, fruit juices, and grenadine, it's quintessential tiki, which is to say it doesn't take itself too seriously.
Add some gelatin (not too much; you want a very softly set texture that melts away in your mouth). Now ditch the plastic cups and use the Hurricane's classic garnish, an orange wedge, to hold your wobbly beauty.
The fruit makes for a stunning presentation, and it's the perfect jello delivery system, reminding everyone that these boozy little shooters are serious fun.
More stories from Tasting Table:
Ingredients
3 oranges, halved
1/2 cup white rum
1/2 cup dark rum
1/2 cup passion fruit juice
1/2 cup fresh lime juice
2 tablespoons simple syrup (1 part sugar to 1 part water, boiled until the sugar dissolves)
2 tablespoons grenadine
2 envelopes gelatin, preferably Knox Original
Directions
Run a paring knife around the inside edge of each orange peel to release the flesh from the skin. Using your hands, carefully remove the flesh from the oranges to make 6 hollowed-out shells. Squeeze enough of the flesh to make 1/4 cup of juice.
Combine the white and dark rums in a small saucepan. Place over medium heat and bring to a simmer. Remove from heat and set aside.
In a medium-sized mixing bowl, combine the orange juice, passion fruit juice, lime juice, simple syrup, and grenadine. Sprinkle the gelatin over the juice mixture and let sit for 1 minute. Pour the hot rum over the juices and whisk until the gelatin completely dissolves, about 5 minutes.
Divide the hot juice mixture among the orange shells and chill in the refrigerator until the gelatin sets, about 2 hours.
When ready to serve, remove the oranges from the refrigerator and cut each half into 4 wedges using a sharp knife. Serve immediately.
Information
Category

Drinks, Cocktails

Cuisine

North American

Yield

24 jello wedges