Krispy Kreme Pumpkin Spice Cheesecake Filled Doughnuts
Krispy Kreme Has Pumpkin Spice Cheesecake Doughnuts, and I'm Ready For a Sugar Rush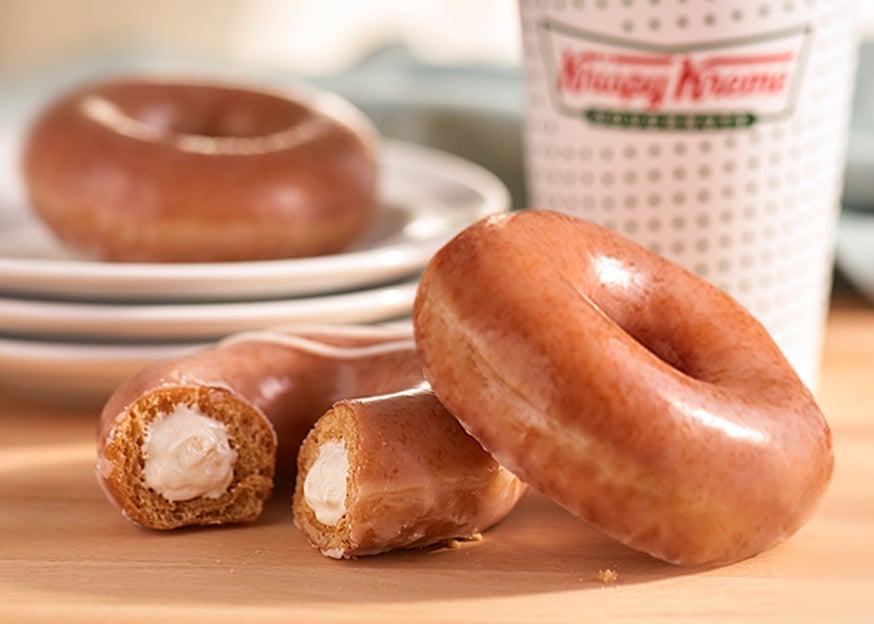 As if there weren't enough seasonal treats to get excited about this Fall, Krispy Kreme is bringing back its Pumpkin Spice Original Glazed Doughnut . . . with a hidden surprise. Krispy Kreme is offering up a twist on the Fall favorite in the form of Pumpkin Spice Original Filled Cheesecake Doughnuts, and yep, they're stuffed with a gooey cheesecake cream filling!
In addition to adding a new treat to the menu, Krispy Kreme is also introducing a fun deal, allowing customers to trade in failed pumpkin spice products from anywhere for a free doughnut. Krispy Kreme will accept any pumpkin spice product that has let you down — whether it's body spray, dog treats, or pumpkin spice cheese — as part of its Pumpkin Spice Purchase Protection plan. "Bad pumpkin spice products shouldn't happen to good people," said the doughnut company's chief marketing officer Dave Skena in a press release. I know I'm not alone when I say the only thing better than a cheesecake-filled pumpkin spice doughnut is a free cheesecake-filled pumpkin spice doughnut.
Krispy Kreme's classic Pumpkin Spice Cake Doughnuts and Pumpkin Spice Lattes are available now through Thanksgiving, but the new Pumpkin Spice Original Filled Cheesecake Doughnuts are only available at participating shops in the US through Sept. 8.
Thanks to these, Krispy Kreme's new Reese's Original Filled Chocolate Lovers Doughnuts, and Reese's Original Filled Peanut Butter Lovers Doughnuts, it's safe to say that the doughnut harvest is bountiful this season. So grab yourself a (few) dozen before they're gone!