Lasagna Bolognese With Spinach
Lasagna Bolognese With Spinach
Adapted from Gourmet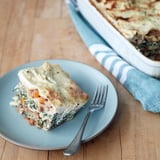 Ingredients
For bolognese sauce:
1/4 cup extra-virgin olive oil
3 ounces pancetta, finely chopped
1 medium onion, finely chopped
1 large peeled carrot, finely chopped
1 celery rib, finely chopped
2 garlic cloves, chopped
1 pound ground beef chuck (not lean)
1 pound ground pork
1 1/2 cups dry white wine
1 1/2 cups whole milk
1/4 cup tomato paste
1 1/2 teaspoons minced thyme leaves
1 1/2 teaspoons kosher salt
3/4 teaspoon freshly ground black pepper
For ricotta filling:
2 (10-ounce) packages frozen chopped spinach, thawed
2 (15-ounce) containers whole-milk ricotta
4 large eggs, lightly beaten
1/2 cup grated parmigiano-reggiano
1/2 teaspoon freshly grated nutmeg
2 1/2 teaspoons kosher salt
1 teaspoon ground black pepper
3/4 cup whole milk, divided
For assembling lasagna:
12 Barilla no-boil dried lasagne noodles (from 1 box)
1/2 cup grated parmigiano-reggiano
Directions
Make the bolognese sauce: Heat the oil in a 12- to 14-inch heavy skillet over medium heat until it shimmers. Cook the pancetta, onion, carrot, celery, and garlic, stirring occasionally, until the vegetables are golden and softened, 12 to 15 minutes. Add the beef and pork, and cook, stirring occasionally and breaking up any lumps, until the meat is no longer pink, 6 to 10 minutes. Stir in the wine, milk, tomato paste, thyme, salt, and pepper. Simmer, uncovered, stirring occasionally, until most of liquid has evaporated but the sauce is still moist, about 1 1/2 to 2 hours.
Make ricotta filling: Put spinach in a kitchen towel (not terry cloth), and twist to squeeze out as much moisture as possible.
Whisk together the ricotta, eggs, parmesan, nutmeg, salt, and pepper.
Transfer 1 1/2 cups ricotta mixture to another bowl, and whisk in 1/4 cup milk.
Whisk the spinach and the remaining 1/2 cup milk into the remaining filling.
Assemble and bake the lasagna: Preheat the oven to 375&deg'F with the rack in the middle. Soak the noodles in a bowl of very warm water until pliable but not softened, 3 to 5 minutes. Place on a kitchen towel (it's not necessary to pat the noodles dry).
Spread 1 1/2 cups bolognese sauce in the baking pan, and sprinkle with 1 tablespoon parmesan. Cover with 3 noodles, leaving space in between. Spread half of the spinach filling on top, then 1 cup bolognese sauce, and top with 1 tablespoon parmesan and 3 noodles; repeat. Top with the remaining bolognese sauce, 1 tablespoon parmesan, and the remaining 3 noodles. Pour the reserved ricotta mixture over top, and sprinkle with the remaining 1/4 cup parmesan.
Cover the pan tightly with parchment paper and foil (or just buttered foil), and bake 50 minutes. Remove the foil, and bake until the top is browned in spots, about 15 minutes more. Let stand 15 to 30 minutes before cutting.
Information
Category

Pasta, Main Dishes

Cuisine

Italian
Image Source: POPSUGAR Photography / Nicole Perry