Magical Unicorn Boozy Milkshake
This Magical Unicorn Boozy Milkshake Is Happiness in a Glass
For those of you who are unicorn obsessed, we have the cocktail for you! This sprinkle-covered, strawberry watermelon milkshake is like a magical sip of glittery wonderment, and if you dare to make it, your friends will love you forever.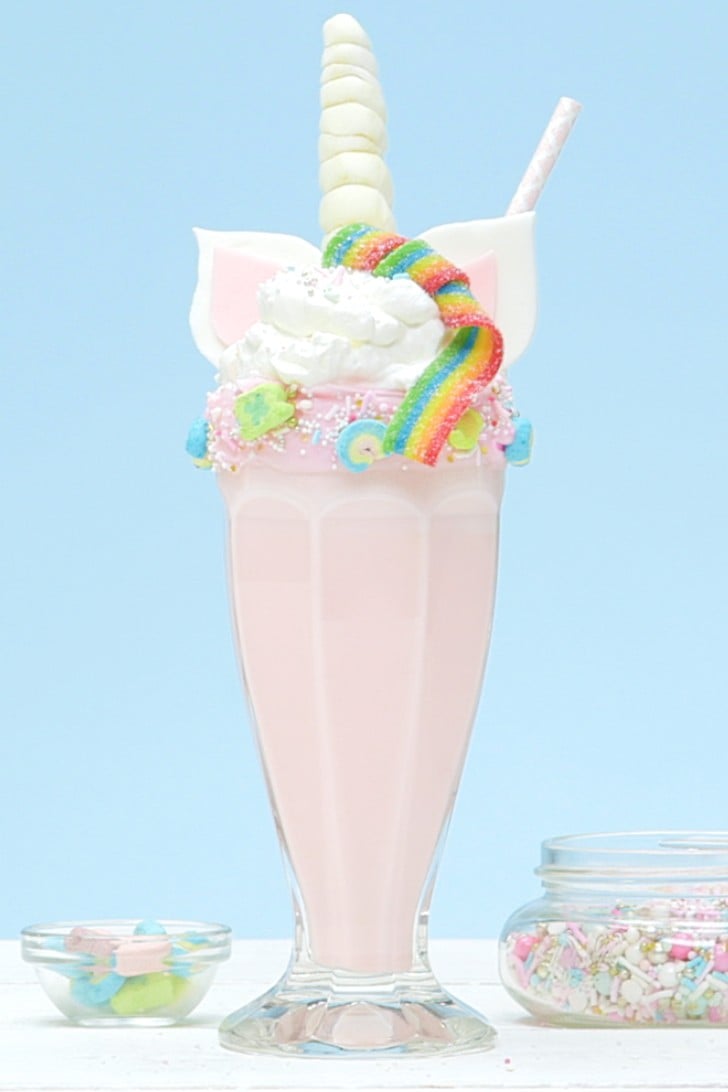 Boozy Unicorn Milkshake
From Nicole Iizuka, POPSUGAR Food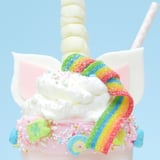 Ingredients
1 cup pink frosting
2 tablespoons sprinkles, divided
8-10 marshmallow charms
2 scoops vanilla ice cream
1/2 cup whole milk
1 ounce watermelon vodka
1 ounce strawberry schnapps
Whipped cream
Fondant decorations
Rainbow sour belts
Directions
To make fondant shapes: Take a medium-size ball of white fondant and roll into a long tapered shape. Start at the thin end and wind the fondant into a horn-like shape. Insert a wooden skewer or dowel into the center of the horn to secure. Optionally, brush with luster dust or edible glitter.
Roll out a small ball of white fondant and a small ball of pink fondant. Using a paring knife, cut out the shape of the ears with the white fondant and smaller inner ears with the pink fondant. Use a little bit of water as glue to affix the inner ear to the outer ear. Let fondant shapes dry overnight.
To make milkshake: Rim the edge of the milkshake glass with pink frosting. Add sprinkles and marshmallow charms to the frosting and set aside.
Into a blender add ice cream, milk, watermelon vodka, strawberry schnapps, and a teaspoon of sprinkles. Blend until mixed.
Pour the milkshake into the glass and top with whipped cream, the fondant decorations, one rainbow sour belt for the mane, and more sprinkles. Enjoy!
Information
Category

Drinks, Shakes

Yield

1 serving

Total Time

15 minutes