Marshmallow Treat Ice Cream Sandwiches
When Marshmallow Treats and Ice Cream Sandwiches Combine Forces
Have you ever had Rice Krispies treats made with Fruity Pebbles? How about Trix? They're not just for kids anymore — we've given them a fun twist and turned them into an ice cream sandwich that's perfect for any cereal lover.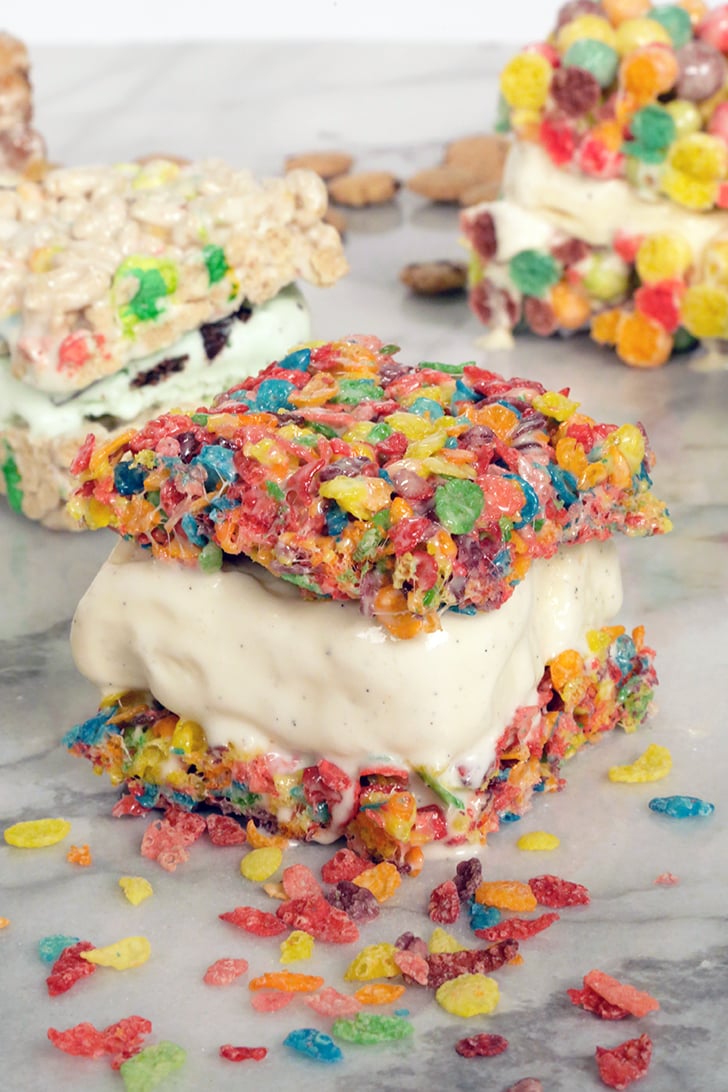 Fruity Pebble Marshmallow Treat Ice Cream Sandwich
From Brandi Milloy, POPSUGAR Food
Ingredients
1 1/2 quarts ice cream, softened
3 tablespoons butter
4 cups miniature marshmallows
6 cups of cereal
Special equipment:
Square cookie cutter
Suggested Flavor Combinations:
Fruity Pebble Dreams:
Vanilla Bean Ice Cream + Fruity Pebbles Marshmallow Treats
Luck of the Irish:
Mint Chocolate Chip Ice Cream + Lucky Charms Marshmallow Treats
Peanut Butter Cookie Monster:
Peanut Butter Ice Cream + 1/2 Reeses Puff's, 1/2 Cookie Krisp Marshmallow Treats
Directions
In a large bowl mix ice cream to soften and place onto a plastic wrap lined casserole dish or baking sheet in an even flat layer. You want the ice cream to be about an inch thick. Cover the dish and place ice cream in the freezer overnight to set.
In a large pot, melt butter over low heat. Add marshmallows and stir until completely melted. Remove from heat and add cereal. Mix until all of the cereal is coated.
Pour cereal mixture into a 13 x 9 x 2-inch pan that's been sprayed with non-stick cooking spray. Let cool.
To assemble sandwiches: Using a square cookie cutter, cut two squares out of the cereal. Next, take the ice cream out of the freezer and cut square out of the ice cream. Sandwich between two marshmallow cereal squares. Serve immediately.
Information
Category

Desserts

Cuisine

North American

Yield

8 Servings

Total Time

7 hours, 59 minutes, 59 seconds