McDonald's New Gray Uniforms
The Internet Has a Lot to Say About McDonald's New "Dystopian" Uniforms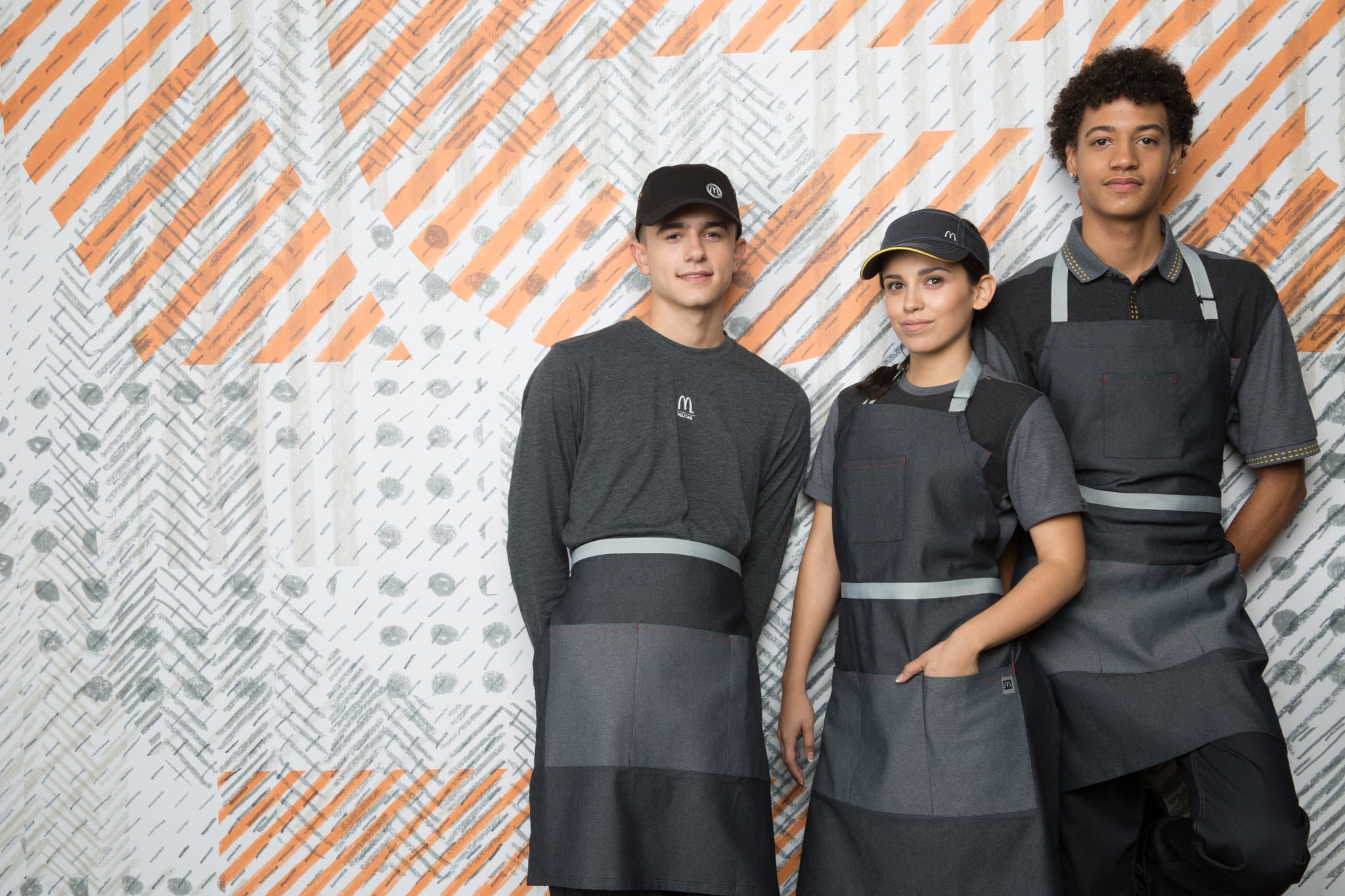 Image Source: McDonald's
McDonald's got new uniforms for its employees, and the internet has a lot to say about them. The new uniforms feature an all-gray design that many people are claiming gives off serious sci-fi and "dystopian" vibes. The uniforms were designed by Waraire Boswell, who, according to McDonald's, "is a celebrity designer known for dressing established A-list celebrities, talk show hosts, and professional athletes."
In a statement about McDonald's new uniforms, Jez Langhorn, McDonald's senior director of HR, said, "Our new collections focus on comfort, fit, functionality and contemporary professionalism, delivering a uniform that crew and managers will feel comfortable to work in and proud to wear. Beyond that, it's another step in the company's continuous effort to raise the bar by investing in people and improving the restaurant experience with a focus on hospitality."
McDonald's shared a tweet with a timeline of what the uniforms have looked like over the years.
Check out how our uniforms have changed over the years to keep our teams looking and feeling their best! #TBT pic.twitter.com/pCcRwaM6B4

— McDonald's (@McDonalds) April 20, 2017
And immediately people started making comparisons to sci-fi movies.


Do the new #McDonalds uniforms remind you of #StarWars Imperial officers? "I find your lack of fries disturbing." pic.twitter.com/r6w7WTzwJe

— Peter Murphy (@PeterWMurphy1) April 25, 2017
McDonald's new employee uniforms look like Logan's Runhttps://t.co/YQwWRRYqSk pic.twitter.com/ulzHInq8TP

— Cory Doctorow (@doctorow) April 21, 2017
dude what https://t.co/uJtyjdsamA

— cryptopotato (@cryptoishard) April 21, 2017
Others might have taken the commentary a bit too far . . .
New McDonald's uniforms have a really chic labour camp vibe pic.twitter.com/1p0jjbyRPp

— Aamer Rahman (@aamer_rahman) April 22, 2017


And some people are wondering why we even care.
If you don't work at McDonald's, why the hell u care about the uniforms!? 🤔 pic.twitter.com/js3UhJjk9P

— drew 'B' (@lifesaDrew) April 26, 2017
What do you think of the new uniforms?