Monkey Style Burger | Food Video
This Monkey Style In-N-Out Burger Will Turn You Into an Animal
Foodbeast dreamt up this mashup masterpiece, and it's something we've been drooling over since it first told us about it. But alas — when we tried to order this for ourselves, we were met with rejection and despair. While you can simply order a Double-Double with Animal Style fries and DIY it yourself at In-N-Out, we thought we'd take the opportunity to show you how to not only make the Monkey Style burger at home but also teach you the tricks of the trade to getting those irresistible mustard-grilled patties that are synonymous with the Double Double. Not a meat eater? Take a look at our Animal Style grilled cheese recipe.

Monkey Style In-N-Out Burger
From Nicole Iizuka, POPSUGAR Food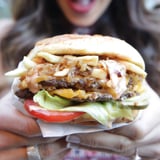 Ingredients
For the secret spread:
1 cup mayonnaise
1/2 cup ketchup
2 tablespoons dill pickles, finely chopped
1 teaspoon yellow mustard
1/2 teaspoon salt
1/2 teaspoon ground pepper
1/2 teaspoon sugar
1 teaspoon apple cider vinegar
For the burger:
1 large yellow onion, finely diced
2 teaspoons vegetable oil
1/4 cup french fries
6 ounces ground beef, 85% lean
Pinch salt
Pinch pepper
2 teaspoons yellow mustard
2 slices American cheese
1 potato bun, sliced in half
1 teaspoon butter
2 tablespoons secret spread
4 dill pickles
2 slices tomatoes, 1/4-inch thick
2 iceberg lettuce leaves
Directions
To make the secret spread: Mix together mayonnaise, ketchup, pickles, mustard, salt, pepper, sugar, and apple cider vinegar.
To make caramelized onions: Add diced onions and oil to a sauté pan set over medium-high heat. Cook, stirring occasionally, until deeply caramelized. Deglaze pan with 1/2 teaspoon water. Set aside.
To make the french fries: Cook french fries according to package directions.
To make the burger: Heat up a cast-iron skillet until it just starts to smoke. Form ground beef into 2 patties, approximately 4 inches across. Season with salt and pepper. Place patties onto cast iron and cook for 1-2 minutes. While cooking, spread mustard onto the uncooked side of the burger. When ready, flip the patties and top with a slice of American cheese. Cook until burger is cooked through.
To assemble: Toast bun on a hot skillet with butter, until the edges are golden brown. Starting with the bottom bun, spread 1 tablespoon of spread on the bottom, and top with pickles, tomatoes, and lettuce. Add 1 burger patty, a heaping tablespoon of caramelized onions, and the second patty. Top that with french fries, more spread, and another scoop of onions. Finish with the top of the bun. Serve immediately.
Information
Category

Main Dishes, Beef

Cuisine

North American

Yield

Serves 1

Total Time

34 minutes, 59 seconds