Monte Cristo Burger Recipe | Video
This Monte Cristo Burger Might Just Blow Your Mind

What happens when Top Chef alum Michael Voltaggio works with Umami Burger to create a burger that'll satisfy cravings both sweet and savory? The Monte Cristo burger — an epic mashup of Umami Burger's signature savory burger patties and a sweet, savory, deep-fried Monte Cristo sandwich. Can't make it to an Umami Burger to try it at the source? We were so inspired that we came up with our own take on the salty, sweet, and savory bite; watch the video to learn how it's made.
On Brandi: Current/Elliot

Monte Cristo Burger
From Beryl Cohen, POPSUGAR Food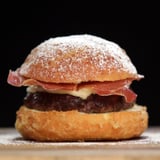 Ingredients
For the prosciutto chips:
8 slices prosciutto
For the gruyère fondue:
1/2 cup dry white wine
6 ounces gruyère, grated
2 tablespoons flour
For the fried brioche buns:
1 quart vegetable oil
4 brioche buns
2 eggs
1/2 cup cream
1/4 cup sugar
1 teaspoon vanilla extract
1/4 teaspoon salt
For the burger:
2 tablespoons dried portobello mushrooms, finely ground
1 tablespoon salt
1 teaspoon freshly cracked black pepper
1 pound ground beef
Powdered sugar and maple syrup, for serving
Directions
Make the prosciutto chips: Preheat oven to 375°F. Arrange slices of prosciutto on a greased baking sheet, and toast for 5 to 6 minutes, or until crispy.
Make the gruyère fondue: In a sauce pot over medium heat, heat the wine until simmering. Mix grated cheese with flour, and then add handfuls of cheese to the wine, stirring continuously until all of the cheese is melted and the fondue is completely smooth. Reduce the heat to the burner's lowest setting to keep the fondue warm until serving.
Make the fried brioche buns: Heat the oil to 365°F in a large dutch oven or electric fryer.
In a medium mixing bowl, whisk together the eggs, cream, sugar, vanilla extract, and salt. Dip each bun into the mixture, and then fry for 2 minutes per side or until golden.
Make the burger patties: Mix together the ground mushrooms, salt, and pepper to make seasoning. Add the seasoning to the ground beef, mixing gently with your hands to incorporate it throughout the meat. Divide the ground beef into 4 equally sized patties.
In a nonstick skillet, cook the patties over medium-high heat until done to your liking.
Assemble the burger: Slice the fried buns in half. Assemble each burger in this order: bottom bun, burger patty, gruyère fondue, 2 prosciutto chips, and the top bun. Dust with powdered sugar, and serve hot with maple syrup.
Information
Category

Main Dishes, Beef

Cuisine

North American

Yield

4 servings