New York Cheesecake Recipe | Video
DIY Cheesecake Factory's Original Dessert
The Cheesecake Factory may have a whopping 35+ flavors of cheesecake on its menu, ranging from key lime to tiramisu, but it's the original New York-style cheesecake that'll forever make our hearts flutter. Rich, dense, and tangy, it's so good that we developed our own recipe inspired by this decadent treat. Watch the video to see how it's made as well as a handful of helpful tips, then try it for yourself.
Notes
Make sure all ingredients are at room temperature before you begin. Cheesecake tastes best when made at least 1 day ahead. Cheesecake can be frozen for up to 2 weeks if tightly wrapped in plastic wrap. Allow to thaw in the refrigerator overnight before serving.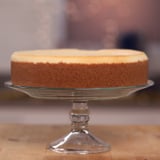 Ingredients
For the crust:
1/2 cup almonds, finely ground
1/2 cup vanilla wafers, finely ground
1/2 cup graham crackers, ground
2 tablespoons melted butter
For the filling:
24 ounces cream cheese, at room temperature
1 1/3 cups granulated sugar
5 large eggs, at room temperature
16 ounces sour cream, at room temperature
1/4 cup flour
2 teaspoons vanilla extract
2 teaspoons lemon juice
For the blueberry compote (optional):
1 cup blueberries
2 tablespoons lemon juice
2 tablespoons granulated sugar
1 teaspoon lemon zest
1/2 tablespoon cornstarch
Directions
Preheat oven to 325°F. Grease a 9-inch springform pan with melted butter or cooking spray.
Make the crust: Thoroughly mix together the nuts, graham crackers, vanilla wafers, and melted butter in a medium bowl. Pat mixture into prepared pan, pressing firmly into bottom and about 1 1/2 inches up the sides.
Make the filling: Using a stand or hand mixer, beat the cream cheese on low until light and fluffy. Add the sugar a little at a time and beat until creamy. Add 1 egg at a time, beating until smooth after each egg. Add the flour, vanilla, and lemon juice, and mix well. Add the sour cream, and beat well. Firmly tap the bowl against the counter to release bubbles from the filling.
Pour the cheesecake filling into the springform pan, shaking the pan to ensure that the filling is evenly distributed. Cook on the oven's middle rack for 1 hour and 30 minutes, or until firm. Turn off the oven's heat, and leave the cheesecake in the oven with its door propped open for 1 hour.
Remove cheesecake from oven, and let cool completely on the countertop before transferring to the refrigerator to chill for at least 12 hours.
Make the blueberry compote (optional): Combine the blueberries, lemon juice, sugar, and lemon zest in a small saucepan set over medium-high heat. Cook, stirring occasionally, for 5 minutes. Add the cornstarch, and cook until the blueberries have broken down and the sauce has thickened slightly.
Serve plain or with whipped cream, fresh fruit, or warm blueberry compote.
Information
Category

Desserts, Cheesecake

Cuisine

North American

Yield

8 servings