One-Pan Mushrooms, Chickpeas, and Kale
Ditch the Pile of Dirty Dishes and Make This 1-Pan Vegetarian Meal Instead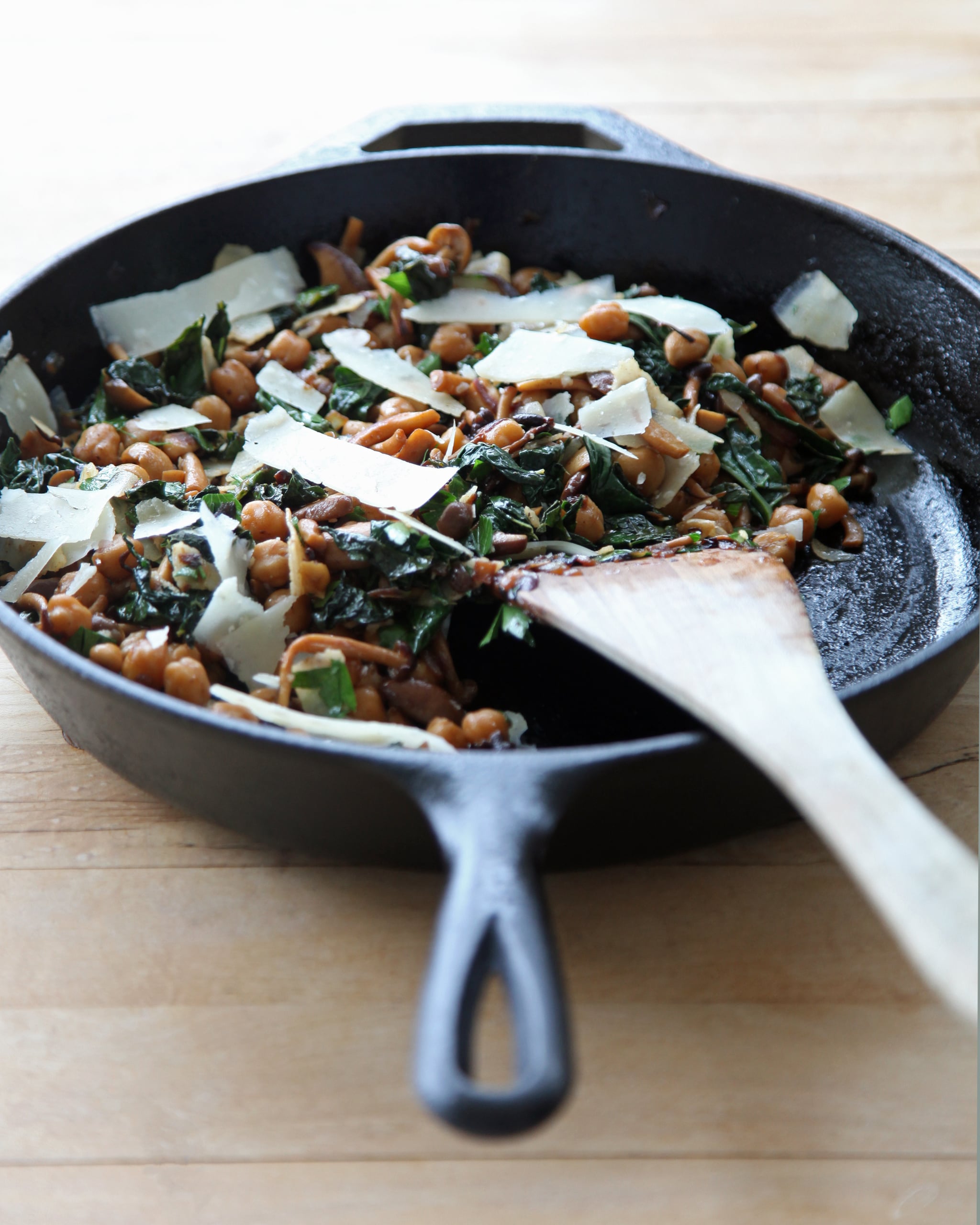 I would go out cook dinner tonight, but I haven't got a stitch to wear anything in my fridge. Like staring down your closet while moaning "I have nothing to wear," this is a thought that I'd wager has passed through every cook's mind at one time or another. In this case, my fridge was filled with a hodgepodge of odds and ends threatening to spoil — tomato- and butter-braised onions leftover from a batch of Marcella Hazan's tomato sauce, a bundle of kale on its last legs, and some sautéed wild mushrooms that were earmarked for a scramble that never came to fruition.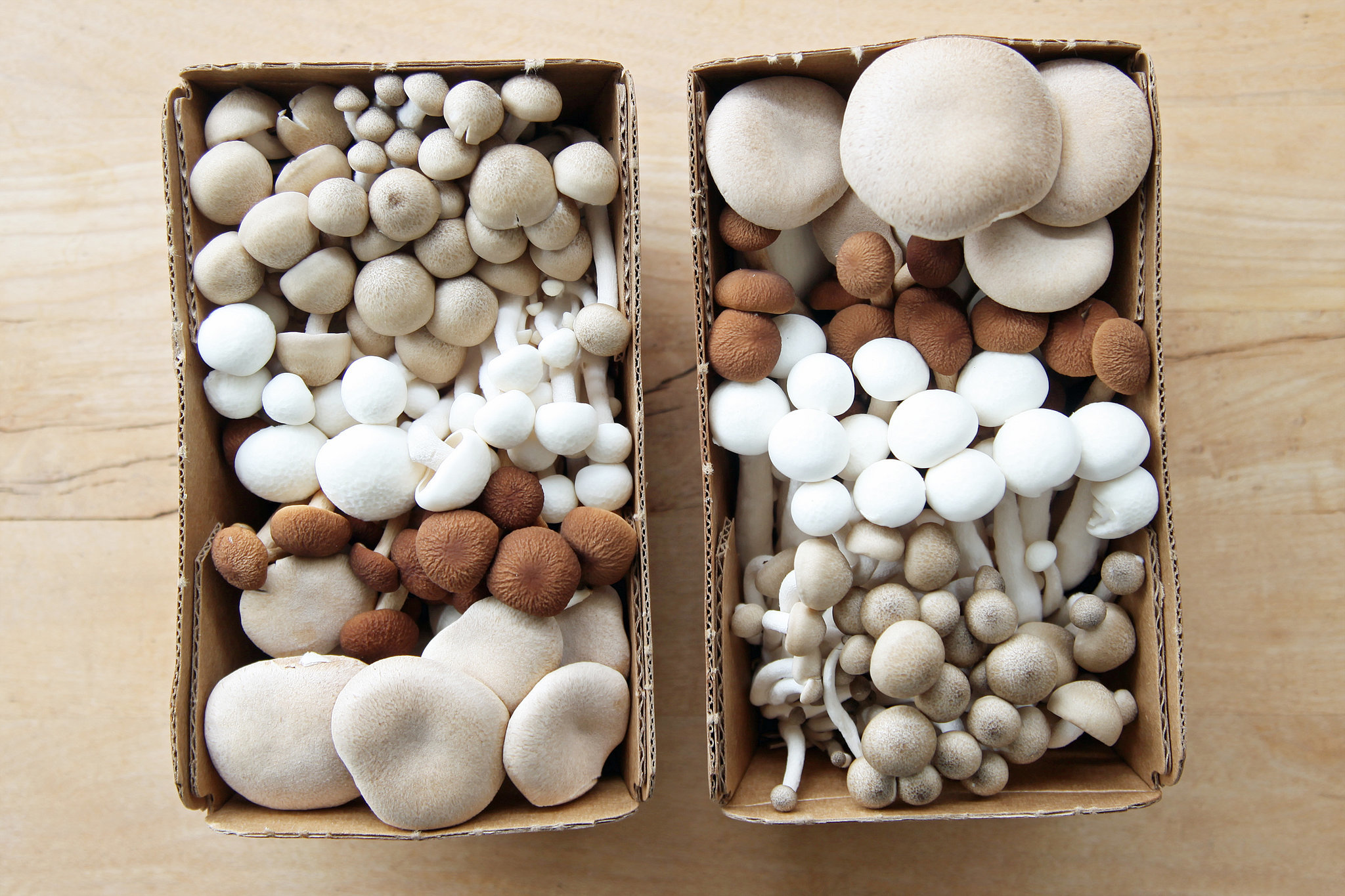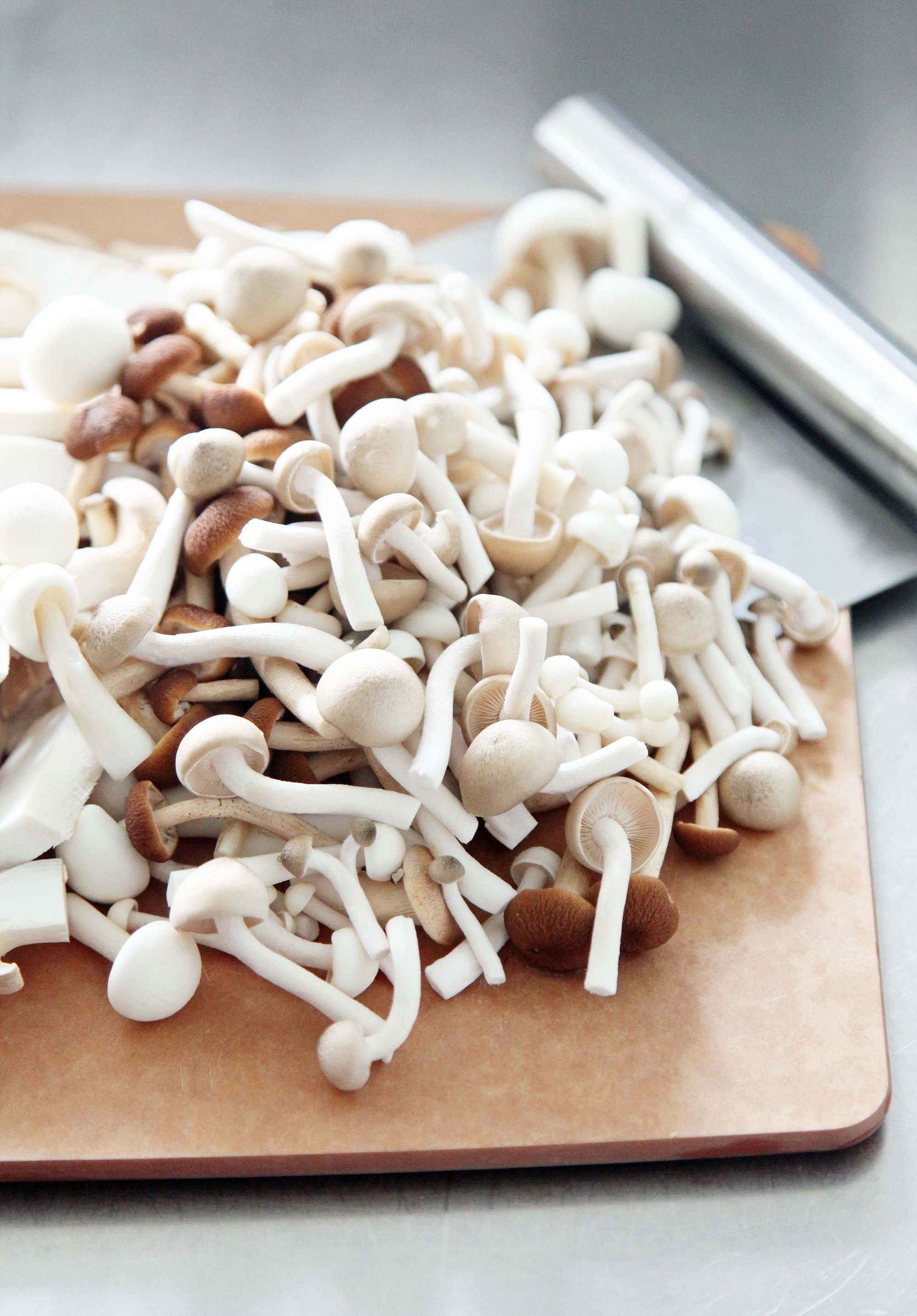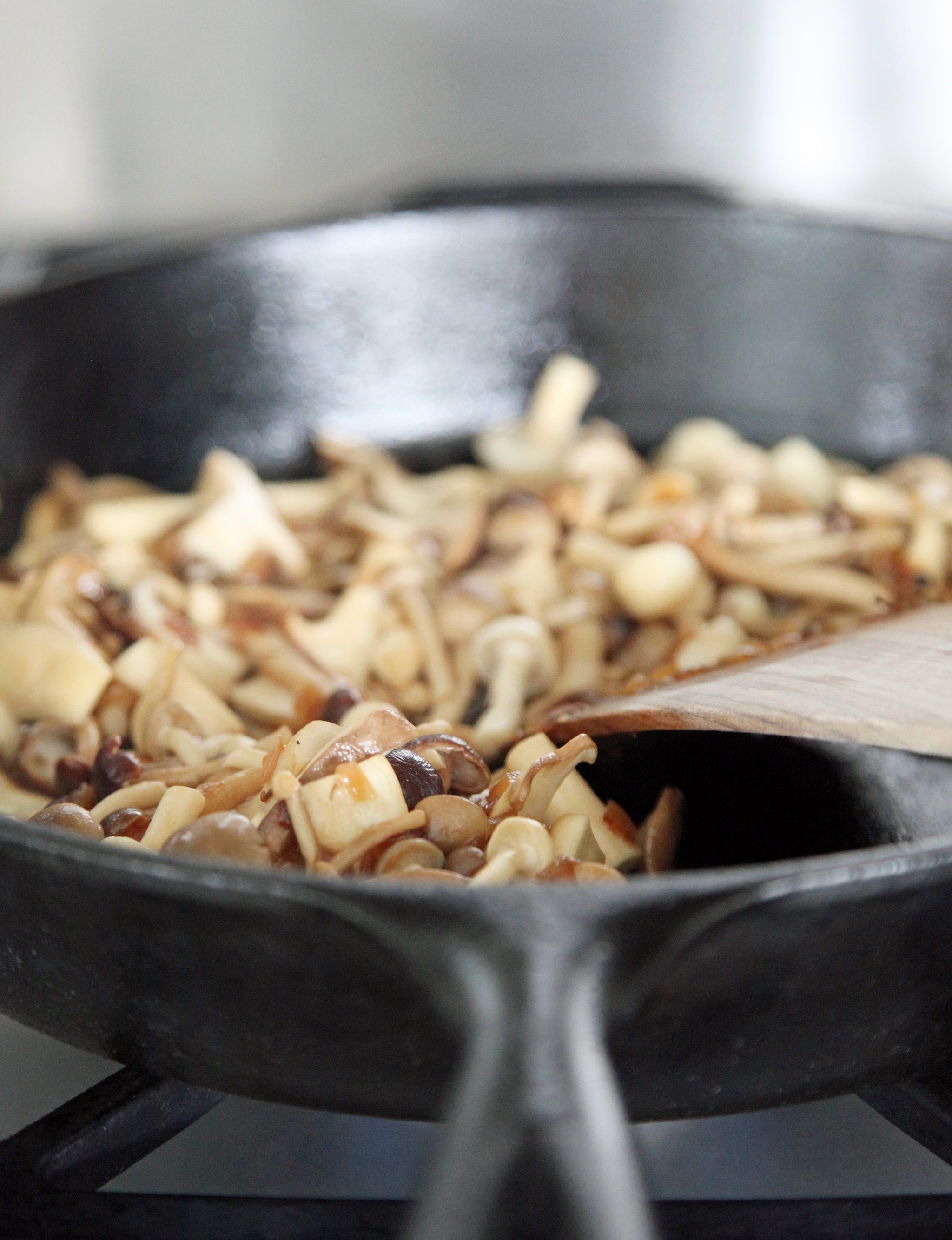 Nine times out of 10, I would've gone the tried-and-true route and added the kale and mushrooms to a scramble, but I wasn't in a breakfast for dinner kind of mood. Moreover, the idea of tossing out the buttery braised onions was nearly unthinkable. Instead, everything went into a skillet and I hoped for the best.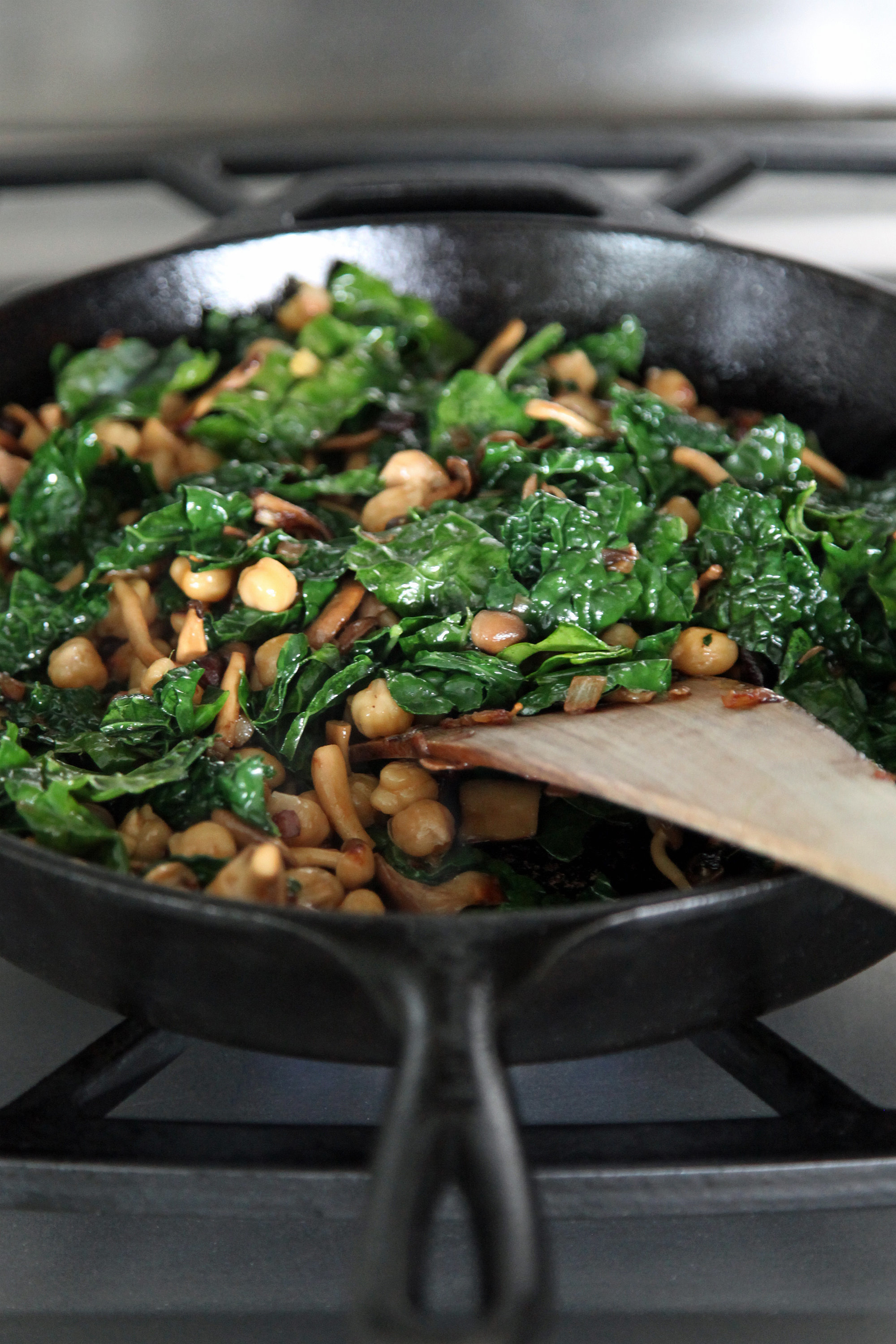 First, I gave the onions a bit of extra color by cooking them fast and dirty in a splash of oil. Next, the mushrooms were warmed through, the kale was wilted, and a can of chickpeas was added for a little extra bulk. A splash of balsamic (to tie in with the tomato flavor) plus parmesan and parsley made it into a meal.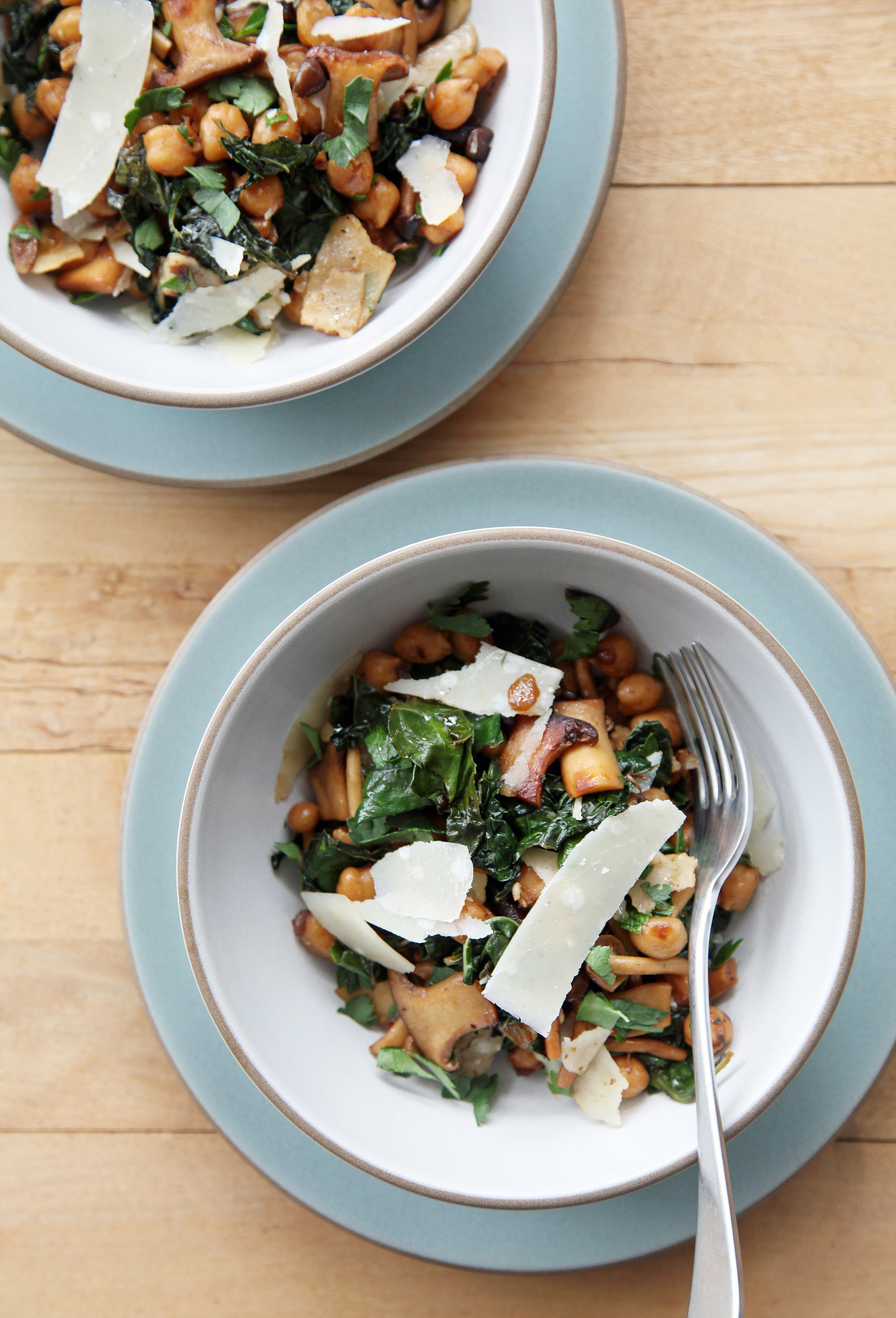 And here's the funny part: while this all began as an exercise in not wasting food, an intense craving came on for the combination days later. I don't always have butter-braised onions or sautéed mushrooms on hand, so for the 2.0 version of this one-pan meal, I caramelized an onion while prepping the remaining components. The resulting meal was just as good, if not better.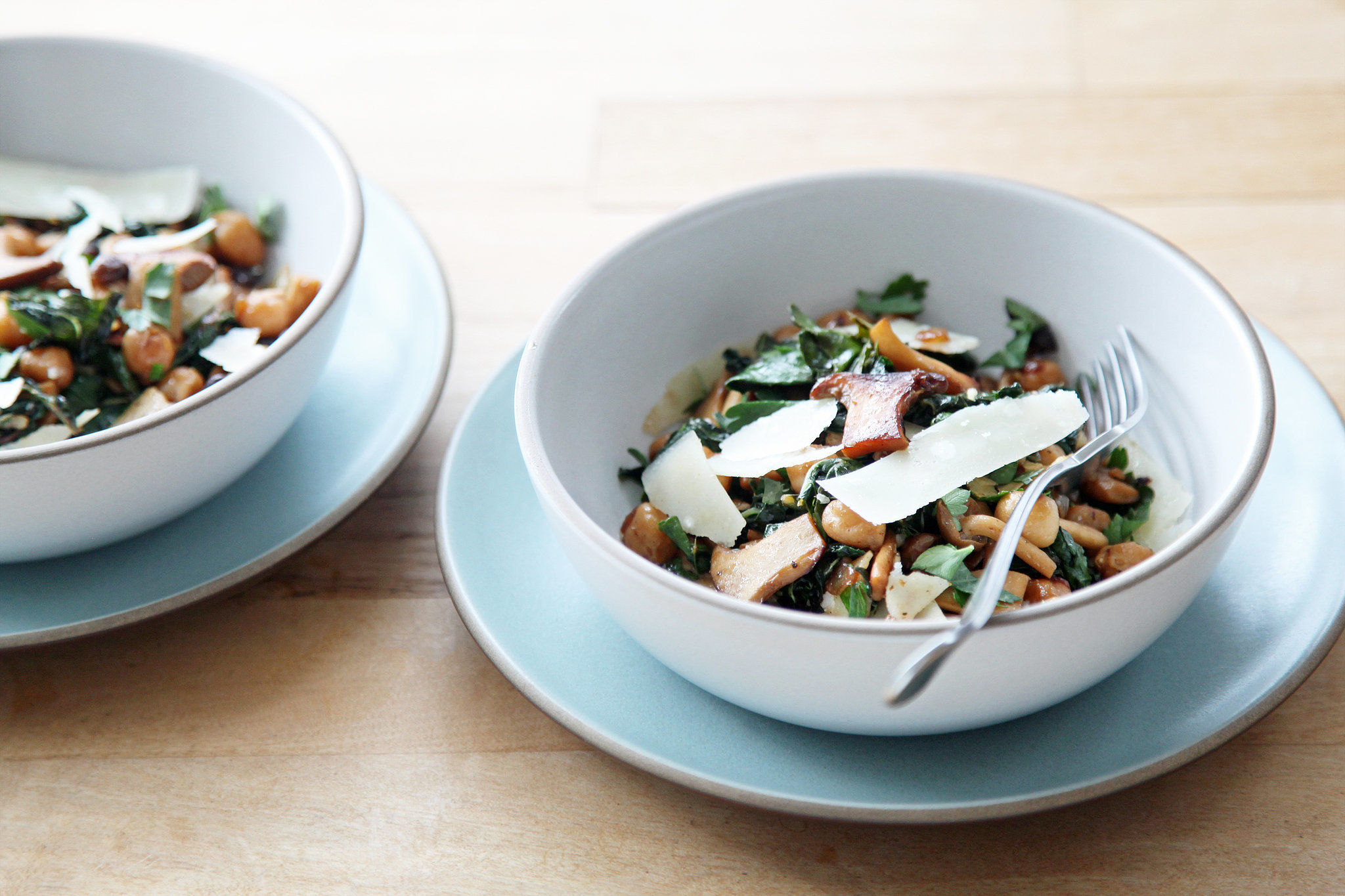 One-Pan Mushrooms, Chickpeas, and Kale
From Nicole Perry, POPSUGAR Food
Notes
To save time, slice the mushrooms and prep the kale while the onions caramelize. You'll already be in the kitchen to keep an eye on and stir the onions. For a slight variation, omit the chickpeas and top the combination of mushrooms, kale, and onions with a poached egg or two.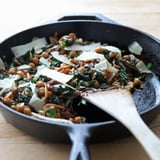 Ingredients
1 1/2 tablespoons neutral oil, divided
1 small yellow onion, diced
Kosher salt
1 pound wild mushrooms, sliced
1 1/2 cups cooked chickpeas, or 1 15-ounce can, drained and rinsed
1 bunch dinosaur kale, ribs removed and torn into bite-size pieces
Balsamic vinegar, to taste
Parmesan shavings
1/4 cup roughly chopped parsley
Directions
Add 1 1/2 teaspoons oil to a large skillet; heat until shimmering over medium-high heat. Add the onion and a few generous pinches of salt. Cook, stirring occasionally, until the onions are golden brown and slumped — nearly but not quite caramelized — about 30-40 minutes. Add 1 1/2 teaspoons oil, the mushrooms, and a few generous pinches of salt, and cook until the mushrooms are golden brown, 5-10 minutes. Add 1 1/2 teaspoons oil, the chickpeas, kale, and a few generous pinches of salt, and cook until the kale is wilted, 2-3 minutes. Add a splash of balsamic vinegar to deglaze the pan and balance out the other flavors with its acidity. Season to taste with additional salt and balsamic vinegar. Garnish with parmesan shavings and parsley.

Information
Category

Main Dishes, Beans

Cuisine

North American

Yield

Serves 3-4
Image Source: POPSUGAR Photography / Nicole Perry