Oreo Churro Recipe
Fact: These Oreo Churros Taste Even Better Than They Look, and They Look Really Freakin' Good
You know we love a good food trend, which is why we pretty much haven't been able to stop thinking about Oreo Churros ever since they debuted a few years ago (yeah, they're that good). So what do we do when we can't get enough of a store-bought treat? We play around in the kitchen and make our own! After intense recipe developing and coating the kitchen floor in Oreo crumbs, our sweet team cracked the code on these insanely delicious Oreo churros, and we're happy to share this delicious recipe with you! Keep watching to learn how to make this next-level dessert.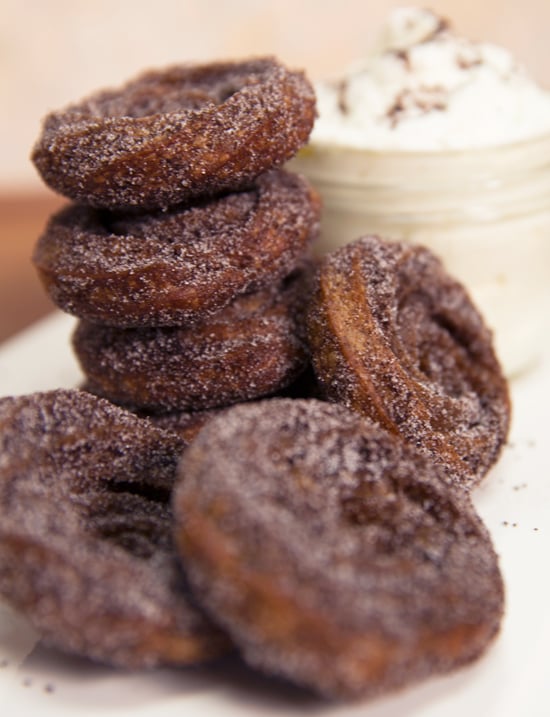 Oreo Churros
From Nicole Iizuka, POPSUGAR Food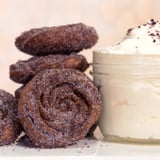 Ingredients
20 Oreo cookies
1 cup water
3 tablespoons butter
2 tablespoons brown sugar
1/4 teaspoon salt
1 cup flour
1 1/2 teaspoons cinnamon
2 eggs
1 teaspoon vanilla extract
1/2 cup sugar
1/2 cup heavy whipping cream
Oil for frying
Directions
Carefully separate the Oreo cookies, scraping the filling into a bowl then tossing the chocolate cookies into a food processor, breaking the cookies up slightly. Once all the cookies are in the processor, process into fine crumbs.
In a heavy-bottomed sauce pot, bring water, butter, brown sugar, and salt to a boil.
In a mixing bowl, whisk together flour, 2 tablespoons Oreo cookie crumbs, and cinnamon. Once the water mixture has come to a boil, remove from the heat and mix in the flour mixture. Keep mixing until incorporated. Add the eggs and vanilla extract, and mix until a dough forms.
Line two baking sheets with parchment or wax paper. Fit a pastry bag with a large star-shaped piping tip and fill the bag with the churro dough. Pipe the dough into 3-inch circles, starting at the center of the circle and working outward in a spiral pattern. You should be able to make 10-12 large churros from one batch. Place baking sheet in the freezer for at least 10 minutes to set and chill the dough.
While the churros are freezing, heat up the oil for frying. Add oil to a large skillet or deep fryer so that it's at least 2 inches deep. Heat the oil to 350ºF. Line a separate baking sheet with several layers of paper towels. In a medium-sized bowl, mix together the granulated sugar with the remaining Oreo cookie crumbs.
Fry 1-2 churros at a time, turning them over occasionally so they brown evenly. When finished they will be slightly puffed. Transfer to the paper-towel-lined baking sheet using a slotted spoon or spatula to let the oil drain. Quickly toss them in the sugar mixture while they are still hot. Continue working in small batches until all of the churros are fried.
Using a hand mixer or a stand-up mixer, whip heavy whipping cream until stiff peaks are formed. Gently fold in the Oreo filling, being careful not to overmix. Place into a bowl and serve a dollop of whipped cream with each churro.
Information
Category

Desserts, Doughnuts

Cuisine

North American

Yield

10-12 Servings
Image Source: POPSUGAR Photography