Padma Lakshmi's Roasted Sweet Potatoes Recipe
The Classy Way to Serve Sweet Potato "Fries" at Thanksgiving
POPSUGAR is bringing you an exclusive look at Thanksgiving recipes from famous lifestyle influencers. We're excited to present the first online look at this recipe for roasted sweet potatoes with balsamic onion jam from Padma Lakshmi, who recently published Encyclopedia of Spices and Herbs.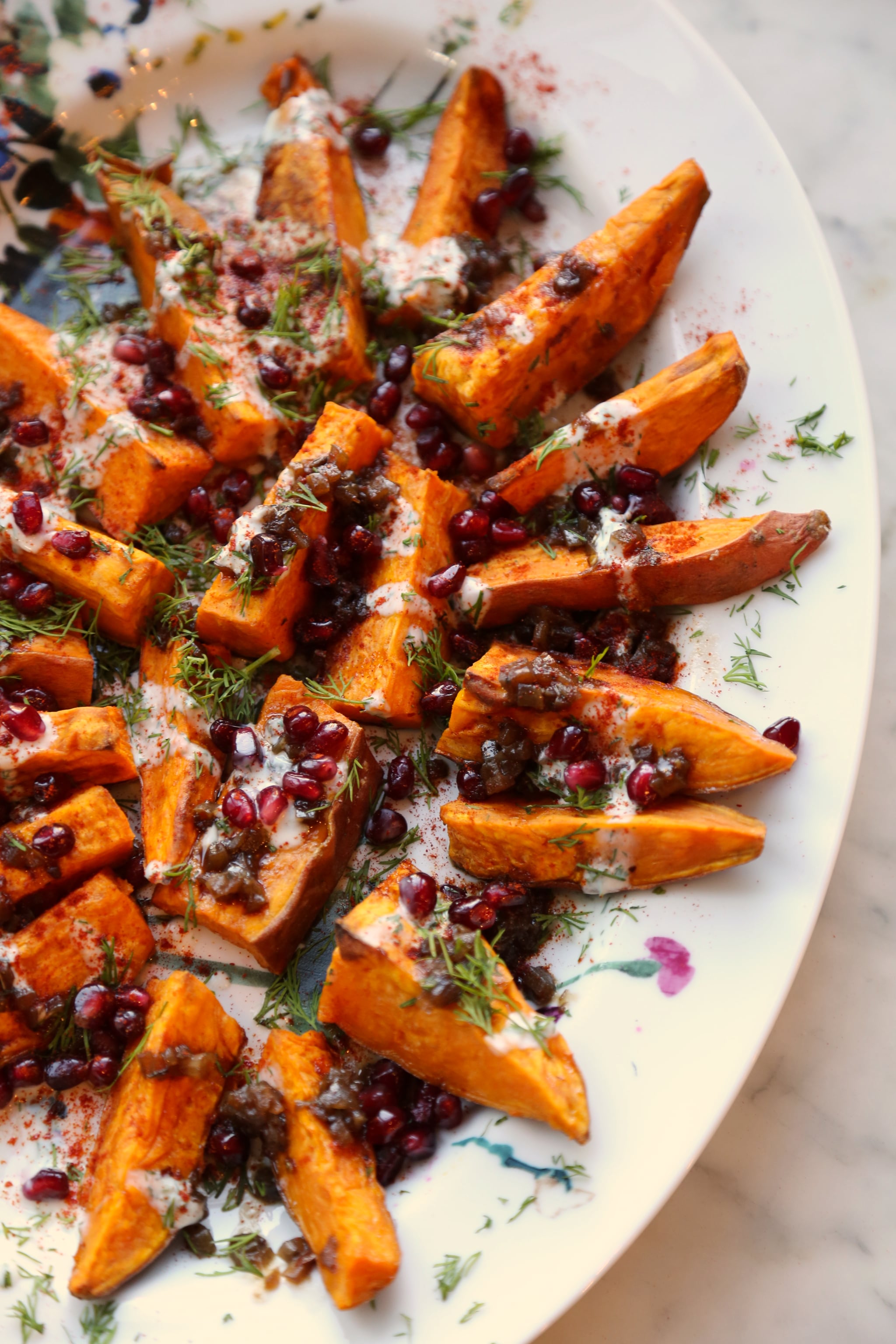 Image Source: Anthony Jackson
Sweet potatoes are always so popular this time of year. With Thanksgiving right around the corner, folks tend to transition from doing fries to the traditional sweet potato casserole topped with marshmallows, but there is another way. This tangy and unctuous version of the humble spud will elevate your whole T-Day game. You can make the sauces ahead and all you'd have to do is slice and roast. It's so yummy, you will have everyone licking their fingers!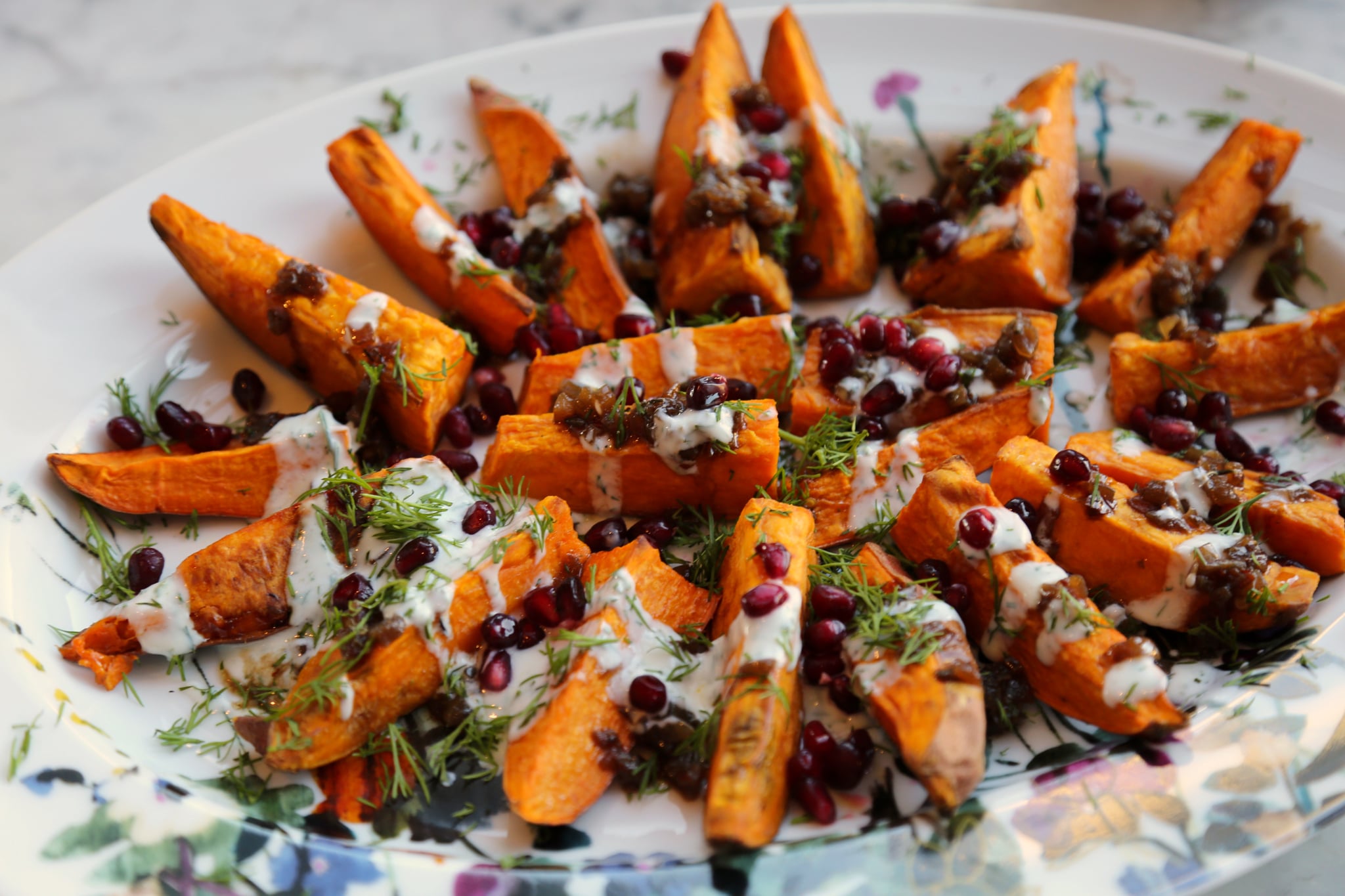 Image Source: Anthony Jackson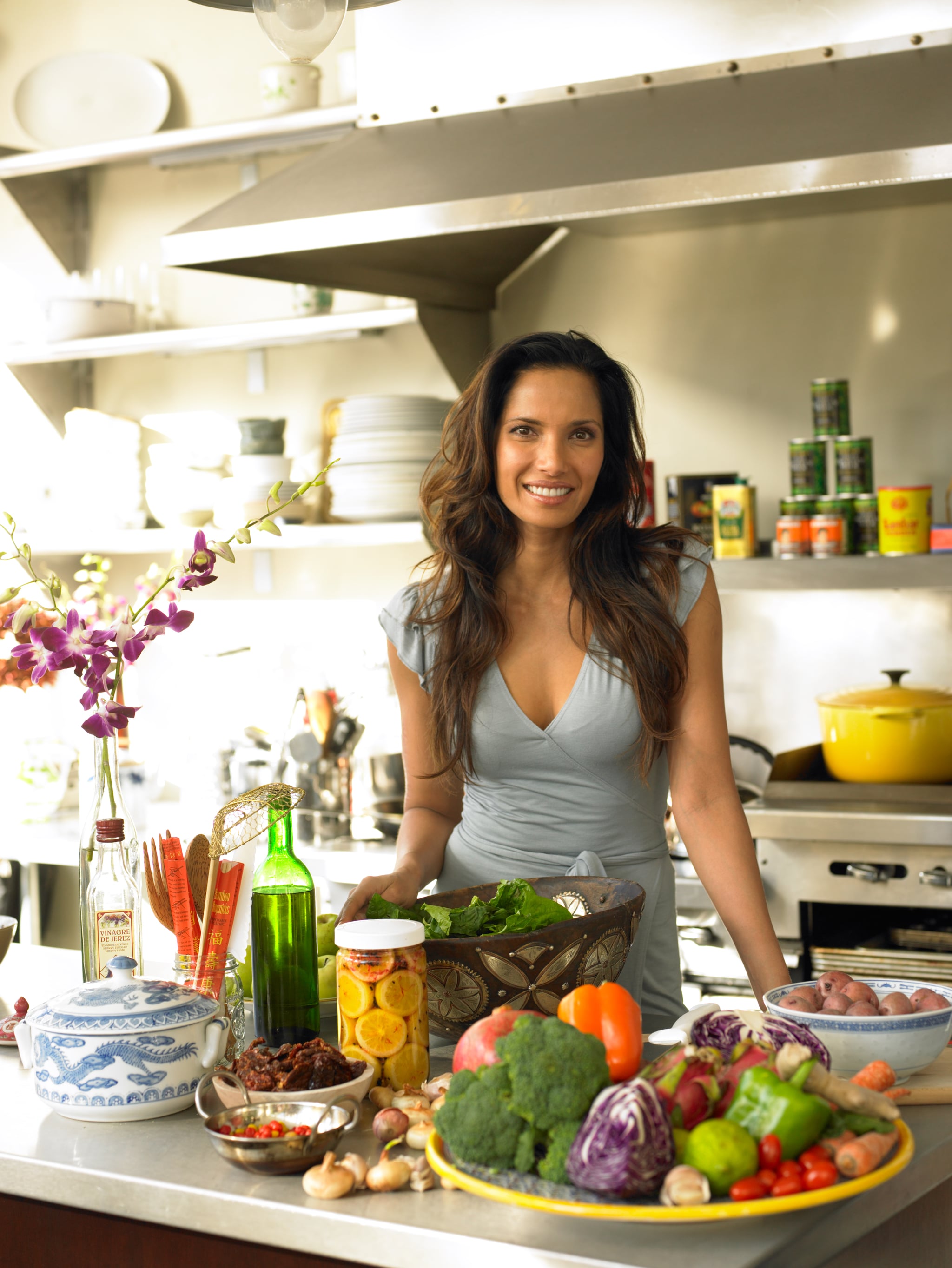 Image Source: Charles Thompson
Notes
You may have some extra jam leftover from this recipe. It makes for a great spread on sandwiches!
Ingredients
2 pounds sweet potatoes (2 large), scrubbed, skins on, cut lengthwise into thick wedges
Olive oil
Kosher salt
4 tablespoons butter
1 medium yellow onion, about 6 to 8 ounces, finely diced
1 teaspoon red chili flakes
1 teaspoon herbs de Provence
1/2 cup balsamic vinegar
1 cup plain, low-fat yogurt
1/4 cup fresh chopped dill
1/2 teaspoon smoked paprika
1/2 cup pomegranate seeds
Directions
Preheat oven to 450°F.
Combine prepared sweet potato wedges with a generous drizzling (2-3 tablespoons) of olive oil and season to taste with salt. Bake in a roasting pan for 35-40 minutes, or until fork tender and the edges are charred slightly and crisp.
In a 2-quart saucepan, heat butter over medium heat. Add the diced onions, red pepper flakes, and herbs de Provence and sauté for 5-7 minutes, until the onions soften and appear translucent. Now add the balsamic vinegar to deglaze the pan and stir, gently scraping up any bits off the bottom. Cook until liquid is reduced by at least half and add 1 cup of water. Bring to a boil, reduce heat to simmer, and cook down for 35-40 minutes, until mixture has thickened and resembles a loose jam. Set aside.
In a small bowl, whip the yogurt and 1/2 teaspoon kosher salt with a fork to thin it out. Stir in half of the fresh dill, and set aside.
To assemble, arrange sweet potato wedges skin-side down in a circular pattern on a platter. Drizzle the onion jam in a circular pattern, followed by the yogurt mixture. Sprinkle with remaining dill, smoked paprika, and pomegranate seeds.
Information
Category

Side Dishes, Potato

Cuisine

North American

Yield

4 servings