Papa John's Hot Honey Chicken & Waffles Pizza
Holy Sh*t, There's a Chicken & Waffles Pizza Coming to Papa John's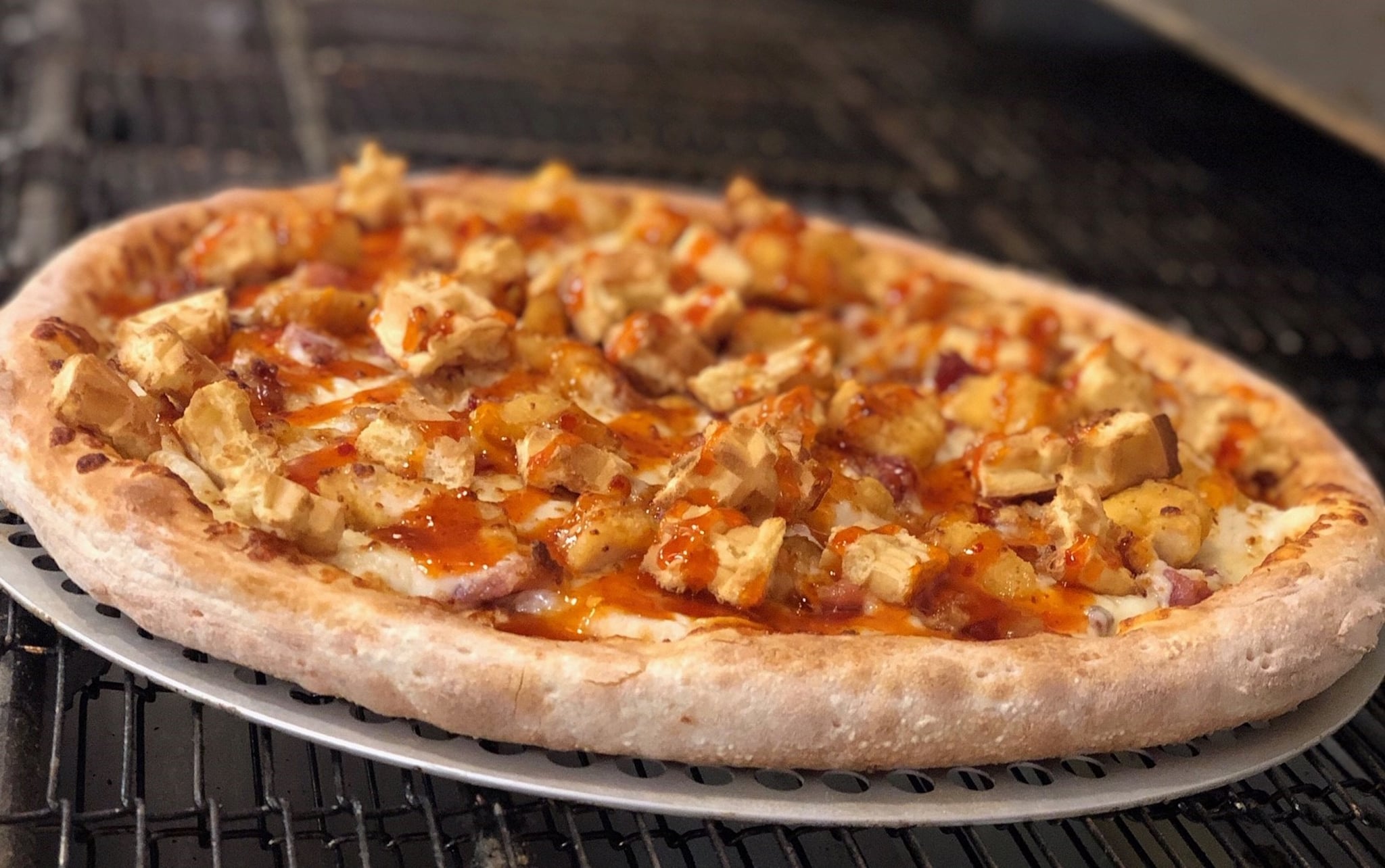 Have you ever been in the midst of devouring a plate of chicken and waffles when you suddenly thought to yourself, "Damn, this would taste amazing on a pizza"? Neither have we, but now that we know that it's set to become an official Papa John's pizza topping, we're not NOT excited about it. Papa John's announced on Feb. 19 that a brand-new Hot Honey Chicken & Waffles Pizza is making its way to the pizza chain's menu later this year.
Power to the pizza people. We're giving YOU the chance to pick our next Specialty Pizza! Check out the final choices below and follow your heart - you can't go wrong!

— Papa John's Pizza (@PapaJohns) February 4, 2019
The pizza — which comes topped with crispy chicken, waffle crumbles, bacon, cheese, and a drizzle of honey — was the recent winner of Papa John's "Pick Our Next Pizza" poll. The poll was launched via Twitter in early February when the restaurant announced that it was giving its 600,000 followers the opportunity to vote for its next Specialty Pizza. According to the tweet, the users could choose from four different pizzas: Huevos Rancheros, topped with chorizo, eggs, onions, tomatoes, cheese, and Ranchero sauce; The Roast, made with pulled pork, bacon, and chili hoisin BBQ sauce; The Un-Pizza, an assemblage of pizza toppings without any dough; and Hot Honey Chicken & Waffles.
After 52,000 people cast their votes, Hot Honey Chicken & Waffles ended up being the overall winner, taking 70 percent of the final vote, according to a rep for the brand. The new pizza will be available in North America "later this year," and like other Papa John's Specialty Pizzas, its availability and pricing will vary by location.
Image Source: Papa John's