Pasta Carbonara With Spinach
Pasta Carbonara With Spinach
From Nicole Perry, POPSUGAR Food
Notes
I used casareccia pasta; other short pasta shapes like orecchiette, gemelli, or rotini would also work well.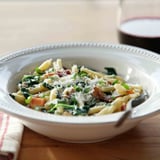 Ingredients
2 thick-cut pieces of bacon, cut into 1/2-inch-wide strips
2 cups spinach, coarsely chopped
1 clove garlic, minced
Kosher salt
2/3 cup short pasta
1 large egg
1 tablespoon parsley, finely chopped
A heaping 1/4 cup parmesan cheese, plus more for garnish
Freshly ground black pepper to taste
Directions
Add the bacon to a large, straight-sided skillet or Dutch oven, and cook over medium-low heat, stirring occasionally, until the bacon is crisp and the fat has rendered out. Transfer to a paper-towel-lined plate with a slotted spoon, leaving the bacon drippings behind.
Add the spinach, garlic, and a pinch of salt to the bacon fat, and cook over medium heat, stirring occasionally, until the spinach has wilted. Remove from the heat.
Meanwhile, bring a large pot of generously salted water to a boil. Cook the pasta until al dente.
While the pasta cooks, whisk the egg until frothy in a large mixing bowl. Using tongs, immediately add the cooked pasta to the egg, tossing vigorously to coat, and simultaneously cook the egg. Add the bacon, spinach, garlic, parsley, and parmesan to the pasta, and toss to evenly distribute.
Transfer to a bowl, and sprinkle with more parmesan cheese and pepper.
Information
Category

Pasta, Main Dishes

Cuisine

North American

Yield

Serves 1