Pizza Chicken Recipe From Melissa Clark
A 1-Pan Dinner Doesn't Get Any Better Than This "Pizza Chicken"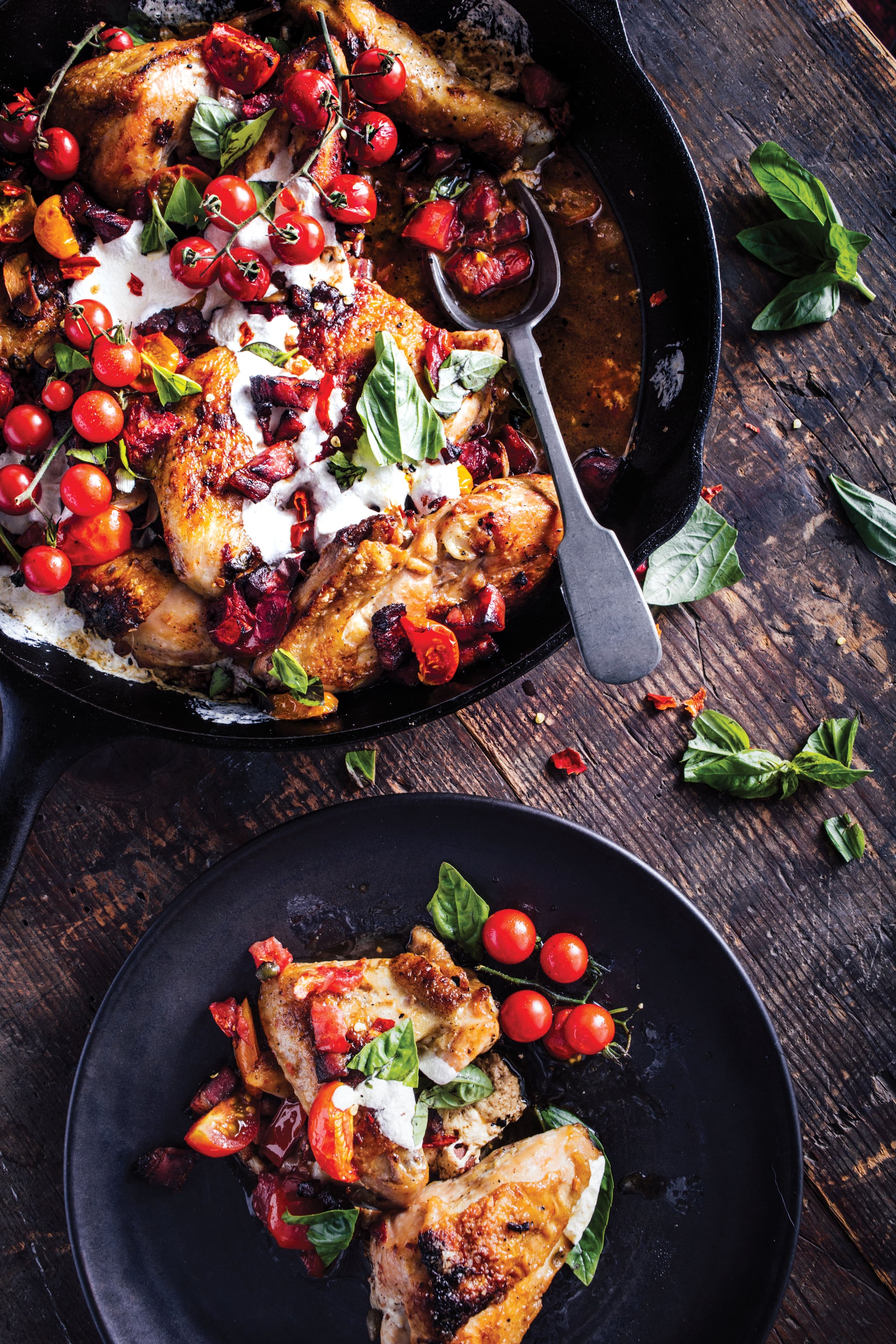 There's an internal battle that goes on within many of us each night around dinner time: to cook a decent meal or succumb to reheating the frozen pizza? Thankfully, it seems New York Times food writer Melissa Clark sympathizes (and possibly relates). She's written a recipe for "pizza chicken" in her latest cookbook Dinner: Changing the Game ($35) which combines your favorite pizza flavors in a one-pan chicken dish. If the photo alone hasn't caused your heart to stop beating momentarily, her recipe intro surely will.
Melissa will have you at pancetta but then, there's the addition of garlic, anchovy, and capers. I'm apt to think her "pizza" sauce almost resembles puttanesca, a supersavory Italian sauce that once you try, will make it to your dinner table on a weekly rotation. To make sure every inch of chicken becomes coated in melty cheese, she calls for bocconcini. These are adorable, mini balls of mozzarella that you'll find in pint-sized containers in the cheese section of most grocery stores.
Enough already! Prepare to be swept away by waves of flavor . . .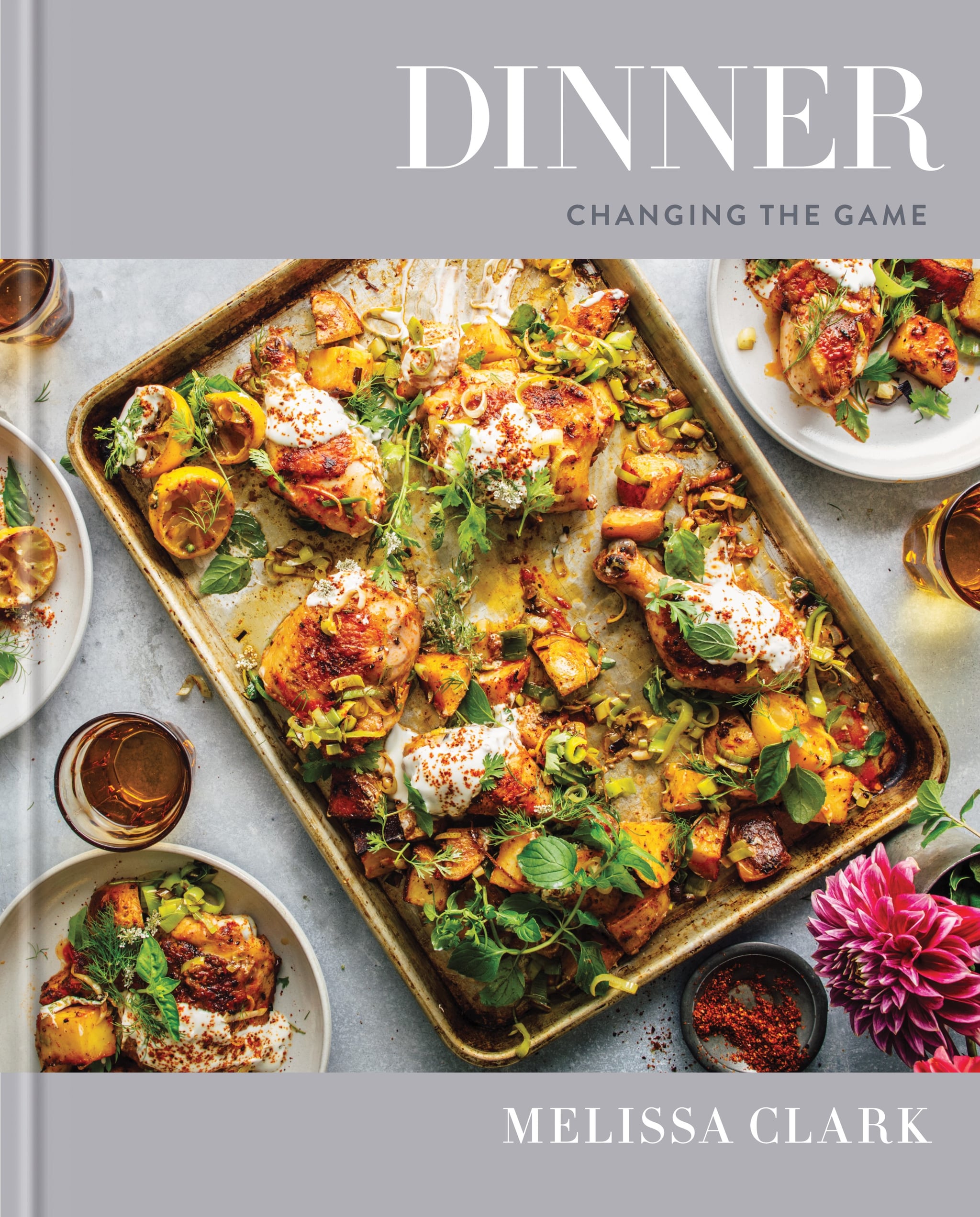 Notes
This "pizza chicken" has the same melting mozzarella and tomato deliciousness that you'd usually find on your slice, layered onto a pan of succulent browned pieces of chicken.
It's a recipe with a big personality, though the number of ingredients is rather small. To make the most of them, they are cooked in stages, allowing the flavors to build in the skillet. Pancetta goes in first, sautéed until golden and crisp. Next, the chicken is seared in the rendered fat, taking on its porky aroma. Tomatoes, garlic, anchovies, and capers follow, cooked down into a sauce in the very same pan, gloriously awash in a mix of chicken drippings, pancetta fat, and olive oil. All of these flavors season the chicken as it bakes. And as a final touch, chunks of fresh mozzarella are melted on top, dissolving into milky, gooey puddles.
You'll probably want to serve this with some kind of green vegetables to lighten the meal. Either a leafy salad (page 371) or perhaps Green Beans with Caper Vinaigrette (page 377) would do so nicely. And some crusty bread wouldn't hurt, either.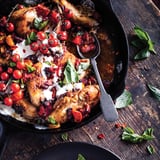 Ingredients
3 1/2 pounds bone-in chicken pieces
2 teaspoons kosher salt, plus more to taste
1 teaspoon freshly ground black pepper
1 tablespoon extra-virgin olive oil
5 ounces pancetta, diced
3 garlic cloves, thinly sliced
4 oil-packed anchovy fillets (optional)
1 tablespoon capers, drained
1/4 teaspoon red chili flakes
1 pint ripe cherry tomatoes, halved (a mix of colors is nice)
3 1/2 cups diced ripe tomatoes
1 large sprig fresh basil, plus chopped basil leaves for serving
8 ounces bocconcini, halved (or use 1-inch cubes of fresh mozzarella)
Directions
Pat the chicken dry and season the pieces with 1 1/2 teaspoons of the salt and 1/2 teaspoon of the pepper.
Heat a 10- or 12-inch oven-safe skillet over medium-high heat, and add the olive oil. Let the oil heat up for a few seconds, and then add the pancetta. Cook, stirring frequently, until it's well browned and crisp, about 3 minutes. Use a slotted spoon to transfer the pancetta to a paper-towel-lined plate.
Add the chicken to the skillet. Sear, turning the pieces only occasionally, until well browned on all sides, about 10 minutes. Transfer them to a large plate. Pour off all but 1 tablespoon of the oil in the skillet.
Add the garlic, anchovies if using, capers, and chili flakes to the skillet, and sauté for 1 minute. Stir in all the tomatoes, the basil sprig, and the remaining 1/2 teaspoon salt and 1/2 teaspoon pepper. Cook and break up the tomatoes with a spatula, until the sauce thickens somewhat, about 10 minutes.
While the sauce is cooking, heat the oven to 400°F.
Return the chicken to the skillet, transfer the skillet to the oven, and cook, uncovered, until the chicken is no longer pink, about 30 minutes. Remove the skillet from the oven and scatter the bocconcini over the chicken.
Turn on the broiler, place the skillet under the heat source, and broil until the cheese is bubbling, 1 to 3 minutes (watch it carefully). Garnish the chicken with the pancetta and basil before serving.
Reprinted from Dinner: Changing the Game. Copyright © 2017 by Melissa Clark. Photographs copyright © 2017 by Eric Wolfinger. Published by Clarkson Potter/Publishers, an imprint of Penguin Random House, LLC.
Information
Category

Main Dishes

Cuisine

Italian

Yield

Serves 4

Total Time

59 minutes, 59 seconds
Image Source: Eric Wolfinger